Working remote from Costa rica
After my surf camp and hostel experience, i planned to move to my own apartment to work remotely for a month from Costa Rica.
Airbnb
I booked the Airbnb ahead of my stay in Costa Rica. The location was still in the same town called Tamarindo. On the map, the place was just two streets behind my initial destination. Little did i know that those streets are one of the most off-road streets in the town and that the second one had a steep incline. Luckily my friend from the surf camp drove me to my apartment, so i didn't have to carry my luggage.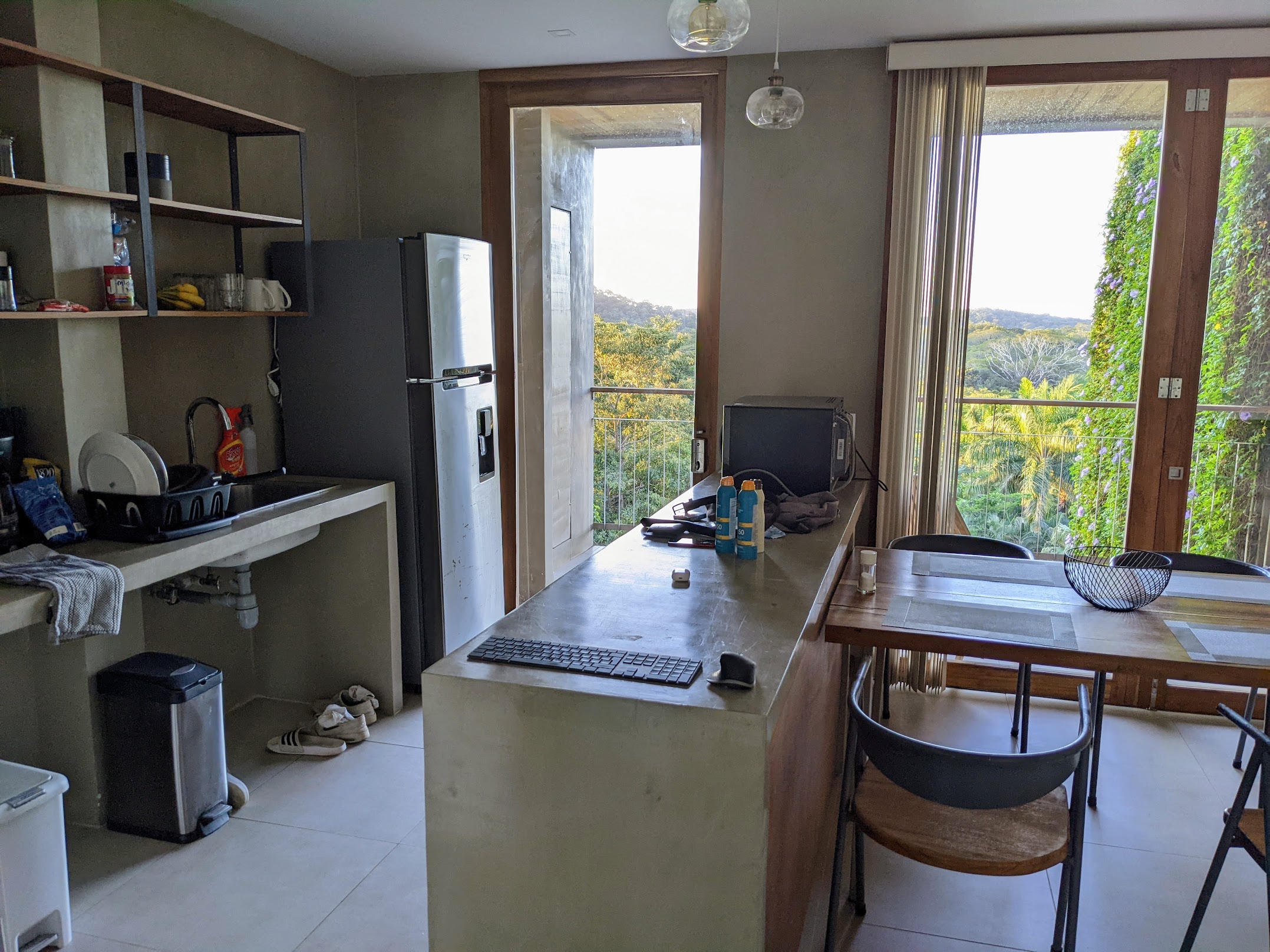 The Airbnb was on the 6th floor, and the view from the balcony was stunning. There is lots of jungle behind it, and the ocean is also at the end of sight.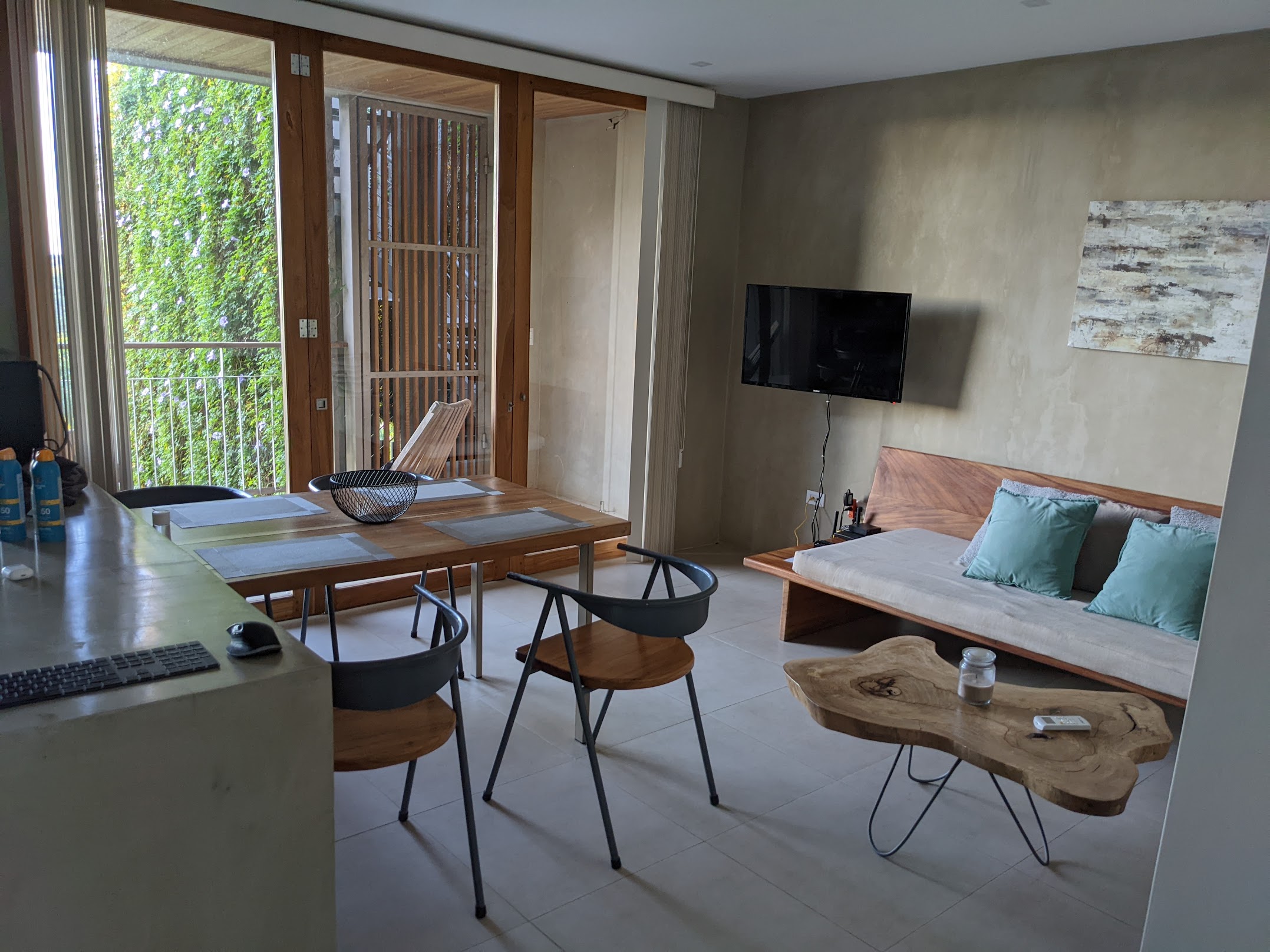 The apartment was relatively modern furnished. Nonetheless, all the stuff felt pretty cheap. I'm just used to higher quality standards. But for my stay, the condo was more than good enough.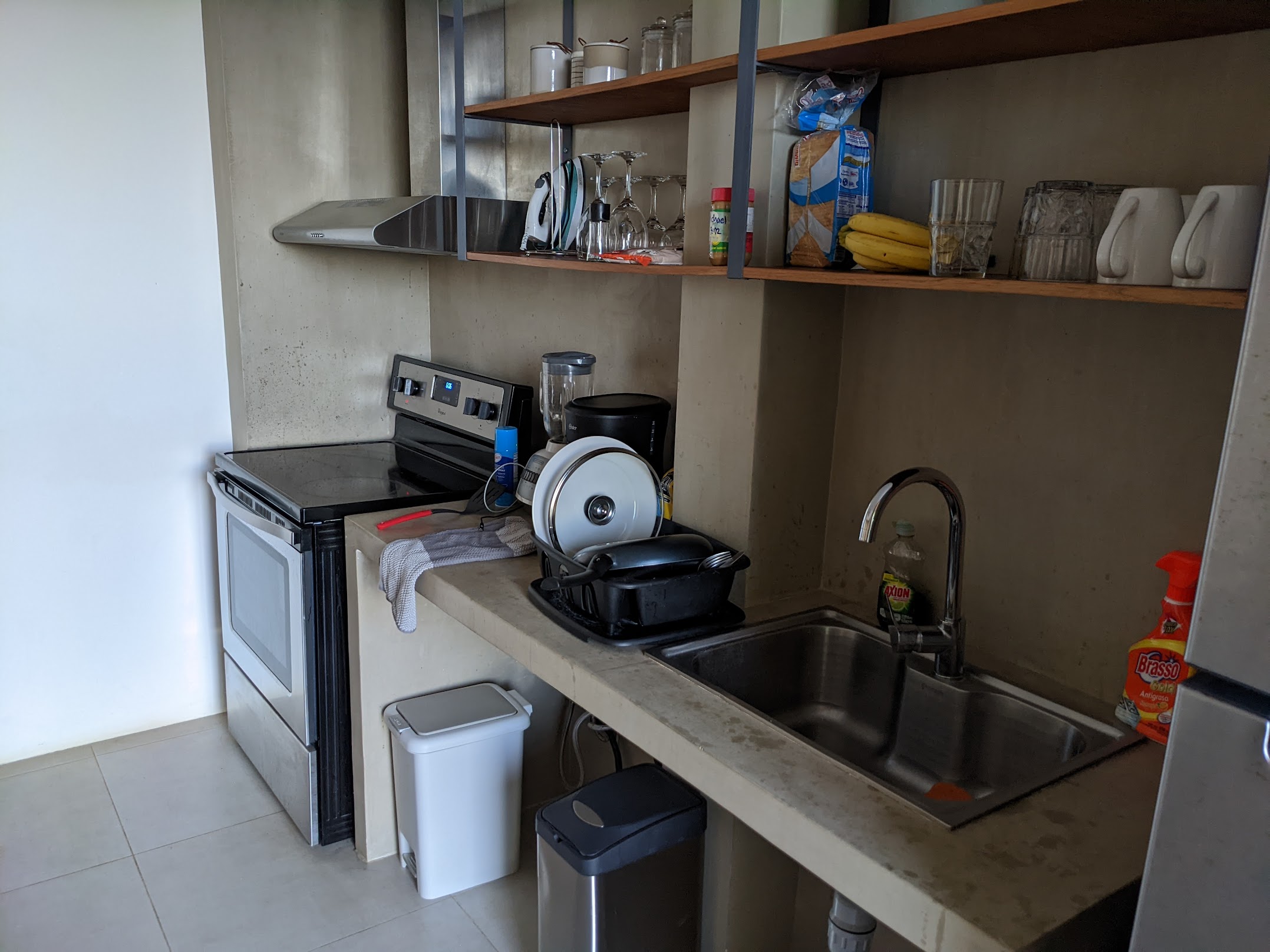 The apartment had everything i needed, including a toaster and a microwave!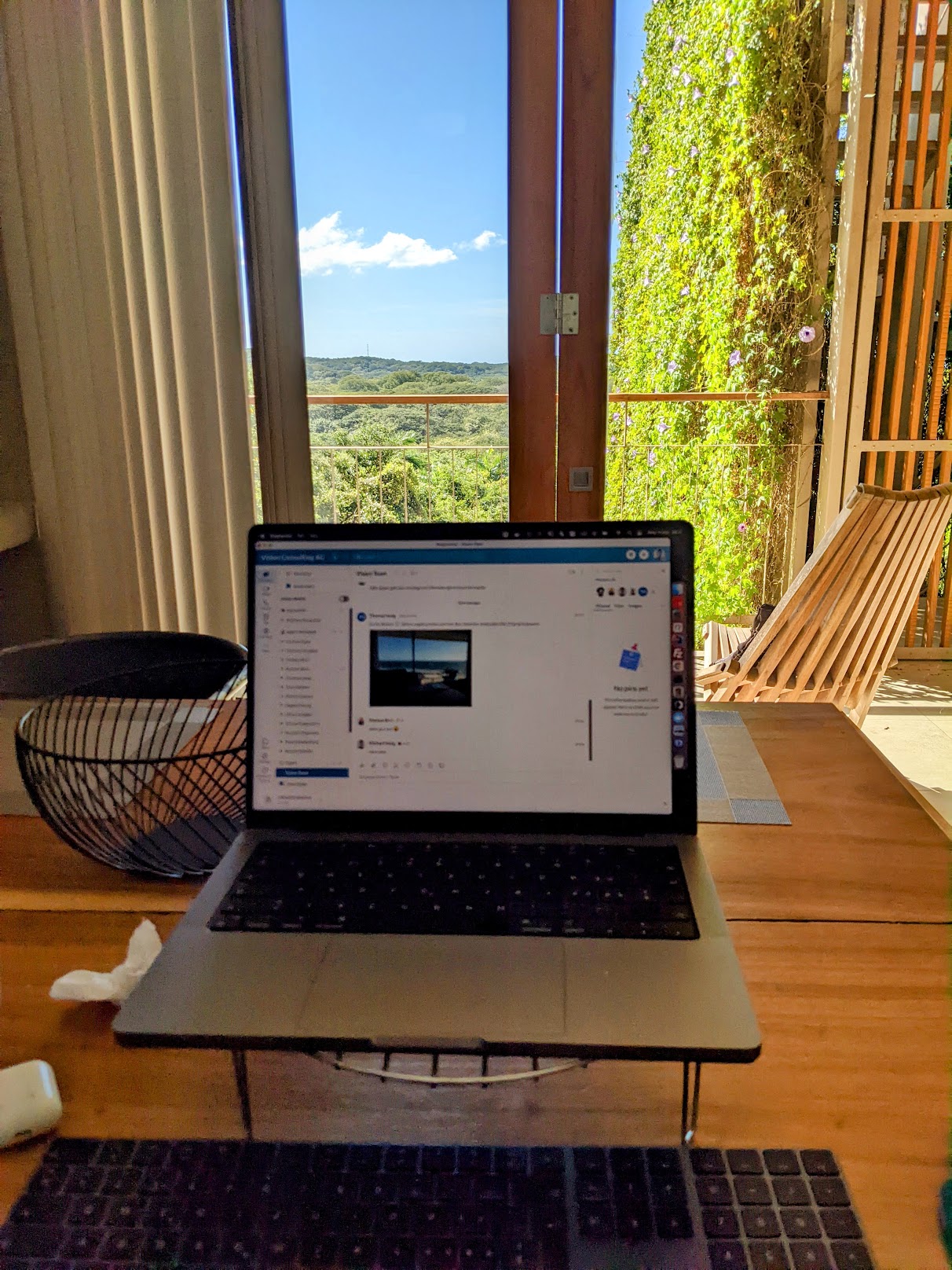 Pictured above was my office for the duration. The chairs were super uncomfortable. I've had to use two pillows for my back to allow me to keep it straight.
Work/life balance
My plan during my stay was to start work again on all weekdays but keep a good work/life balance with daily beach visits for surfing and not working at night. Some days i worked less than usual, but i made sure to complete some work tasks every day. Finishing a task or progressing on my work makes me feel good as the day was successful already.
Clearing my mind with surfing helped me to not to get overworked. I could live this lifestyle forever and not get burned out. However, i firmly believe to get ahead in life, you have to put in periods of more focused, serious work, and that's what I'm going to do during the foreseeable future when I'm not traveling.
ATV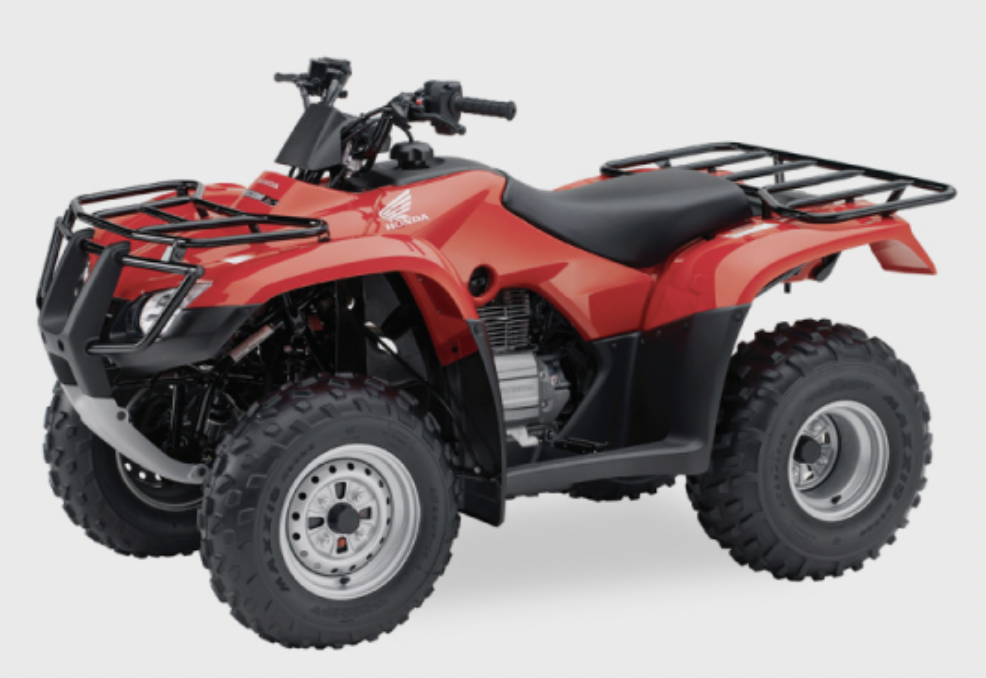 The walk from my apartment to the city and the beach was about 15 minutes. For my relaxed schedule, this time was absolutely fine. However, walking the steep hill for the last five minutes always made me break out sweating. The final staircase up to my floor didn't help either. So after five days, i decided to rent an ATV quad motorcycle. I've rented the exact pictured ATV, however, the ATV was super old. The screen was burned out from the sun. I didn't see my own speed or what gear the ATV was in. It was still super fun to ride around town and super helpful in getting to my apartment. Using the ATV, i was able to get to the beach in under five minutes from my apartment. At night, I even went to the bars with it, i just parked a little more outside and walked the last part. The renting was pricey but overall worth it.
Surf
During my stay, i tried to surf as many days as possible. I am now comfortable going out surfing by myself without a guide (At the Tamarindo main beach). On my initial solo surf sessions, I've rented a board that had a very strong wax layer. Wax is applied on top of the surfboard to have more control when standing on the board. The wax parts ripped open parts of the skin on my stomach. It wasn't as bad during the session, but the following days ripped open the wound again and again. I developed a skin infection for which i had to get antibiotics to let it heal. I took a break from surfing for five days. During this time, i went to the gym instead and worked out on an outdoor playground.
I'm still in the beginner phase of surfing. I'm getting better at reading the waves and moving to the proper position before the wave breaks to catch it at the most potent point to generate speed and stand up.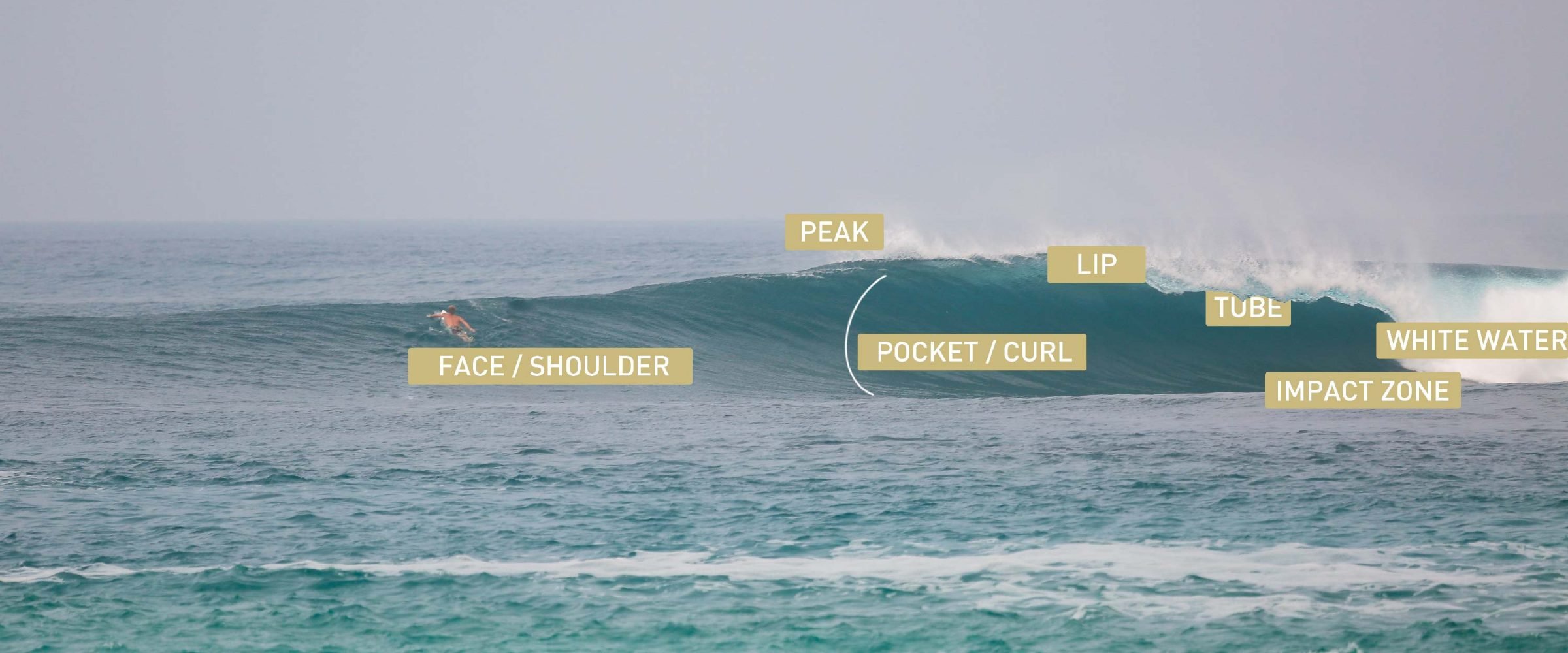 The essential part of surfing is actually riding the wave as long as possible by staying in the zone close to the peak. Even before riding the wave, you have to decide if you want to go left or right on the wave (You can also go straight - which is what you do as a beginner - but this gets boring fast). Some beaches have waves that are breaking in a consistent way so that you can know beforehand that you always go right or left. This is mostly not the case on the Tamarindo main beach, the swells come from multiple directions, and the sandbars at the bottom create many different waves shapes. In my opinion, this is not ideal for learning how to move with the surfboard while on the wave. I can go left or right on a wave, but the actual moving up and down motion on one of the sides is what i am still struggling with.

The main beach in Tamarindo has multiple sections, each with its own waves. However, there are many surf schools here, and all sections are very crowded. There are consistent waves on this beach, but the average wave size is relatively small.
Playa grande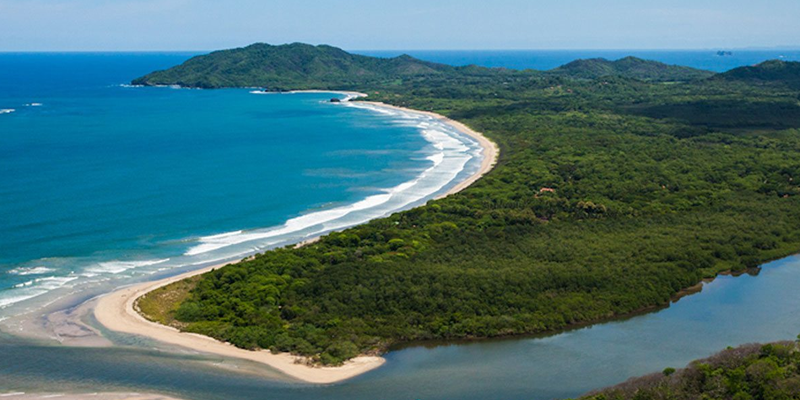 There is another beach in the same bay called Playa grande. The beach is cut off by a river (Visible at the bottom of the picture). When the tide is low, the river is quite narrow. It is very tempting just to cross it on the surfboard. However, this is not a good idea because crocodiles are swimming in the river. There are small boat operators on the river that operate a taxi service. It costs 1000colones (around 1.5$) for one way. During the last week of my stay, i only surfed on this beach and happily paid the river taxi guys to cross the river. Playa Grande also has multiple sections to surf. The waves are way cleaner and easier to predict on where to surf while on the wave. The beach is also way less crowded, and there is actually nothing behind the beach after the sand besides some bungalows.
Sunsets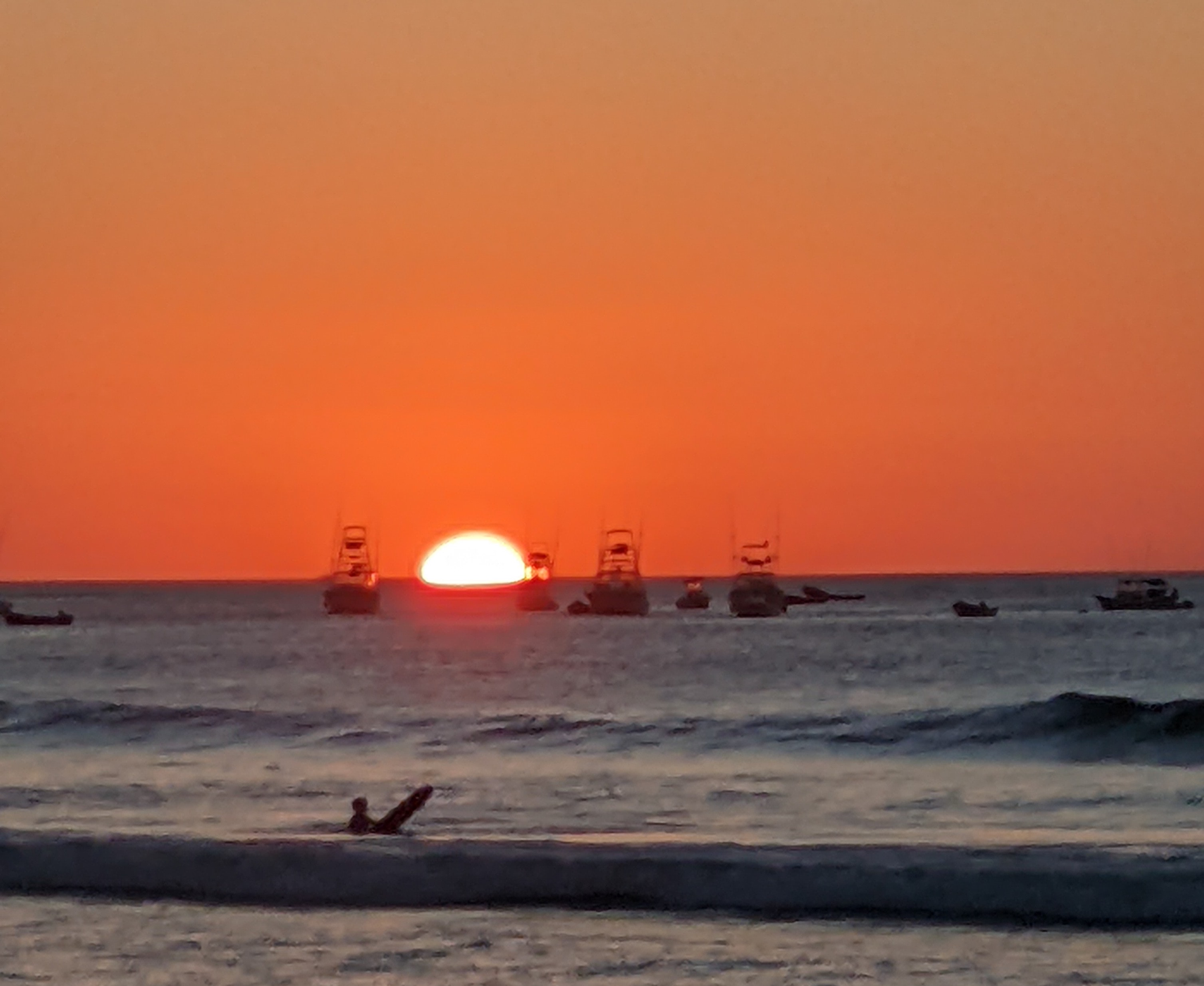 The sunsets, who doesn't love them? I tried to watch as many sunsets as possible. The sun sets very early in Costa Rica at around 17:20. Sometimes i went home after an afternoon surf, ate something, and drove back to the beach to catch the sunset.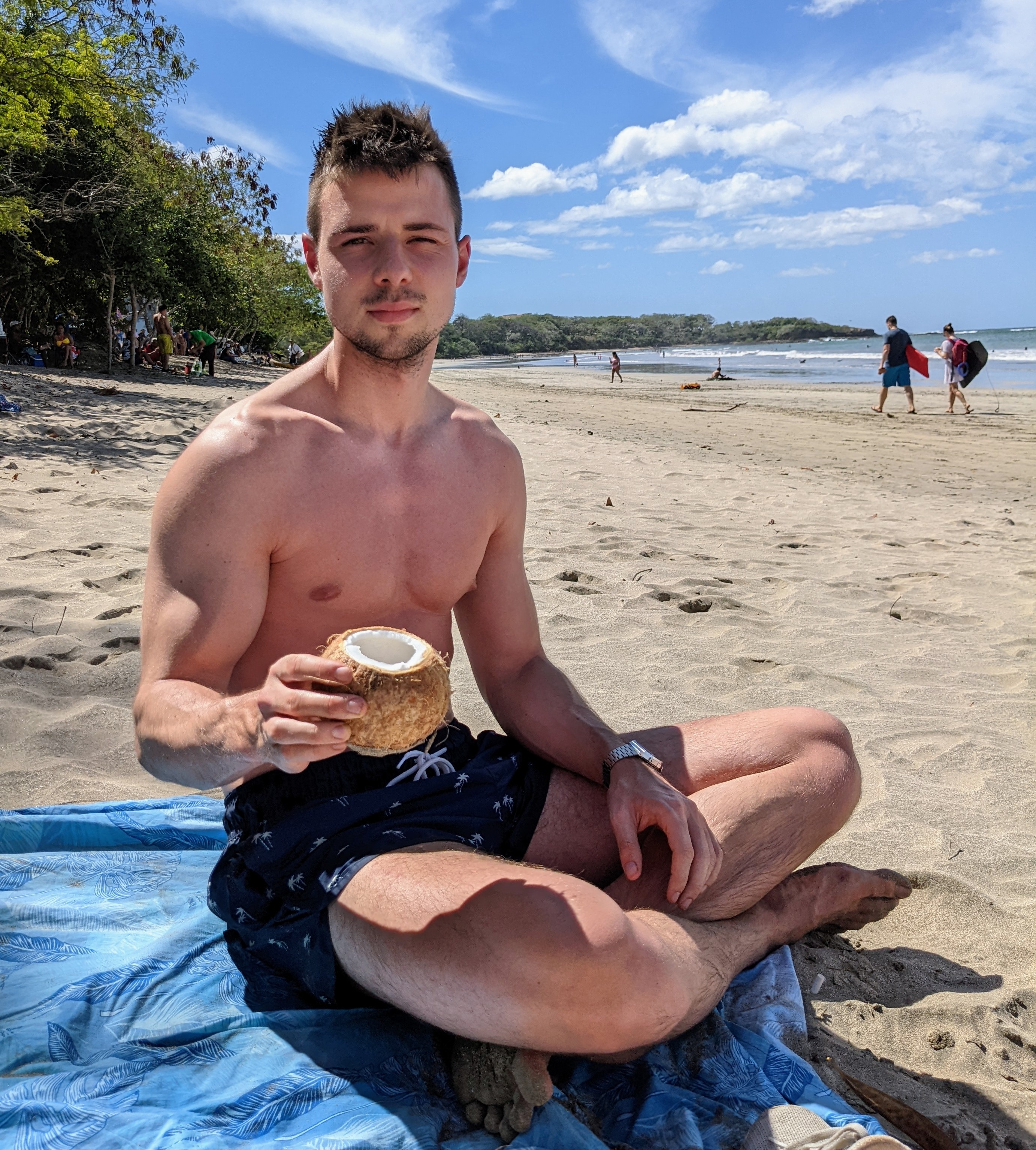 After a while, i got used to seeing the sunset and made a new rule; I only watch sunsets with someone else. Sharing the experience is just way better.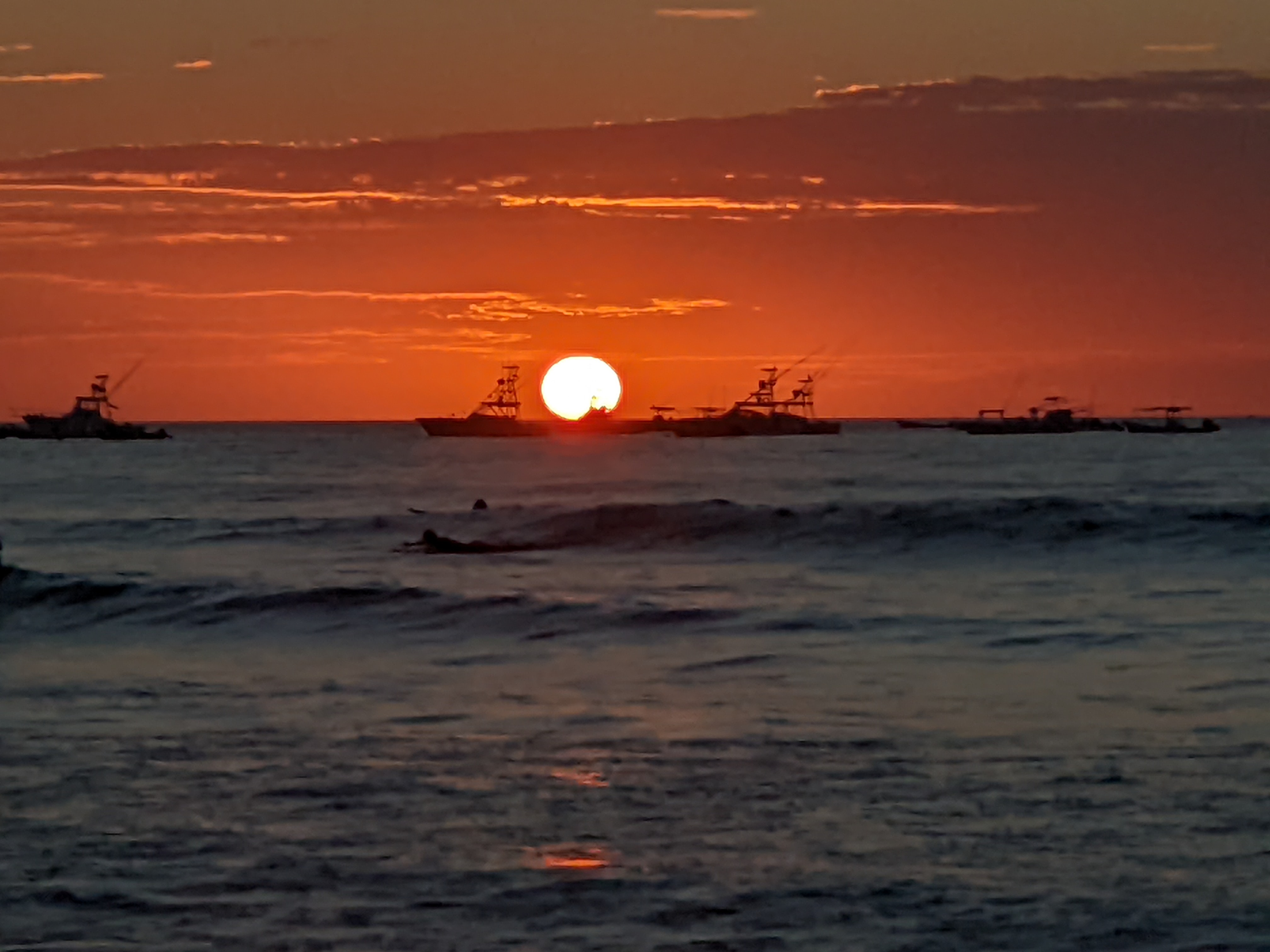 My observation was that a cloudy sky actually makes for a better sunset.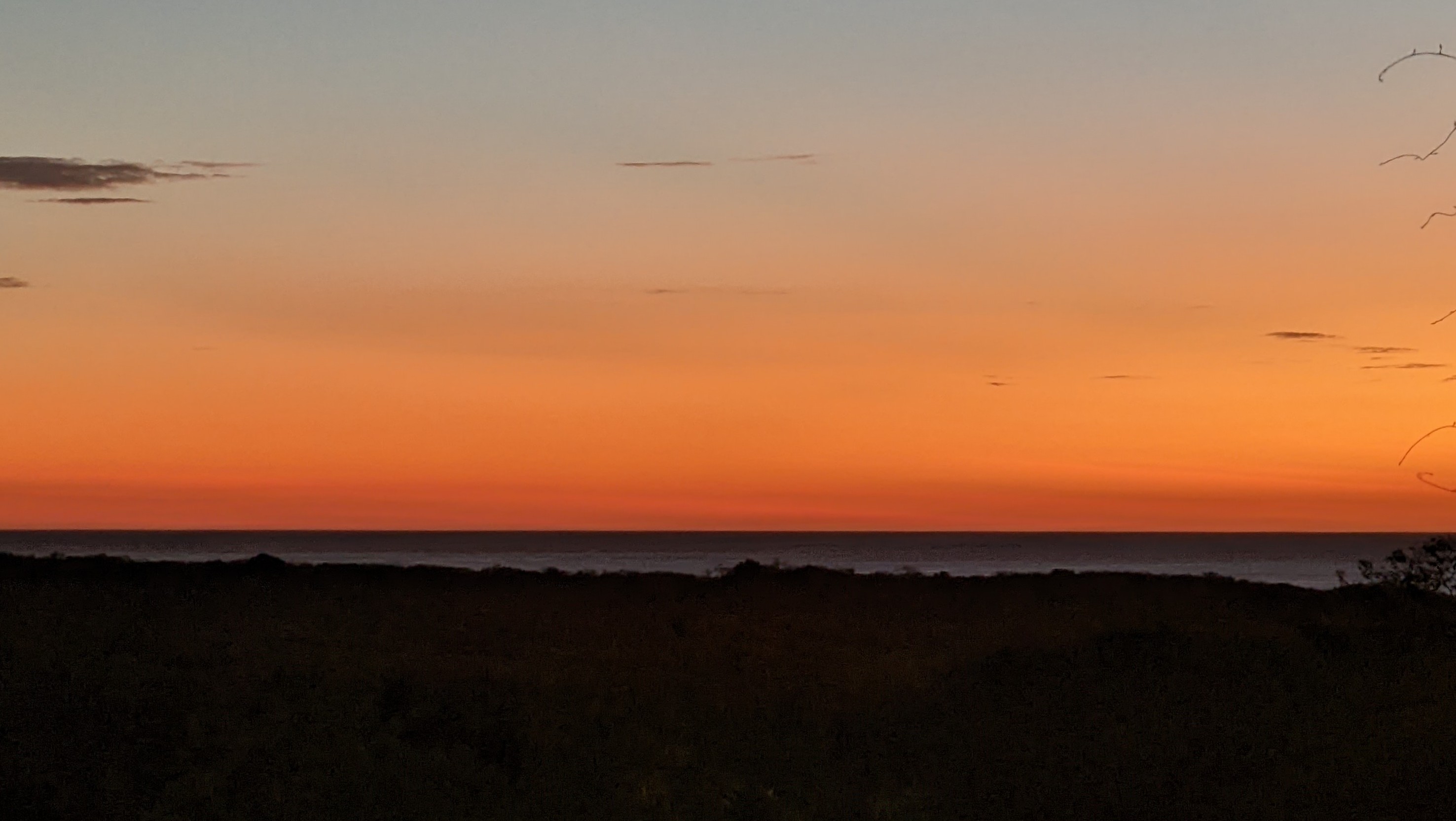 The red/orange sky after the sun has set as viewed from my apartment.
Food
A typical Costa Rican food is Rice and Beans. I've had it with eggs and toast a couple of times at a restaurant for breakfast. Sometimes the beans are in a paste form, which i actually really liked. However, i cooked breakfast mostly at my Airbnb, which always consisted of four eggs & toast. Before going surfing, I always made oatmeal with peanut butter and banana, washed down with protein milk.
Following are some meals that I've had while eating out.
Octopus on a base of sweet potato, avocado and pico de gallo. Served at a beachfront restaurant called Pico. I've had this meal three times, definitely one of my favorites.
Waffle monkey, eggs with waffles right on the beach.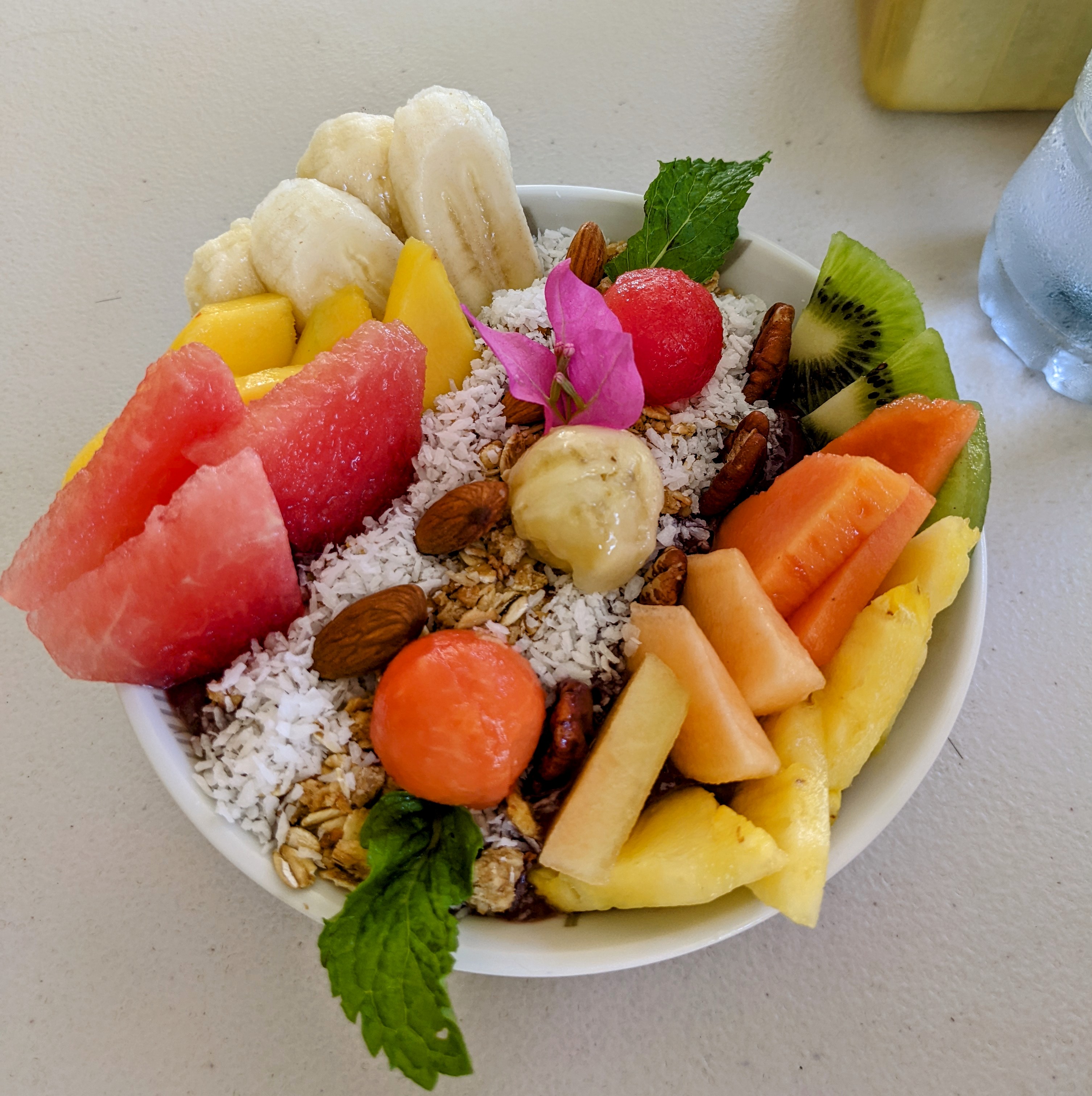 Acai bowl with all kinds of fruits. Super healthy and tasty!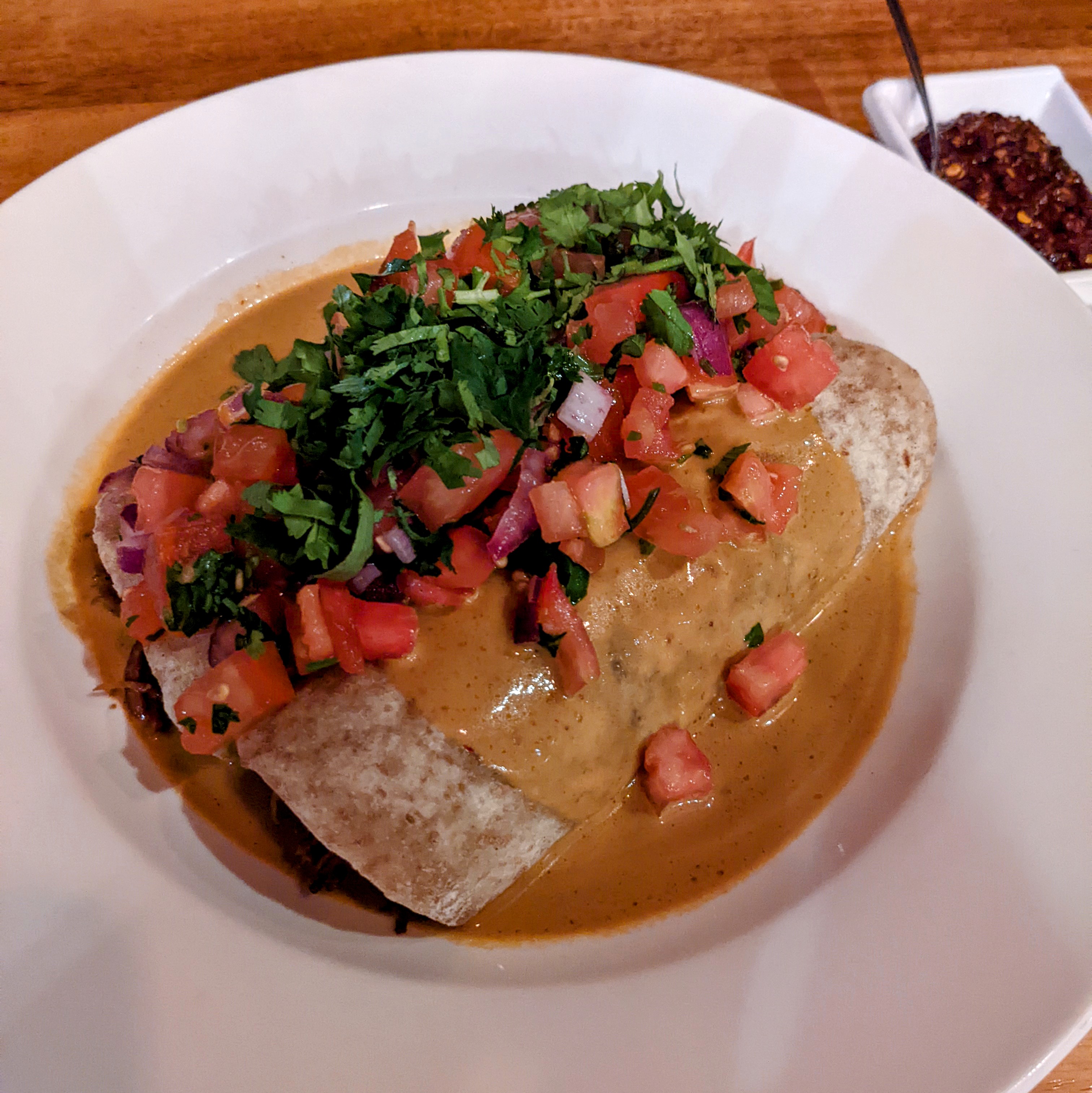 Enchiladas are basically a burrito cut in half and overlayed with sliced tomatoes and a sauce. Inside was pulled beef and mashed potato. The sauce was potent with a spicy flavor. This Mexican restaurant was my favorite to get dinner when i wasn't in de mood for cooking. I mainly ate the burritos there (with chicken, beef or shrimp).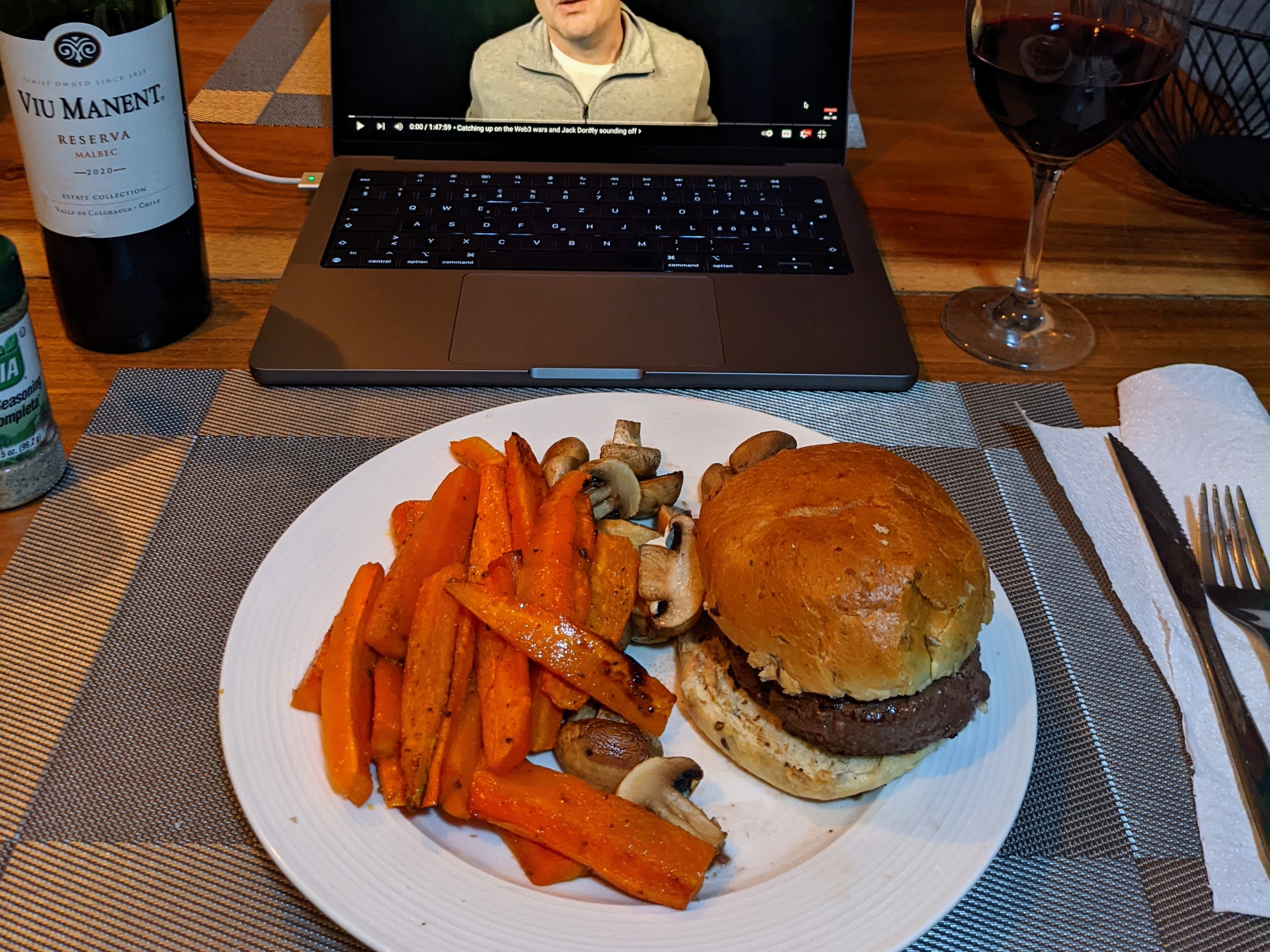 On Christmas eve, i ate dinner by myself. The burger i made was absolutely deliciosos, and the carrots were cooked to perfection! Afterward, i went out to a bar, which turned out to be a fun night ;)
Nightlife
After a month, i think i saw most of what the town's nightlife had to offer. My favorite part was that the crowd was changing weekly as new tourists come and go. During the new years period, there were a lot of locals from Costa Rica coming to the town, and this caused the bars to overfill, which i didn't appreciate, especially since my Spanish is still not good enough for real social interactions.
I went out around four to six times a week, i tried to keep the alcohol consumption at a minimum. I was meeting new people every day, it's mindblowing looking back that i was just over a month in Costa Rica and the number of people I've met compared to staying a month in Switzerland. I still went out solo most days. This forced me to talk to new people and develop better social skills.
Friends
During the stay, i sometimes met people that i vibed with and would also hang out back home. I made new friends at restaurants, bars, and while surfing. I also stayed in contact with the surf instructor, and we hung out at the bars together.
New years
The day before new years eve, i went out with a group of friends, and we had multiple sangrias at a food market. I saw how they made the sangria. They just put it red and white wines plus Smirnoff vodka. The drinks had me tipsy already. Afterward, we went to a club and drank even more vodkas. We danced a lot, and it was a fun night. The next day i woke up with one of the worst headaches I've ever had (probably the worst). Just moving, my head hurt. It was Friday the 31.12, i had decided that i could not get any work done today and needed to fix my headache. I went to the pharmacy and bought Alka seltzer tablets. Driving my ATV was taking all of my energy. Back at my apartment, i took the Selzer tablet and slept all day on and off until 11 PM (1 hour before New Year's). I almost slept through New Year's, but i forced myself out to the beach to experience the New Year's party. The beach was super crowded. At midnight, many fireworks were going off and everyone was in a party mood. Later on, I've met some friends at a less crowded bar and had a single beer. I went home at 1 AM back to sleep. Still glad I went out and didn't sleep into the new year.
Covid
On the new years day and during the weekend, i still had a headache, and my tiredness would not go away. I stayed home two more nights and cooked dinner for myself. On Monday morning, feeling a bit better, it came to my attention that i might be sick, luckily i brought some covid antigen tests and quickly tested myself. And to my surprise, i got a positive test result for covid. It turned out, that most of my hangover was actually from covid. The alcohol consumption certainly didn't help, but i was suspicious that a hangover could last this long. Overall my illness was not very bad at all. Apart from the tiredness, I only had trouble concentrating and had some joint paint on the second symptomatic day. On day four, i felt almost normal again. Just knowing that i had covid made the feeling a bit more worrisome than a from a different illness.
Plane ride to San Jose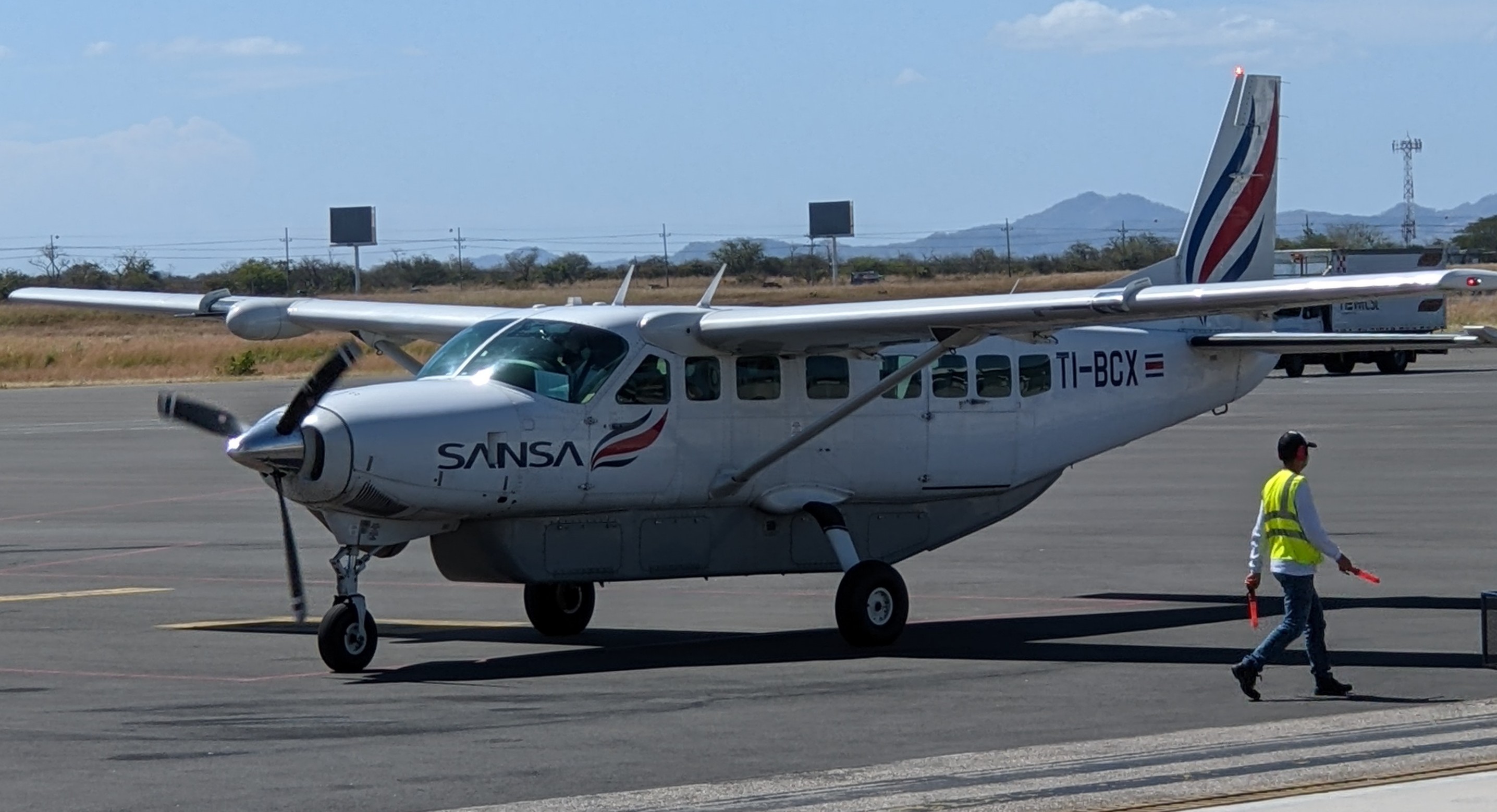 To leave the country, i booked an inland flight, not knowing that the plane would be this small. I flew from one airport to the main airport in 50 minutes. The car ride would have taken at least 4 hours. Overall it would have taken about the same time, as i first had to get to the airport and do the checking and security. I'm not going to lie, i was a bit nervous flying with this plane. The plane fit only about 15 people. Everyone was weighed at the checking (not just the bags, the actual body weight). The plane had just landed, the people got out, and we boarded right after, and the plane moved to the departure line.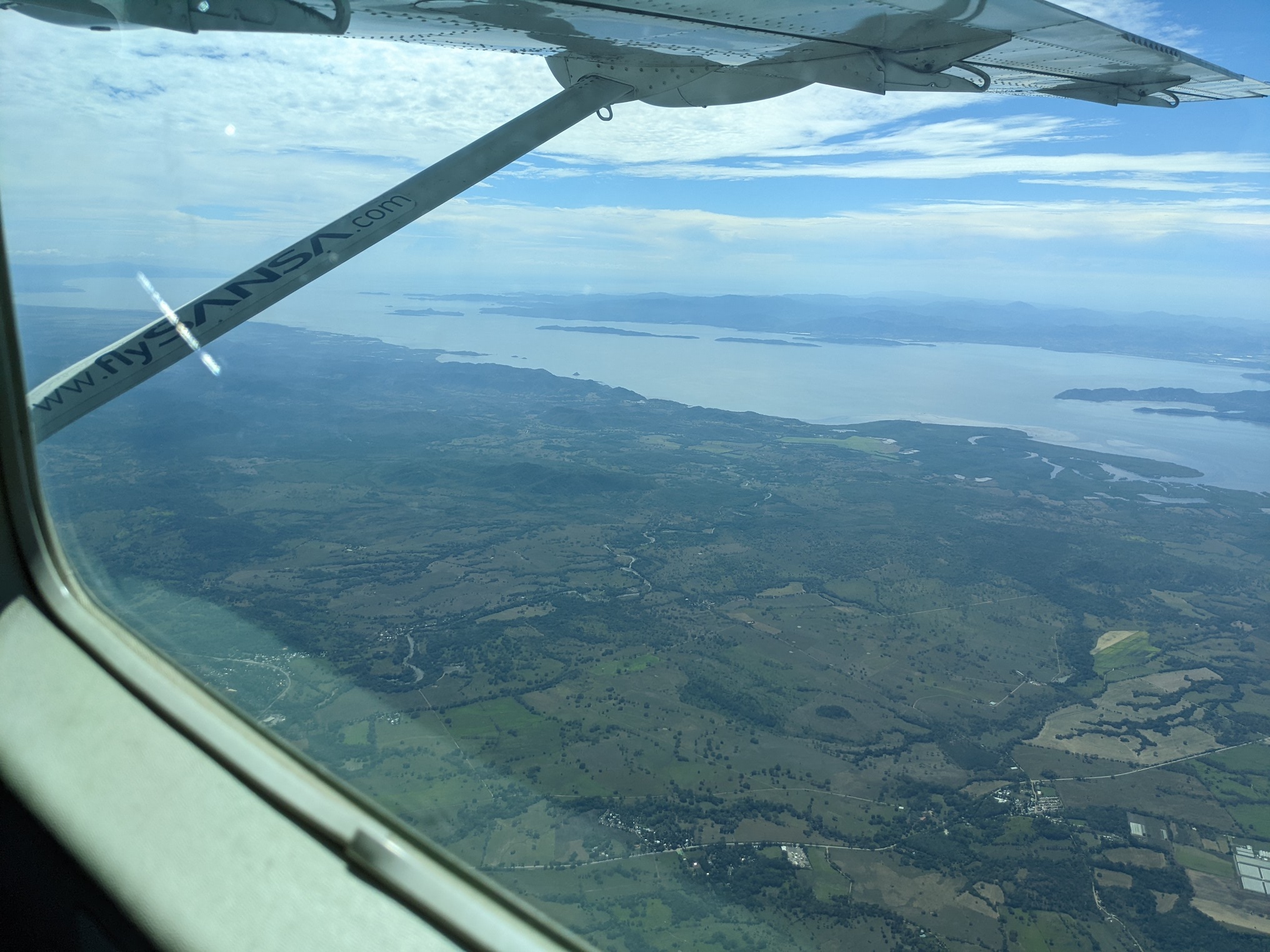 The take-off was a bit shaky, but not anything extreme, i actually felt less of that weird feeling in the stomach i sometimes feel on a big plane. The view from the plane was admirable. The engine noise was quite loud, but i listened to music on my headphone, and the time flew by ;)
I had another flight planned that took me to El Salvador, which is my final destination on this trip. I'm writing this from my new hotel room in El tunco, right in front of the beach.
Thanks for reading