Escaping to Costa Rica
It's December 2021. During the last two years, i have been working as hard and consistently as never before in my life. The seemingly never-ending pandemic prevented me from doing extended periods of travel. I've not taken a single week of vacation other than a couple of days off during the last two years. I've put great effort into my job and in building my own business. While I was satisfied with the results, i was in urgent need of changing my daily schedule, which mainly consisted of work and gym.
Social life
After the summertime ended in Switzerland, my social life also declined significantly. On top of most outdoor activities ending came the new restrictions from the government, which removed my freedom of spontaneously visiting a restaurant and other places, my social life retracted even more. During November, I've mostly just stayed at home with the occasional visit from friends. I was not even looking forward to the weekend anymore.
Winter
At this time of the year, it's getting colder and darker by the day. This fact did not help to improve my mental state. I was just going through the motions and was not really excited for anything anymore. I had nothing to look forward to. I knew i had to change something, otherwise, i would actually get depressed during the coming winter months.
I planned a long trip to Costa Rica to escape the Winter and break out of my monotonous robot-like schedule.
Travel
A day before my travel started, I started becoming nervous about my travel schedule, mainly because i had to catch three flights to get to my final destination. I wanted to make sure that i did everything in my power to arrive at my final destination on the planned date.
The Flight schedule was Zurich>Amsterdam>San Jose>Liberia. My first flight to Amsterdam was at 6 AM at Zurich airport. Flying this early meant i could not use public transportation to get to the airport. I've ordered a taxi to pick me up at 4:30 AM. The taxi service sent me an email notification as confirmation. The taxi arriving late or not picking me up was my biggest fear. The night before my flight, i decided to call the taxi company to verify that my pickup was scheduled as expected. And low and behold, the registration was made, but the street number was missing from the reservation! I've checked the confirmation email, which included the street number, but their system did not. I also requested to get called when the taxi is outside, as it's freezing outside, and i did not plan to bring a winter jacket.
The night before, I made scrambled eggs for dinner with all my remaining eggs from the fridge and then went to bed at 9 PM. During the night, i constantly woke up to check the time to make sure i had not overslept. At 3 AM, when i checked my phone, i saw an email with the title "Flight canceled." I immediately got up and read the mail and learned the first flight to Amsterdam had been canceled. The canceled flight caused me to miss all connecting flights. I saw that the airline automatically rebooked my flight 2 days later with a 10 hour layover in Amsterdam with a total travel time of over 30 hours. I was shocked and started looking for alternative flights right away, and luckily i found another flight on the same day to Costa Rica from another airline.
The only catch was that this flight went to the wrong airport inside of Costa Rica. I was determined to leave on the same day and thought that at least i would be in the correct country when i could take this flight. I booked the flight and shut down my computer to get ready (it's 4:00 AM). The taxi arrived on time and drove me to Zurich Airport. My new flight was at 9 AM, i checked in my bags and got the plane ticket for the new flight. The flight took 12 hours. During the flight, i was just glad that i made it out to Costa Rica on my planned date. Arriving in Costa Rica San Jose airport, the immigration line was irrationally long. It took almost 3 hours to get through customs, i was fucking tired after 12 hours of sitting without sleeping at all on the plane, followed by 3 hours of standing in line.
After getting through customs, the bags were already all taken off from the belt by the security staff. I was delighted to spot my bag right away (Another one of my fears was losing my bag ). On my way out of the airport, i saw another long line. At first, i thought it was only for the connecting flights, but there was a security line on the way out. They screen your bags, most likely for drugs. This line took another 30 minutes. Finally getting out of the airport, i was overwhelmed by people holding up signs with names on them for transportation. I asked some taxi drives for my final destination and quickly found one that spoke English well and was willing to drive me there. It took another 4.5 hours of driving through half of the country to arrive at my destination finally. The drive was 200$, i thought it was well worth it, considering the driver also had to drive back. The taxi driver was very polite and fun. We even stopped at a fruit market and ate some bananas and dried coconuts. At 11 PM Costa Rica time, after over 24 hours of traveling, I've made it to the hostel for my initial destination as planned on Dez 1.
Tamarindo
I'm writing this part five days into my trip, i am already in such a good mood and headspace. I'm so excited for the days to come. I'm staying in a small beach town called Tamarindo: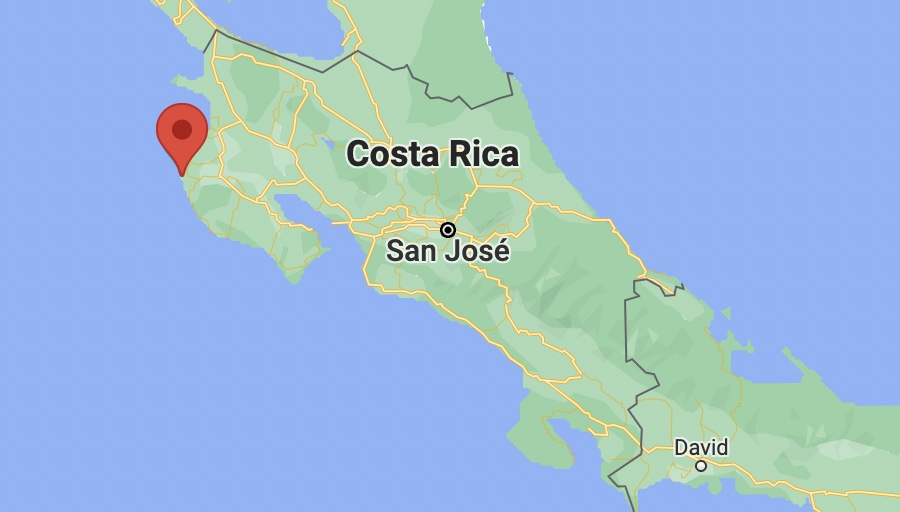 The people here are all very friendly, and the whole town has a laid-back vibe. There is a saying in Costa Rica, "Pura Vida," which can be interpreted in many different ways but basically means relaxed life. The locals also use the expression in many different ways, for example, in greetings. The hand sign is also very commonly used: 🤙
Weather
The weather and the climate here is just perfect. At least right now, at the start of the dry season, it's consistently around 30 degrees during the day and 24 degrees at night.
Hostel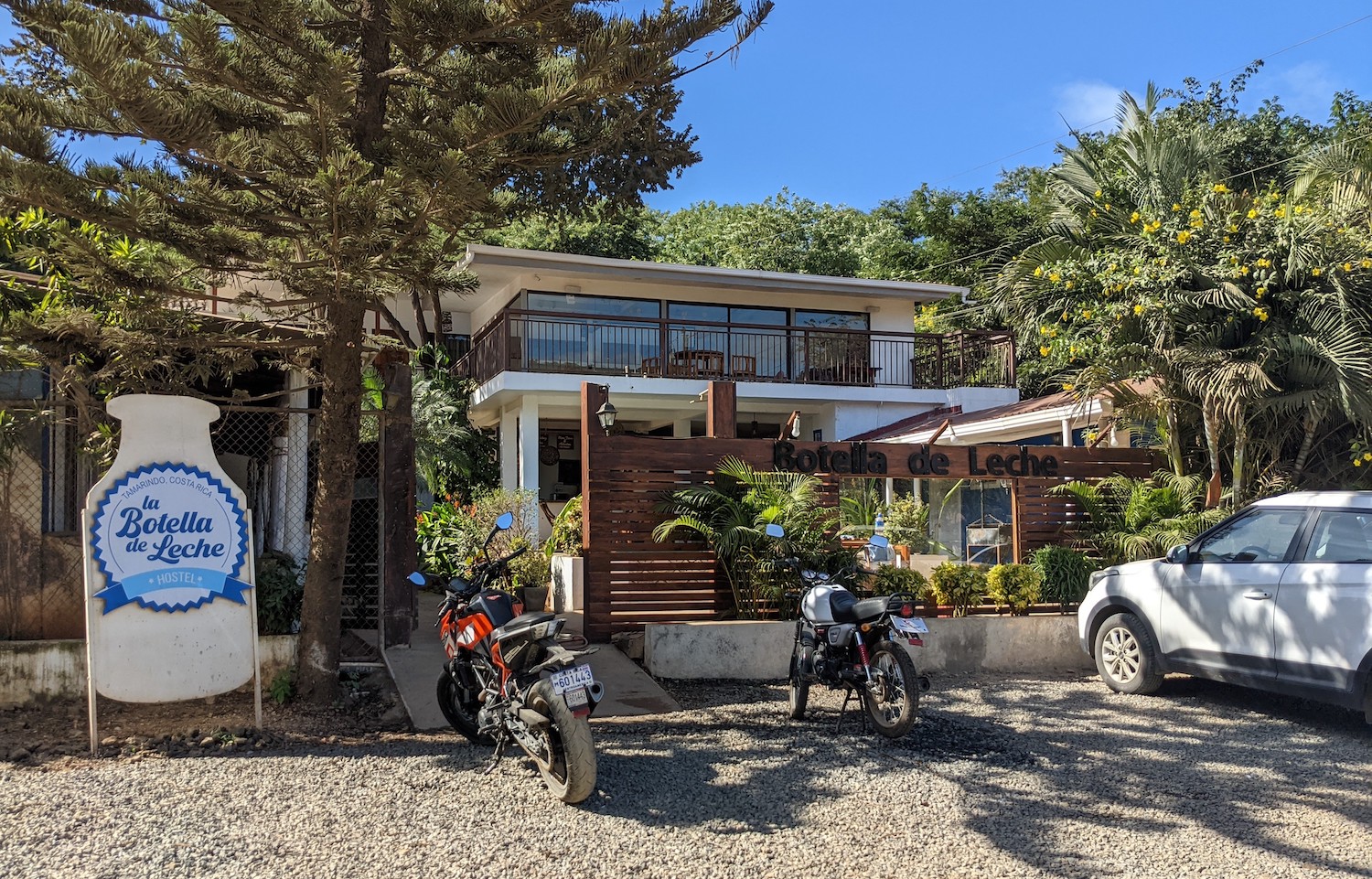 For the first eight nights of my trip, I've booked a stay at a hostel here in Tamarindo. There are lots of hostels here in Tamarindo. I've chosen this one because they offer complete packages including surfing lessons. Most hostels have shared dorm rooms. This hostel also has shared rooms of up to 8 people but also offers single rooms. I went for my own private room as the price is well in my budget.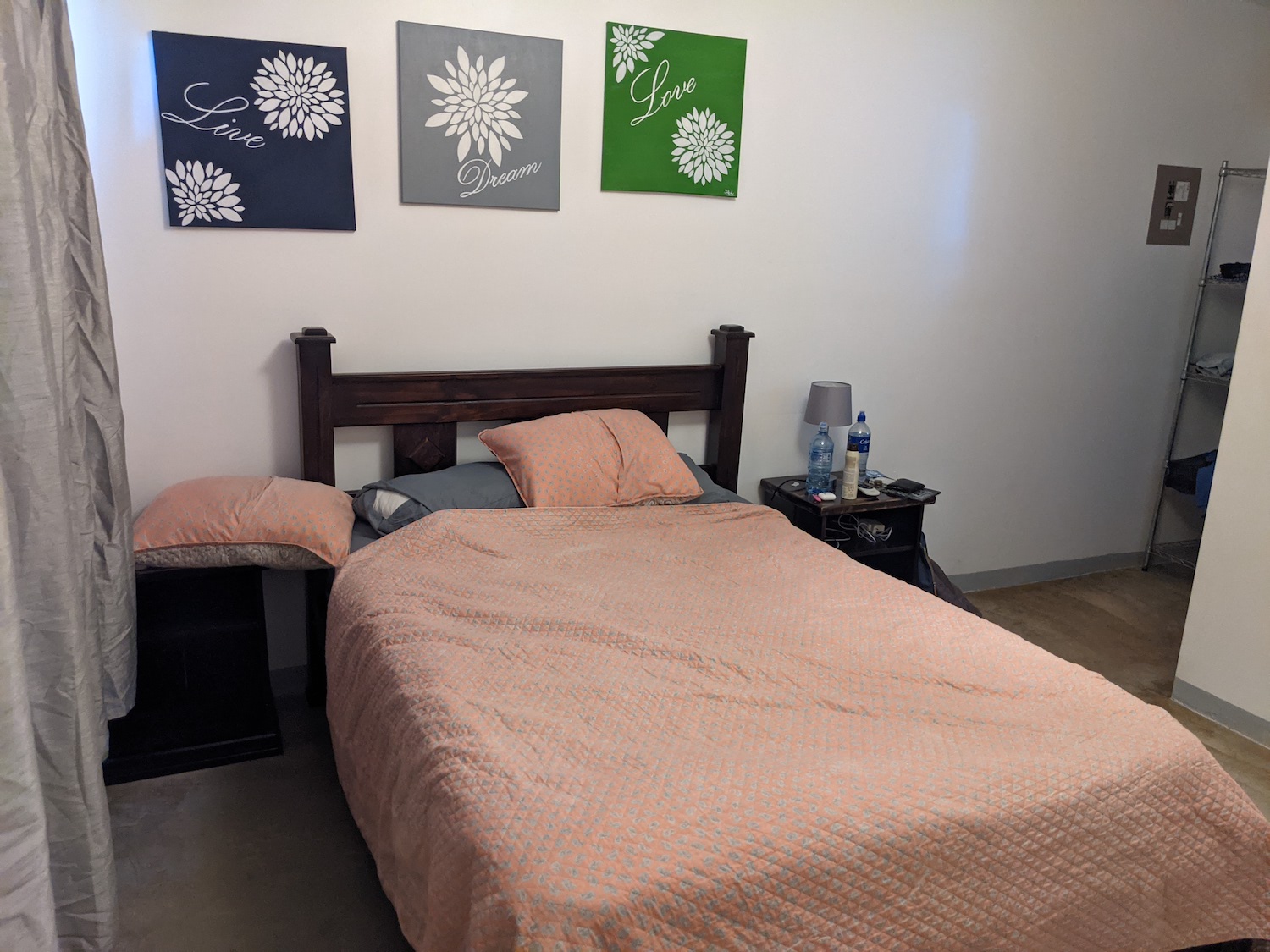 The hostel has a shared kitchen and shared living rooms. You can buy your own food and put it in the fridge. You have to write your name on the food and the current date, or else the cleaning people will throw it out. (I've learned this the hard way - when i was searching for my dark chocolate)
New people are coming and going every day, which makes it very easy to meet new people and socialize a bit. The staff that works here is extremely friendly, everyone speaks English and is super helpful.
I'm very glad that I've chosen this place for my initial stay here.
Beach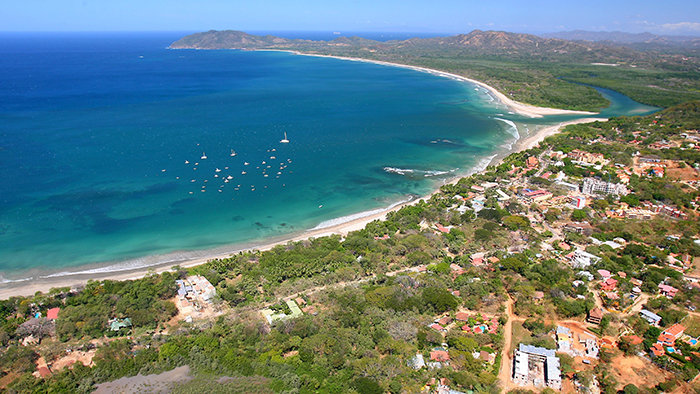 The Tamarindo bay has multiple beach parts, each of which has different types of waves suitable for surfing from beginner to more intermediate levels.
Surfing school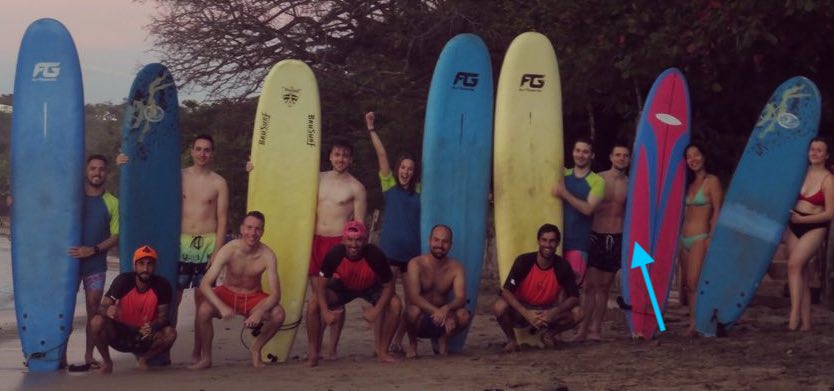 During my stay at the hostel, i attended daily surfing lessons. The instructors ask you about your previous surf experience and give you an appropriate surfboard. I myself had never surfed before, i got a longboard out of foam to have a lot of floatation, which is ideal for learning the basics.
We were always a group of 6-15 surfers and 1-3 surf instructors. The surf lesson schedule was changing daily because of the ocean's changing tides. The ocean high tide peak moves every day by around 45 minutes. When i had my first lesson, we started at 10 AM, by the end of the surf camp, the lessons began at 4 PM. The sun here always sets at around 5:20 PM. We surfed till the sunset on the later lessons, which was a sight to be seen.
Surf feeling
Before my first lesson, I was a bit nervous, not knowing what to expect. Catching my first wave felt amazing. The instructors help you out by shouting when to start paddling (paddle! paddle! paddle!) and standing up on the surfboard (popup!). In the beginning, they even drag you to the proper position before the wave and give you a push on a shallow wave that you have enough speed to stand up and ride the wave.
Being out in the water, just floating on your surfboard and looking at palm trees and the sun shining, is just a supernatural experience. During surfing, you constantly have to look backwards for the incoming waves, this requires paying attention, which is a good thing to free your mind from other thoughts.
Surfing can be pretty exhausting. You have to move around a lot in the water to get to the proper position for catching a wave, and when you are at the right spot and a wave is coming, you have to paddle hard to almost match the speed of the wave. When a large wave is coming that you cannot surf on, it might take you down and push you out with the wave's energy. In this situation, you will have to get up and paddle back in as soon as possible, as in most cases, the next wave is coming right after. This situation has been one of my favorite parts of surfing, paddling back at a large wave to pass it without being taken down again. Looking at a large wave and paddling right to it gives me an adrenaline rush. Of course, the actual act of surfing on the wave is still the best feeling.
Nightlife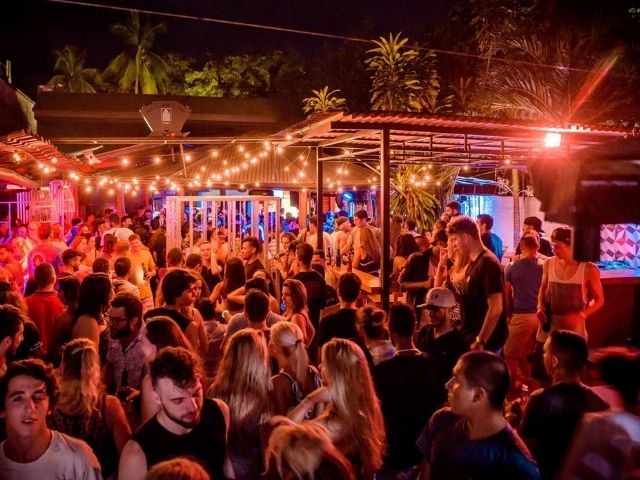 Tamarindo has lots of tourists, which makes the nightlife quite vibrant. There are a handful of bars that get packed with people, which makes it super easy to socialize. During the surf camp, we often went out together as a group to a bar, but I also enjoy going out by myself here. Costa Rica has an 11 PM curfew (because of the rona restrictions), but honestly, this is perfect, i love getting home before midnight. I plan to go out often, except Sun/Mon i will stay home after the sunset.
Conclusion
I am super happy that I've decided to travel to Costa Rica during the wintertime. I'm in such a great mood already and feel super excited for the coming days. I've just moved to my own Airbnb and will stay here for almost 30 days until after New Year's Eve 2021.
Thanks for reading.