One Month in Hollywood Los Angeles
This post is a small recollection of my month-long stay in Hollywood, Los Angeles.
Apartment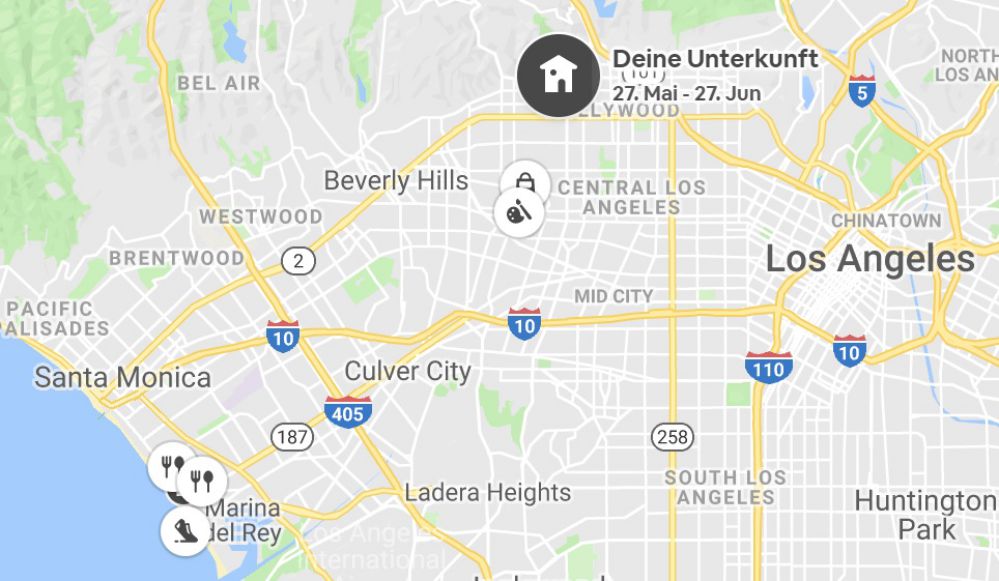 I booked my apartment on Airbnb, as pictured above it was located in the West-Hollywood Area on Hollywood Blvd. The location was very convenient, most of the attractions and nightlife activities were within walking distance or only required a short Uber ride.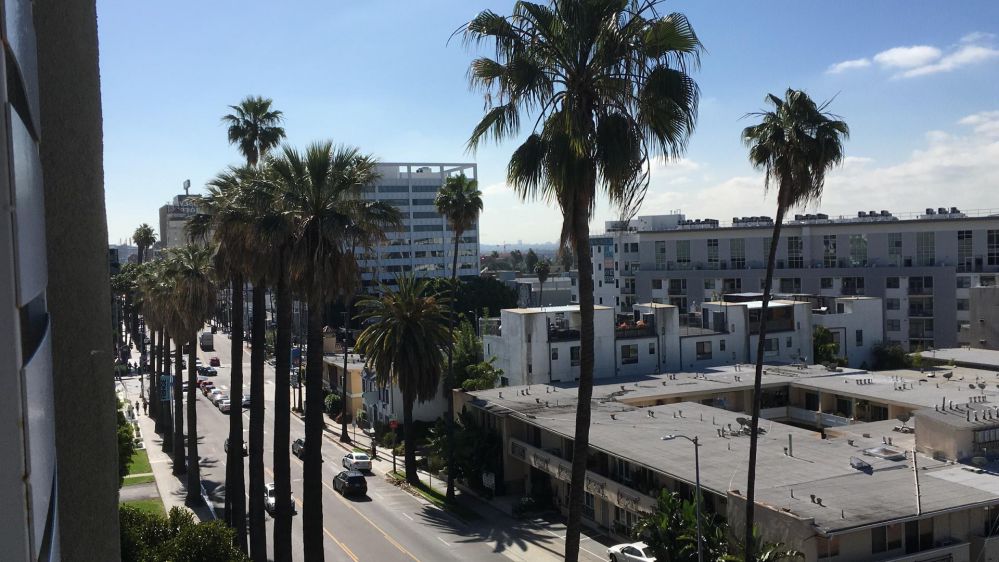 The apartment was on the 5th floor, which was the top floor of the building. It had a nice view looking over West LA. The only downside of the location was the street was very busy with cars driving by, even late into the night. The amount of police and firefighter cars with sirens on driving by on this street was also very high. It took me some time to get used to it, but I adjusted quickly and could fall asleep easily.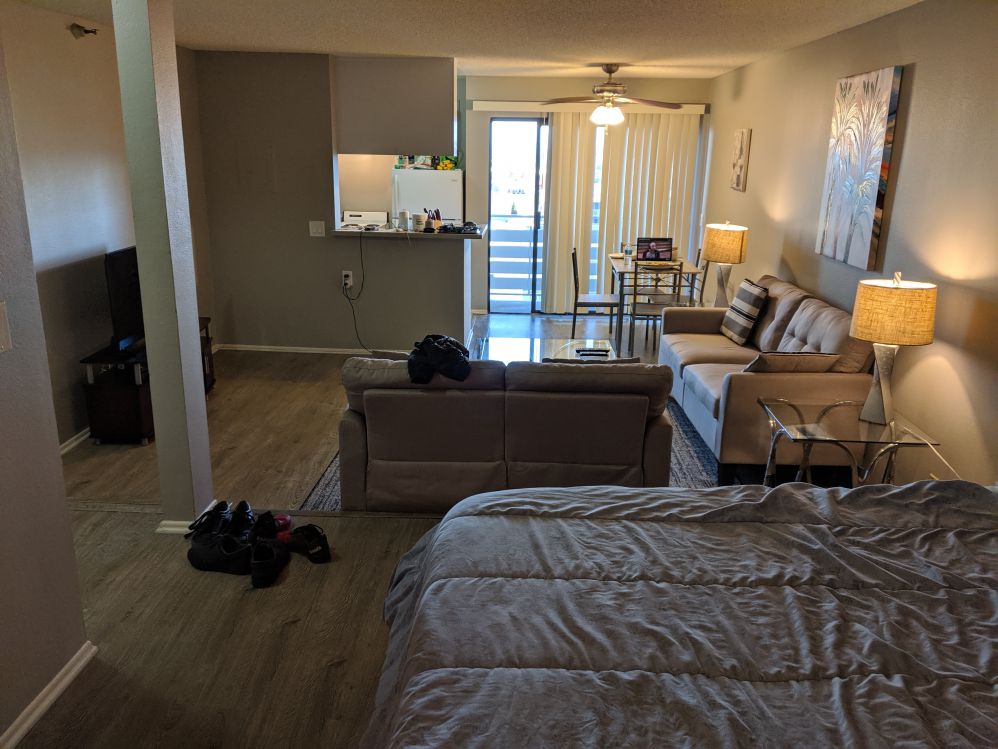 The room was one big studio, with a separate bathroom. The kitchen had all I needed to cook some good meals, and even a microwave was present. The coffee machine tough made the worst coffee I've ever tasted, just one very weak watery slurp of coffee. I quickly bought myself instant coffee powder and just cooked up water and made coffee in this way. The whole building was non-smoking, there were smoke detectors everywhere. I once cooked burgers which caused the fire alarm go off just by some smoke coming from the pan. Overall I really liked the place, and I felt very comfortable staying here, there was even a laundry machine outside on the apartment floor.
Hollywood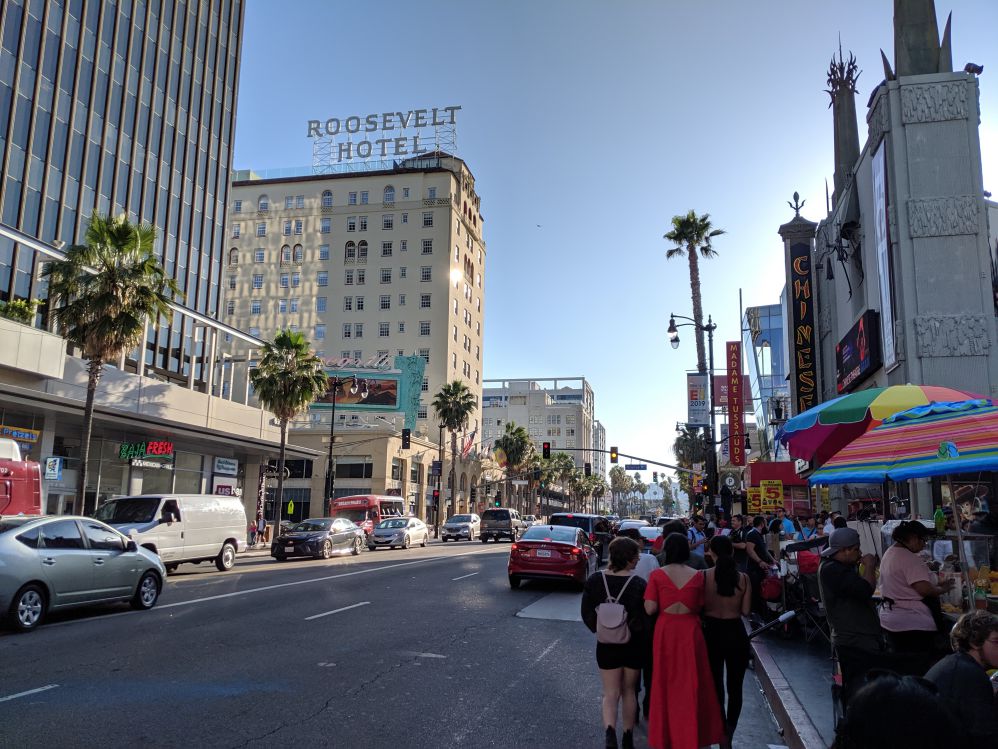 Hollywood is famous for the glamour and the movie stars, unfortunately when you walk through Hollywood, there is not much of that glamour to encounter. Its a place of extremes, there certainly are a lot of rich people living here, especially in the Hollywood Hills, but there are also a lot of homeless people living on the streets. Hollywood has many tourist attractions, and this also implies that the streets are filled with many tourists.
Walk of Fame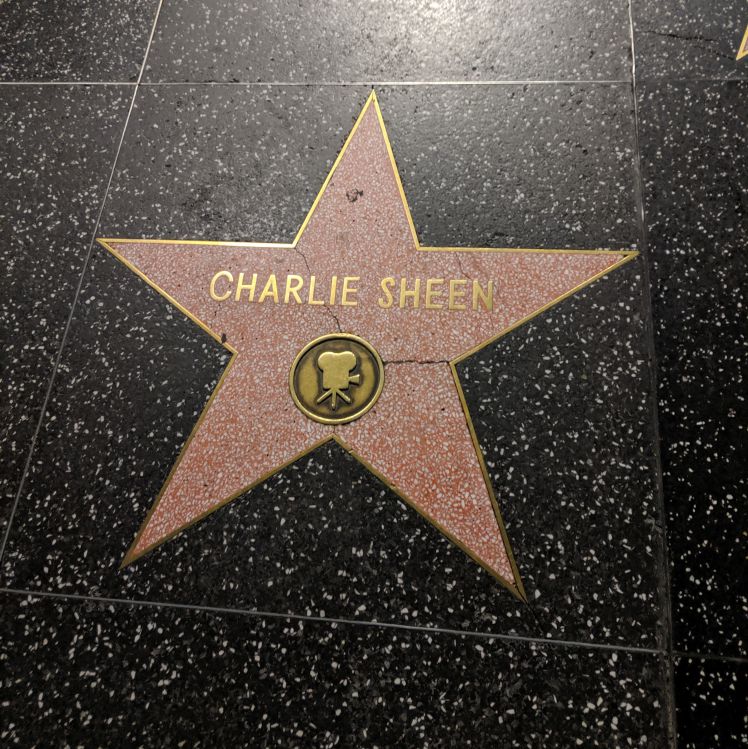 One of the most famous attractions in Hollywood is the Walk of Fame. My apartment was right at one end of the Wak of Fame, I walked over the stars countless times. At first, it was quite fun to look at the names, but it got used to it very fast that I stopped looking down when walking on the street. At night the walk is packed with tourist, taking pictures in front of the starts which causes very crowded sidewalks.
Hollywood Hills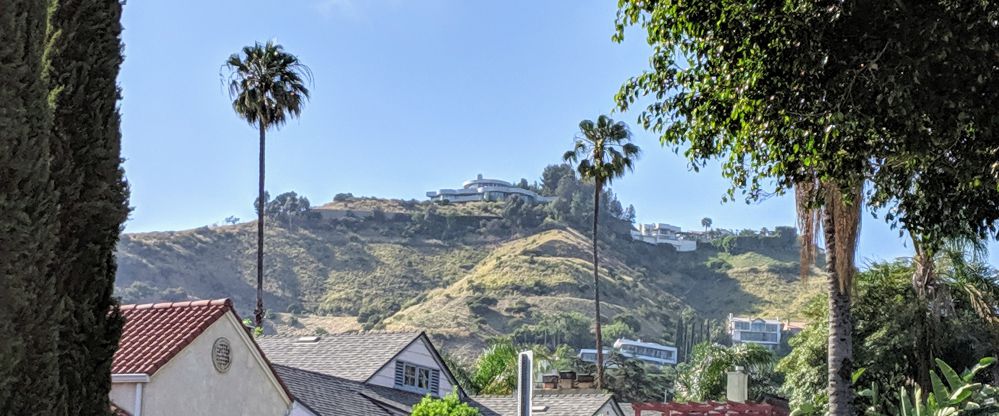 Hollywood Hills is as the name implies an area in the hills with many luxurious buildings, many famous and rich people live there. You can look up into the hills from Hollywood and see some very fancy houses. The hills themselves are very unstructured with many smalls streets. Some Uber drivers told me that they hate to drive up there because sometimes it's impossible to turn around because the roads are so narrow. As far as I understand, the Beverly Hills area is acknowledged to be superior to the Hollywood Hills.
Hollywood Sign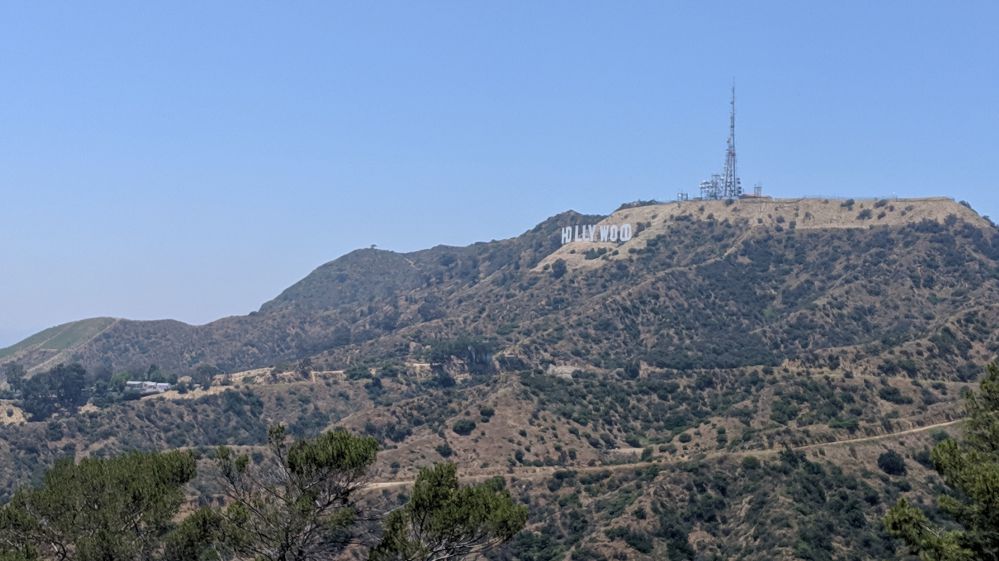 The famous Hollywood Sign can be seen from a few places in Hollywood when looking up in the Hills. I did a hike to the top of one of the hills, during the hike I saw the Sign from various angles.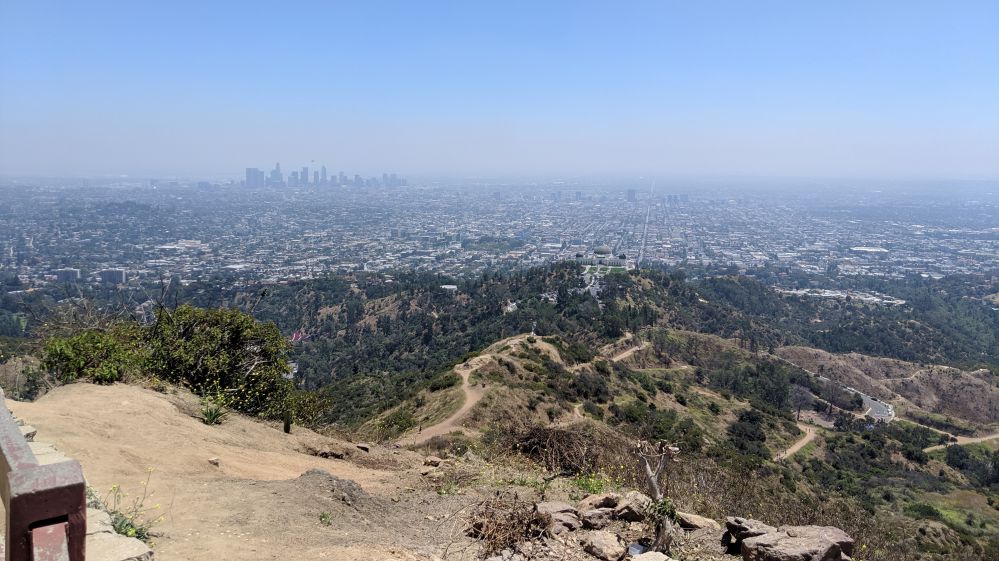 I started the hike at the Griffith Observatory. It's the building in the picture with a rounded rooftop. From there, you can take multiple paths that lead to and around the Hollywood sign. The hike to the top of the Hill took me around two hours. From the top, you can see a stunning view over Los Angeles, including the Skyline of Downtown.
Sunset Blvd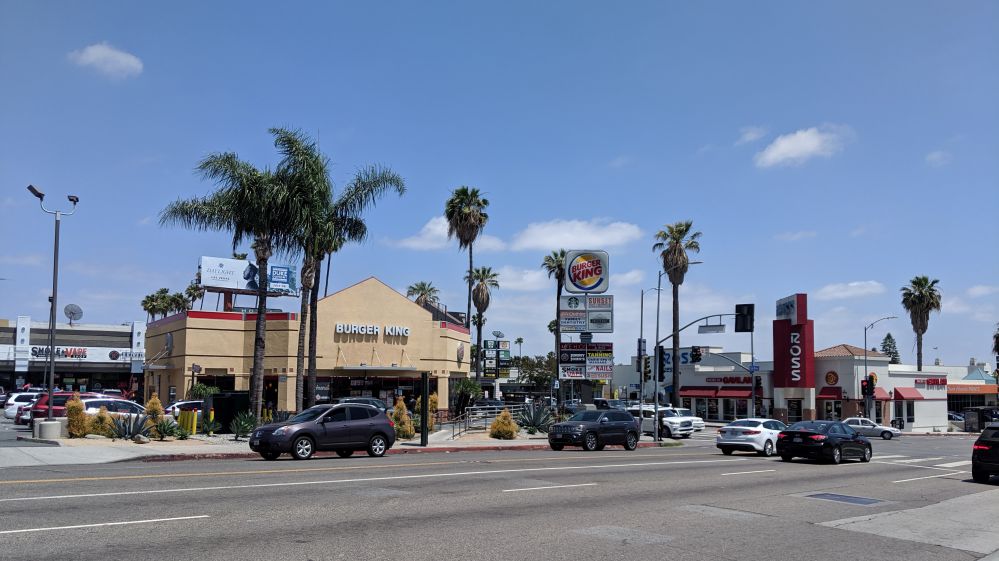 Only one street down from where I was staying on Hollywood Blvd, there is the Sunset Blvd street which also runs straight through Hollywood. On this street, you will find almost every fast food chain restaurant in existence.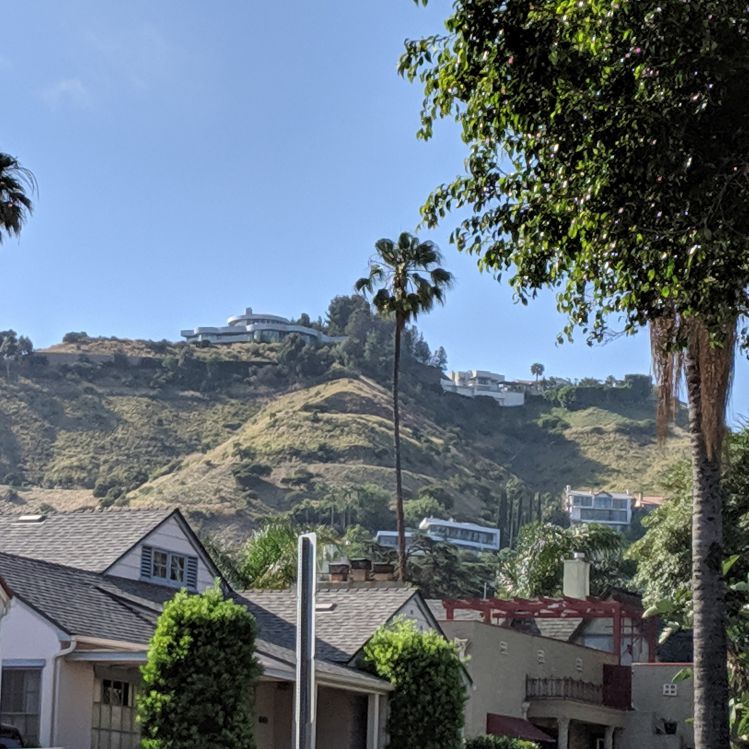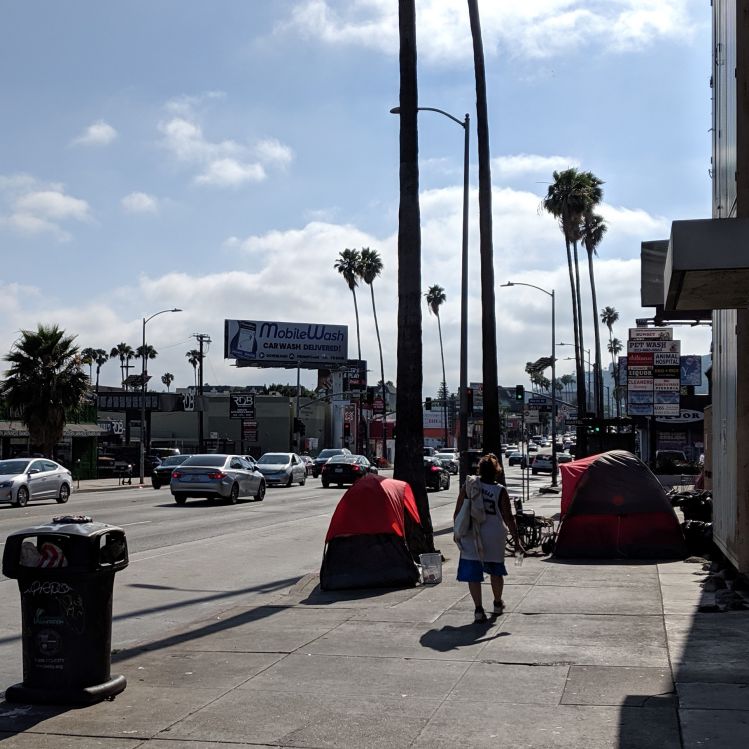 The street has a lot of traffic during the day. Walking on the sidewalk feels kind of weird, you can see the Hollywood Hills with huge houses, while on the street there are tents with homeless people living in them.
Sunset strip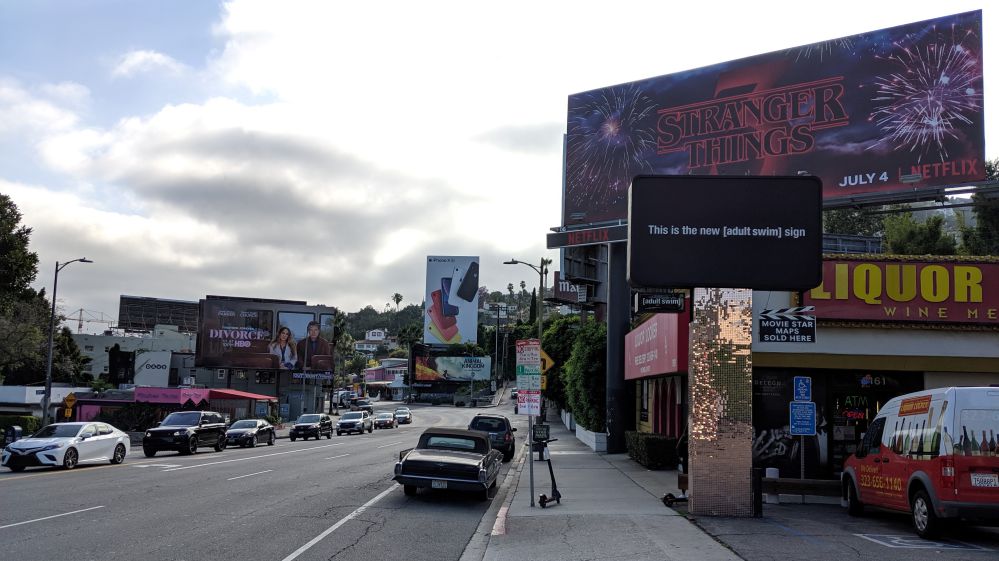 Located in West Hollywood, as part of the Sunset Blvd street is the so-called Sunset strip. This area contains many restaurants and bars. The road is filled with billboards advertising the newest movies and tv shows. I have walked through the Strip a couple of times. The sidewalks are way less crowded than on the walk of fame. The Strip is more geared towards the adult crowd.
Comedy Store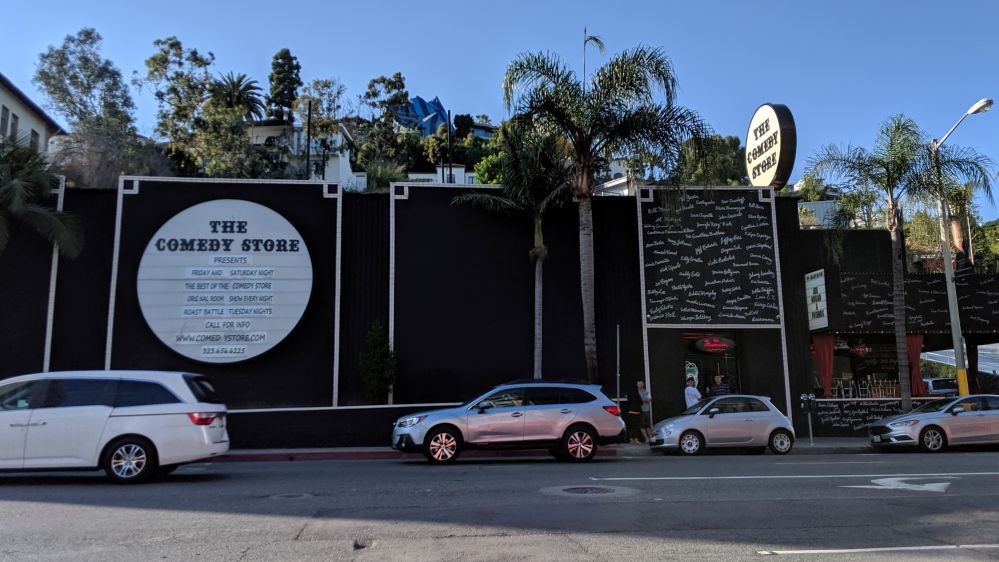 The world famous Comedy Store is located right on the Sunset Strip. This place hosts some of the most popular comedians doing stand-up shows. I used to listen to some comedy podcasts when driving to school. Because of those podcasts, I got interested in experiencing more of American comedy. I just had to check it out while I'm here.
Compared to the type of comedy I saw from Germany/Switzerland, the humor and jokes here are on a different level, very dark and sexual, immoral jokes. While at the shows, I made sure to pay proper attention to get every joke from the comedians!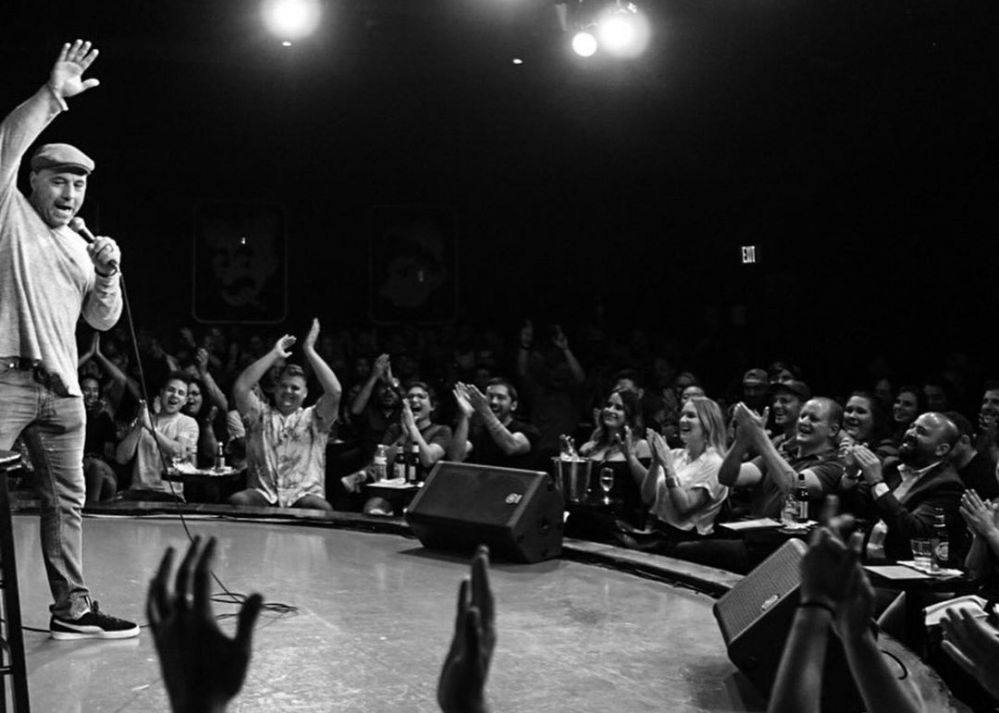 The store has three different rooms. The Main room holds around 500 people, which makes for a very lively atmosphere. I went to a total of three shows, and during each show, I couldn't stop laughing the whole time! I saw many famous comedians, one of them was Joe Rogan. There are no pictures allowed inside the store, you can see me in the picture above right next to Joe. I was sitting in the front row and having a blast!
Nightlife
The nightlife in Hollywood is probably one of the best in the world. There are so many things going on all the time even during the weekdays. While staying in Hollywood, I was going out around five times a week to various bars and clubs. The nightlife in Hollywood is very short tough, people start coming around 10 pm, and it takes at least one hour for the places to fill up, and at 2 am most bars close because it is not allowed to sell any alcohol after that. The clubs are mostly open till 4 am, but they also stop selling alcohol, they even go through the club and take your drink if it is after 2 am. It is fair to say that a lot of people choose other substances after that time. Most people go to after parties at their own houses after that. I am sure the more people you know around here you will be able to go to even more exclusive parties. The following is a list of some of my favorite bars and clubs that I have been to. I have linked the images with the location of the places on Google maps.
No Vacancy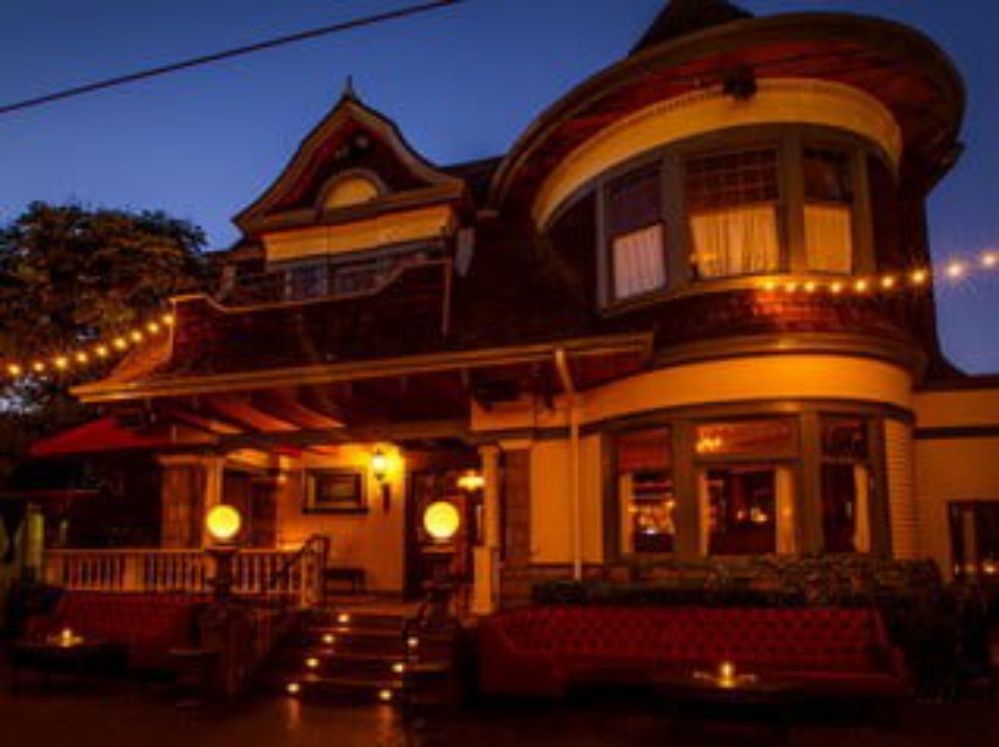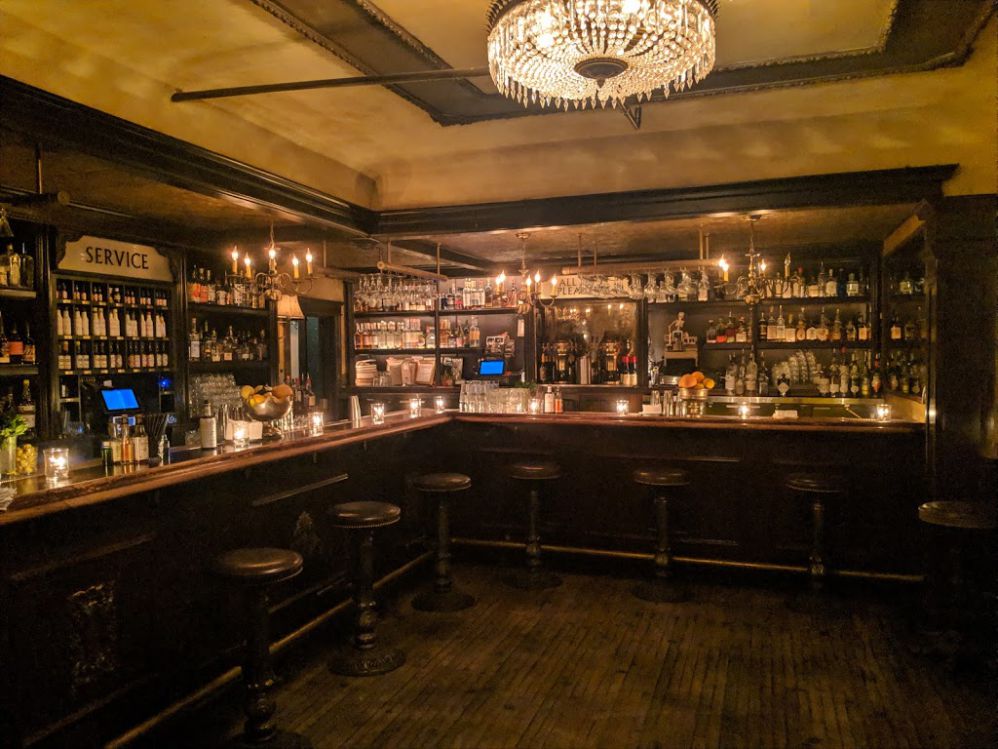 Located off Hollywood Blvd street, in a hidden side street, you will find the "No Vacancy" bar. Someone told me about this bar. It is not easy to find, you have to know its back there. The bar has an exceptional vibe, at the entrance people get queued up in groups and when entering you will go to a room where you are welcomed by a woman laying on a bed which then moves away and uncovers a staircase leading down into the bar. There is an indoor and outdoor part with space to dance. There also are short dance/strip every hour. The bar gets filled up around 11 pm, and people start dancing. It is easy to start a conversation here because the music is not too loud. I went here every Friday, I have to say this is the best bar I have ever been to in my life!
Good Times at Davey Wayne's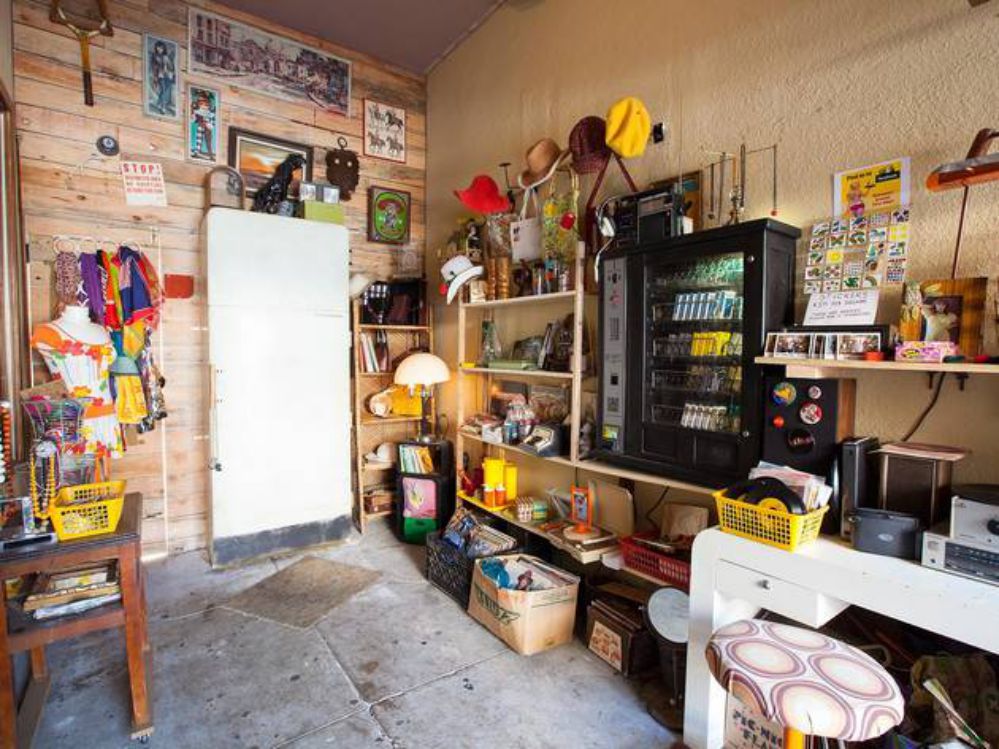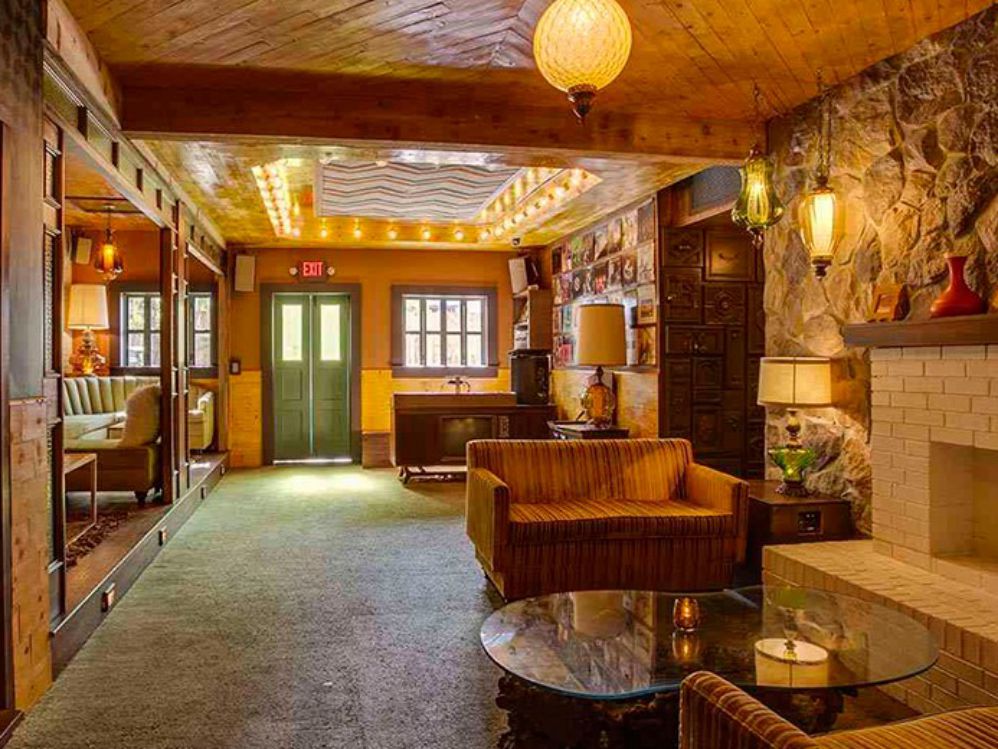 Also located right of Hollywood Blvd street, you will find another kind of hidden bar. This bar only plays 70s music and has a very chill vibe. Some nights, there are also live bands playing here. The staff and the people are all very welcoming. The outdoor area is very nice to socialize and hang out. This bar also gets filled up around 11 pm and stays packed till 2 am, even on a weekday. I went here almost every Wednesday.
Avalon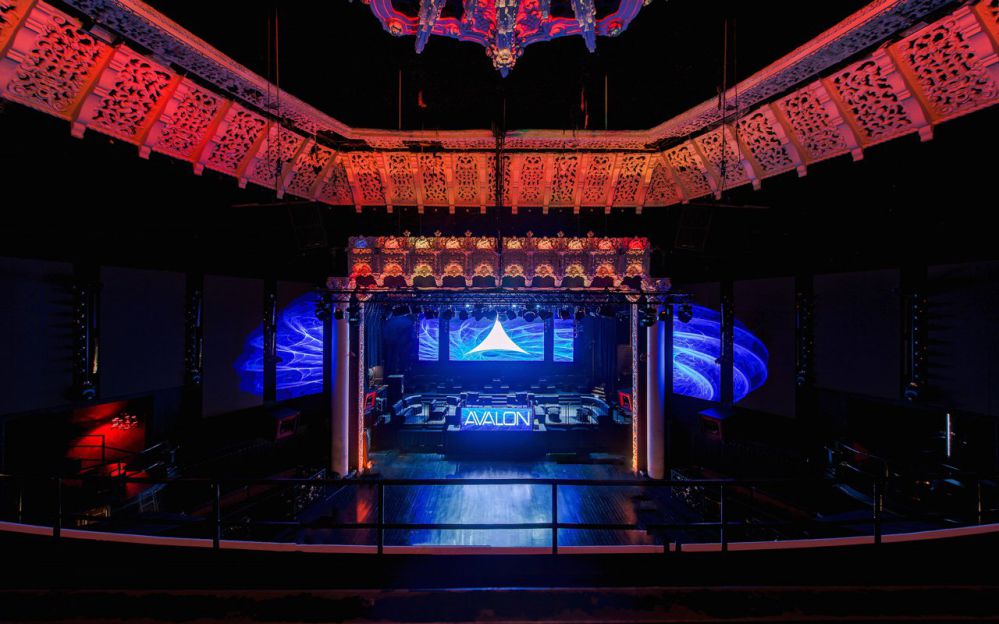 One of the bigger dance clubs in Hollywood is called Avalon. I have been told that this club exists for a very long time. I even went here on my first visit to Los Angeles a couple of years ago. The club is quite big and has a beautiful venue. I went here a couple of times to see some high-grade DJs and dance through the night. I always found some good company here, though this place is more geared towards dancing and less to socialize, which kind of makes sense for a club.
The Sayers Club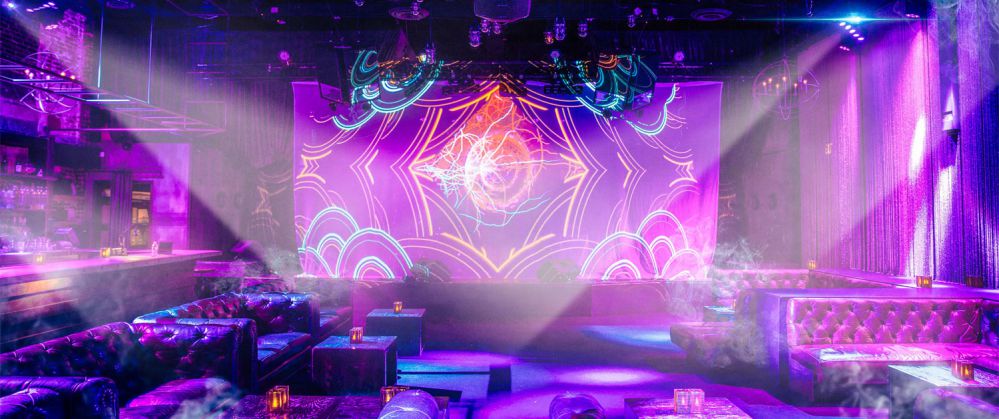 More upscale club with a little older crowd. There are a lot of dancers in this club. I was here once for an excellent live music DJ set. People come to this club from all over LA, and you can notice some of them are enjoying themselves to the max here.
Sound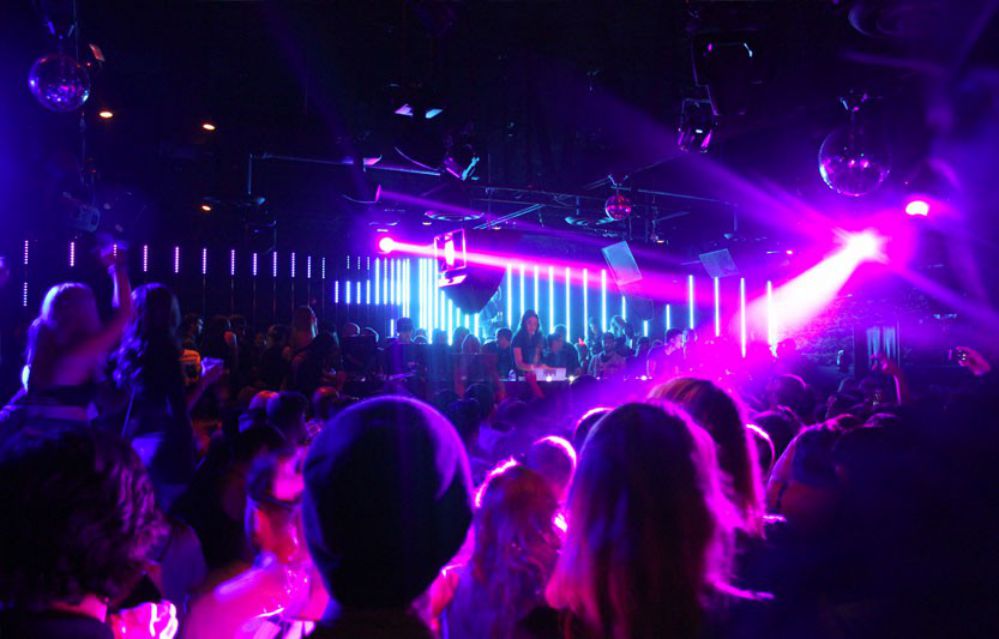 Another electronic dance club on Hollywood Blv, this club was five minutes walking distance from my apartment. Despite how close it was, I only went here once. It was a fun crowd and people were clearly having fun here even after the bars close ;)
1OAK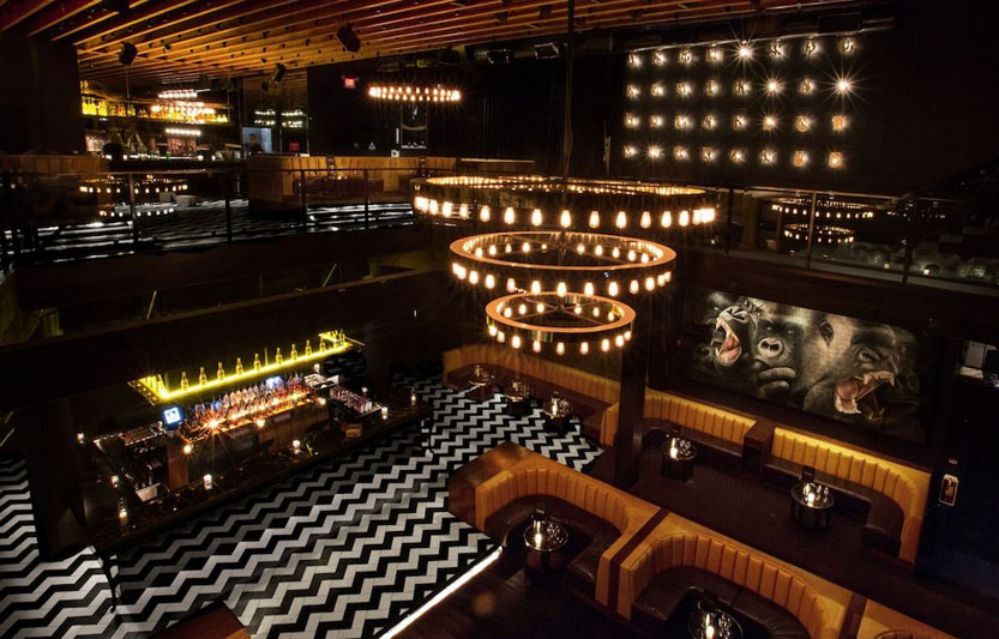 1OAK in LA is a club where a lot of Hip-Hop artists perform and celebrities party at. The club is mostly filled with VIP bottle service areas, and the dance floor is kind of small. If you don't have VIP here is it kind of weird. I went here once, I none the less had a fun time without paying an absurd amount to get into the VIP areas.
Pool Party
There are many pool parties, mostly hosted at pools of hotels around Hollywood. I went to one party at the Roosevelt Hotel on Hollywood Blvd. Strangely only about 20% of the people wore swim shorts, and almost no one went into the pool. The party was on a Sunday, and there was excellent music and the people were having fun.
Exchange LA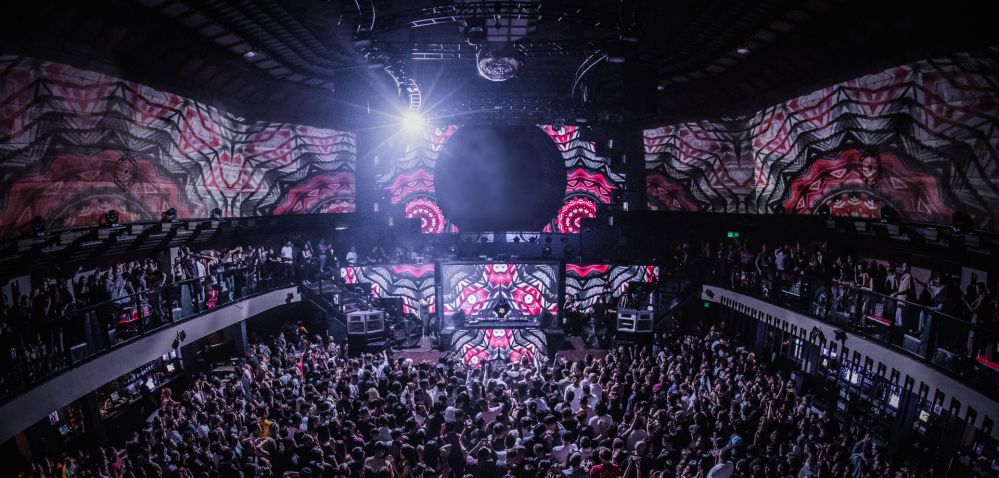 One other club I like to mention is called "Exchange". This club is located not in Hollywood but Downtown LA. The club has multiple floors and a solid sound system. They regularly have an excellent line-up with very notable DJs in the dance music genre. I have been to this club multiple times and will continue to go there if I like the DJ who is playing on a particular night.
Drink update
In my last post, I mentioned only drinking Tequila on the rocks and sipping it throughout the night to avoid hangovers. I since changed my drink of choice to Vodka on the rocks. I noticed I get even fewer hangovers from good Vodka like Grey Goose compared to Tequila. I can handle one to max three drinks combined with a lot of water and ice and wake up the next day without a hangover :)
Gym update
I have been consistent with going to the gym between four and six times a week. I had to find a new gym close to my apartment. I found an "LA Fitness" Gym in walking distance. The gym had sufficient equipment, but it was always crowded with people, and the atmosphere was awful compared to the Golds Gym in Venice Beach. On the weekends I always took the bus from Hollywood to Venice Beach to workout at the Golds Gym. I am looking forward to regularly working out in Venice again. The Golds Gym gets me really motivated to push my training sessions.
Conclusion
To conclude my month long visit in Hollywood, I had a great experience, and I met a lot of interesting people, most of them moved to Hollywood/LA from some another state or even from aboard. Hollywood is way less glamorous than I had expected it to be. I think the amount of enjoyment you can have here is limitless. I would not want to live here, at least not right now. I guess to feel comfortable to live here one has to be at least upper middle class, everything below it is hard to get by. The restaurants and clubs in West Hollywood are all very expensive.
As I am writing this post, I have already moved back to Venice Beach for my final stay in LA for another month. I am trying to enjoy every day and be present in the moment.
Thanks for reading.