First week in Tokyo Japan
This post is a small recollection of my experience of the first week of my visit to Japan. I recently completed my study which consisted of working full time and going to school at some nights on weekdays. It was time for me to take a break from my daily work life. I've chosen to travel to Japan for three weeks to experience something completely different. I made the decision to visit Japan mostly because I've heard the culture is very unique and the food is outstanding, especially sushi, which is one of my favorite foods. Just while writing this post I'm already convinced that the decision to visit Japan was one of my best decisions ever.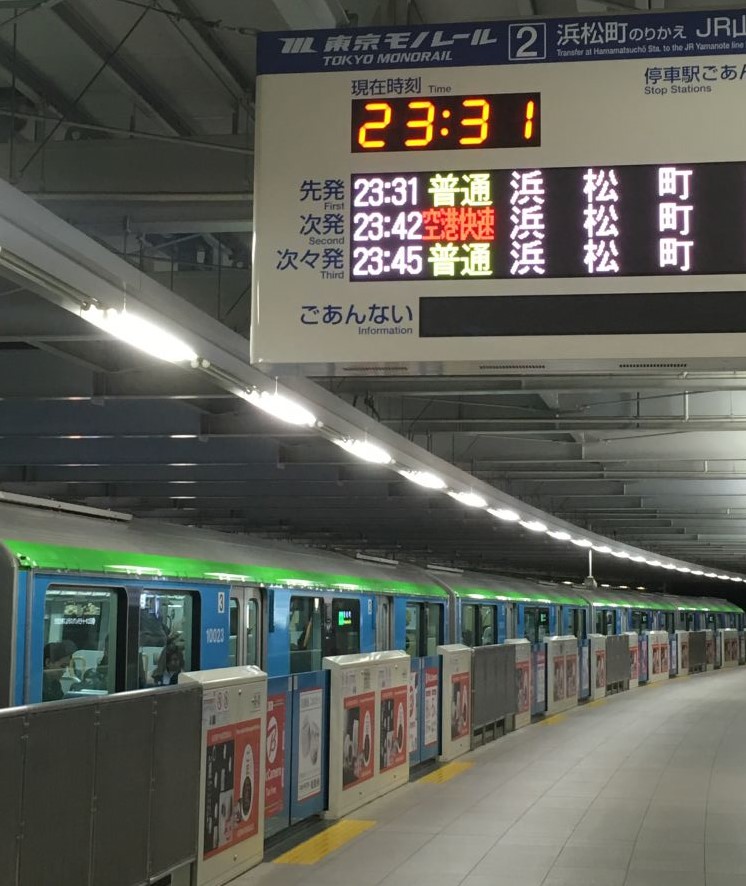 In Tokyo, the train system stops operating at night around 1am, I managed to catch one of the last trains which took me to the nearest station from my hotel, Shibuya Station. Arriving at Shibuya Station, I had a hard time finding the exit. Once I found the exit, I looked around and found myself at the Shibuya Crossing, the busiest intersection in the World.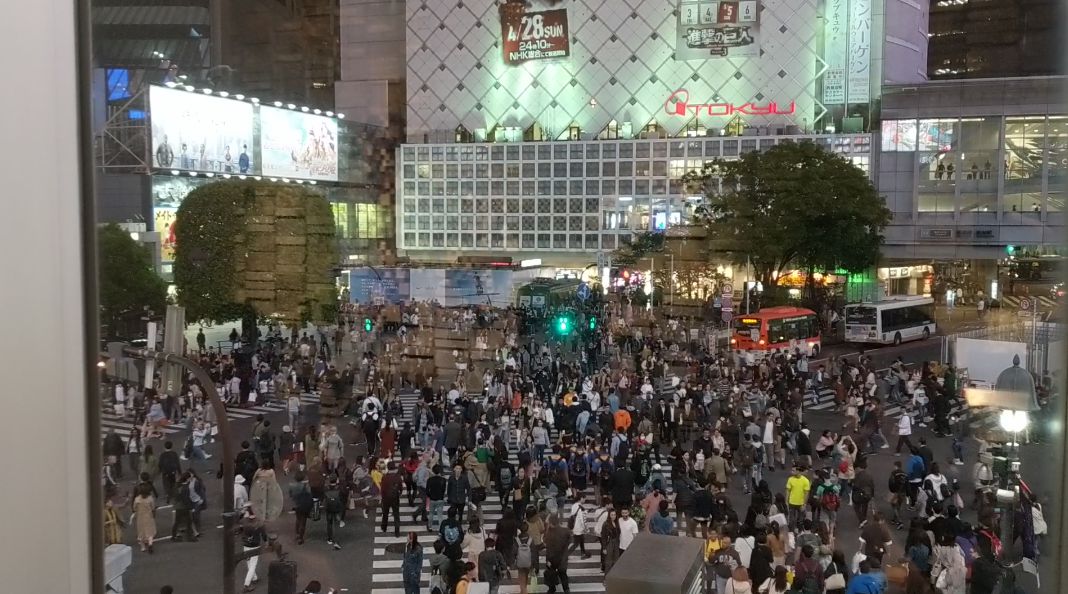 Now I just had to find my hotel, this turned out to be the hardest part of the trip so far. After multiple attempts at finding the right direction I finally made it to my Hotel after about 30 minutes. After knowing the location without the help from Google Maps I could walk from the Station to the Hotel in under 5minutes, the location of the Hotel was excellent. I checked in to my room at about 1:30am, after traveling for almost 20 hours I was not as exhausted as anticipated, so I went out the get something quick to eat. The convenience stores in Japan are all open 24/7, I bought some sushi and took it to my hotel room to eat it before going to sleep.
Eating in Tokyo
Now let's start with one of the most amazing parts of Japan, the food. For the week I've been in Tokyo I've only eaten Japanese style foods. The following is a list of some of my favorite dishes I've tried.
Ramen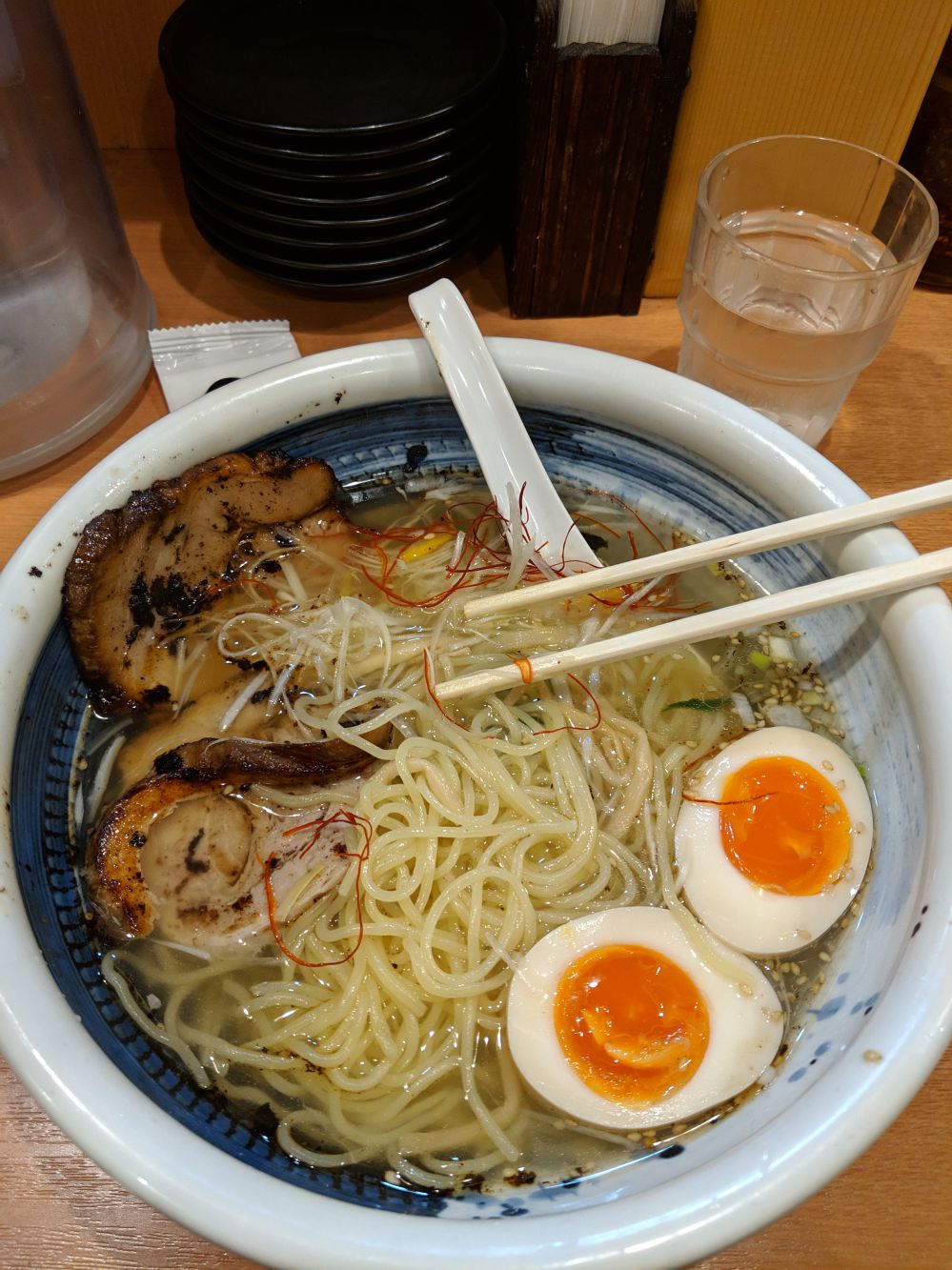 Japan is famous for having a wide variety and some of the most tasteful Ramens. Ramen is a form of noodle soup that can have many different flavors. The broth can be based on different types of animal bones like pork or even fish. There are very thin broths with just salt, creamy ones and also very spicy versions. Each Ramen restaurant has its own distinct flavors.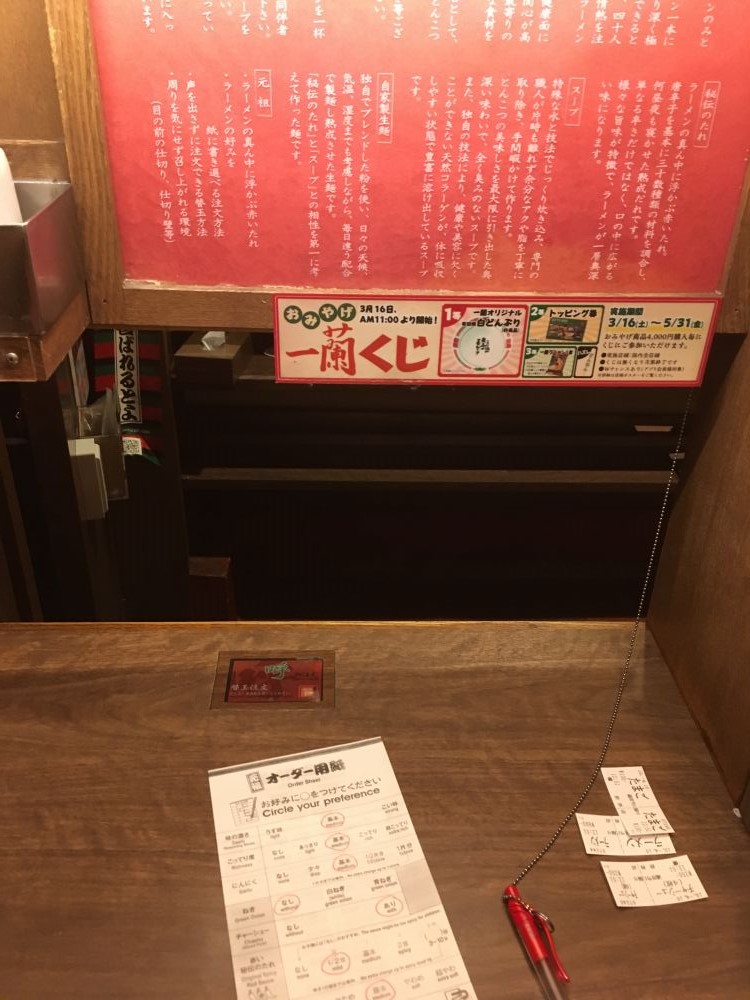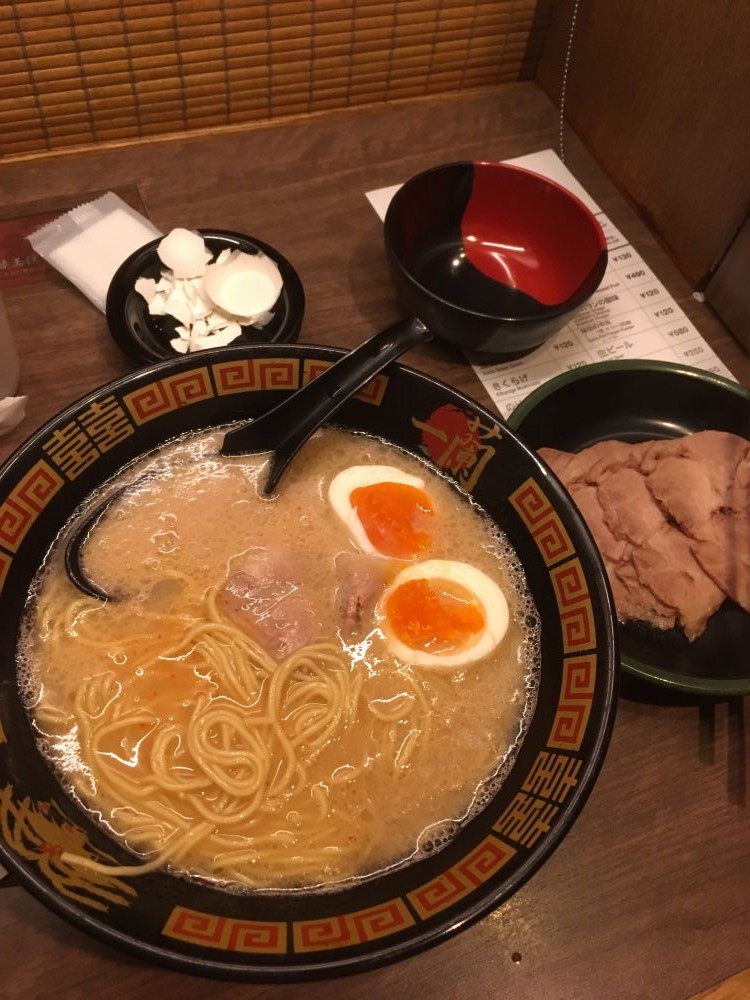 Ichiran is a famous Ramen chain here where you can order on a vending machine in front of the restaurant and then get a single seat inside where you can eat your ramen by yourself. The waiter/cook is behind a wall where only the food gets passed, and you never see the face of the waiter/cook.
Price: 800-1500yen / 8-15$
Udon
Udon is also a noodle soup but with much thicker noodles. I actually prefer the thicker noodles over the thinner ones served in most Ramen dishes. There are also multiple Udon chain restaurants all around Tokyo where you can order your customized noodle soup. I've ordered just noodles and beef on top.
Side note: I forgot to take a picture of the dish, I will add one when I have it again :)
Price: 600yen / 6$
Gydon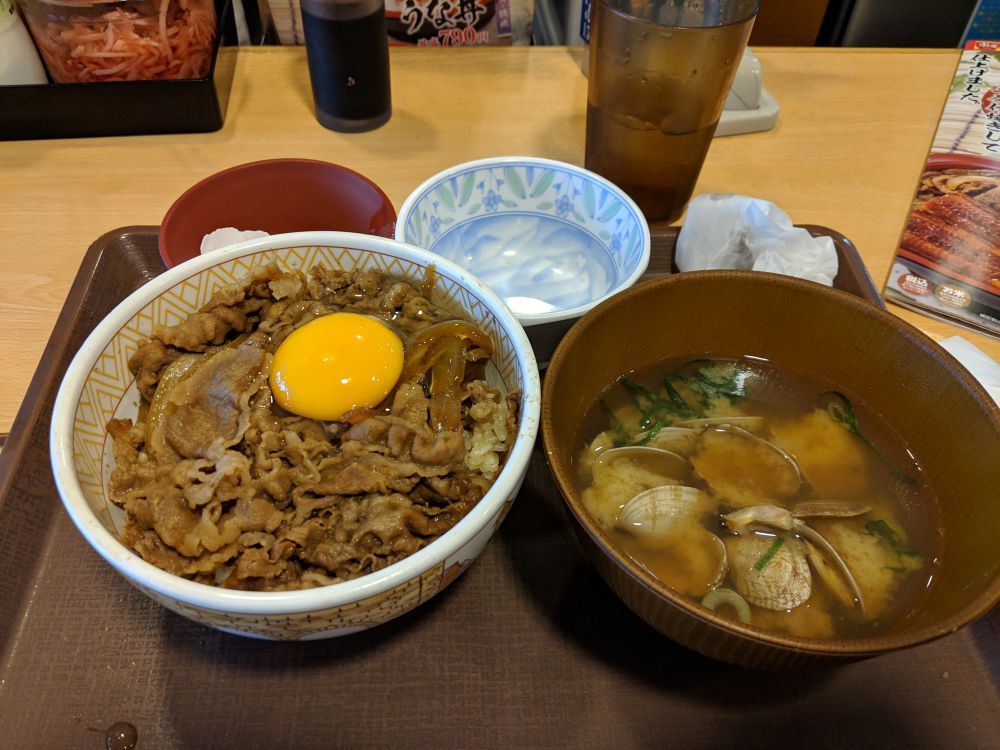 Gydon is another Bowl type dish, but instead of noodles, it consists of rice, beef and other toppings of choice. I was recommended by a local to add a raw egg on top of the dish as most Japanese people eat Gydon with raw egg. Once you mix in the egg it ads a delicate flavor to the meal. I just hope the eggs they use at the Chain restaurant are somewhat healthy and safe to eat raw. I had this dish already multiple times and always felt fine the next day.
Price: 500yen / 5$
Sushi
There are so many sushi restaurants in Tokyo, from expensive high-end Micheline star restaurants to self serve running sushi to the sushi sold at the convenience stores. There are countless opportunities to eat sushi. I think I ate some type of sushi every day for the first week I've spent in Tokyo. The sushi in Tokyo is very good quality, even the sushi from the convenience stores is very enjoyable.
Genki Sushi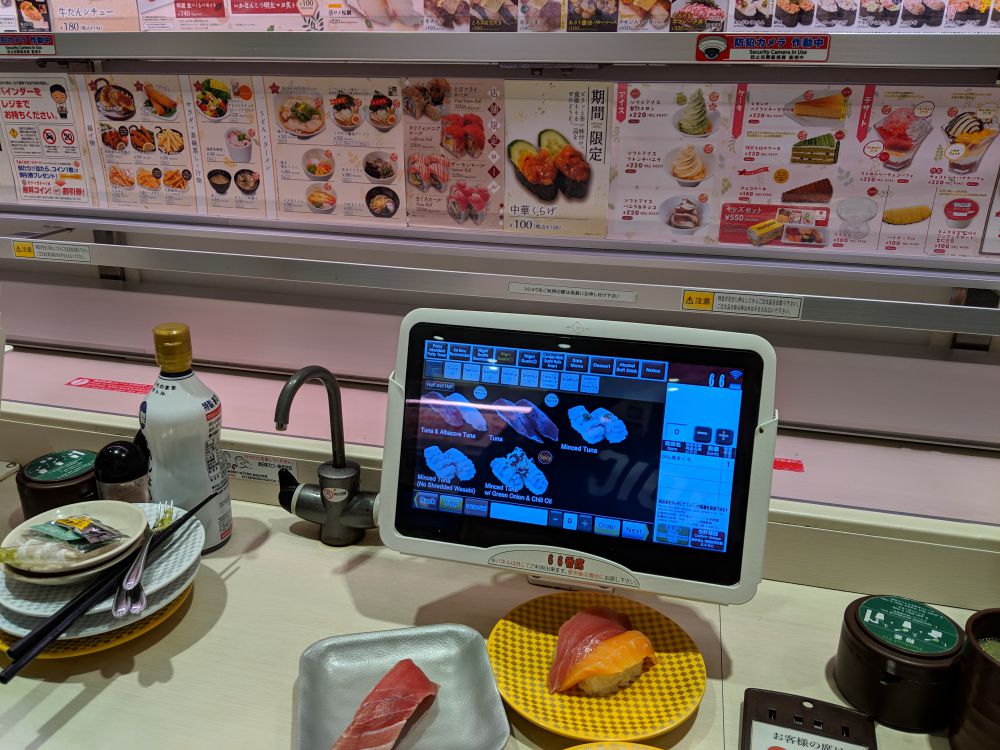 For running sushi, a chain called "Uobei Genki Sushi" is one of my favorite restaurants so far. You can order your food on a tablet, and the food just drives by for you to pick up. There is a great variety of sushi choices, mainly different kinds of nigiri. Also, maki rolls are available but there are not as many fancy types of sushi like you may know from your country. Japan sushi is more traditional with a focus on quality instead of fanciness.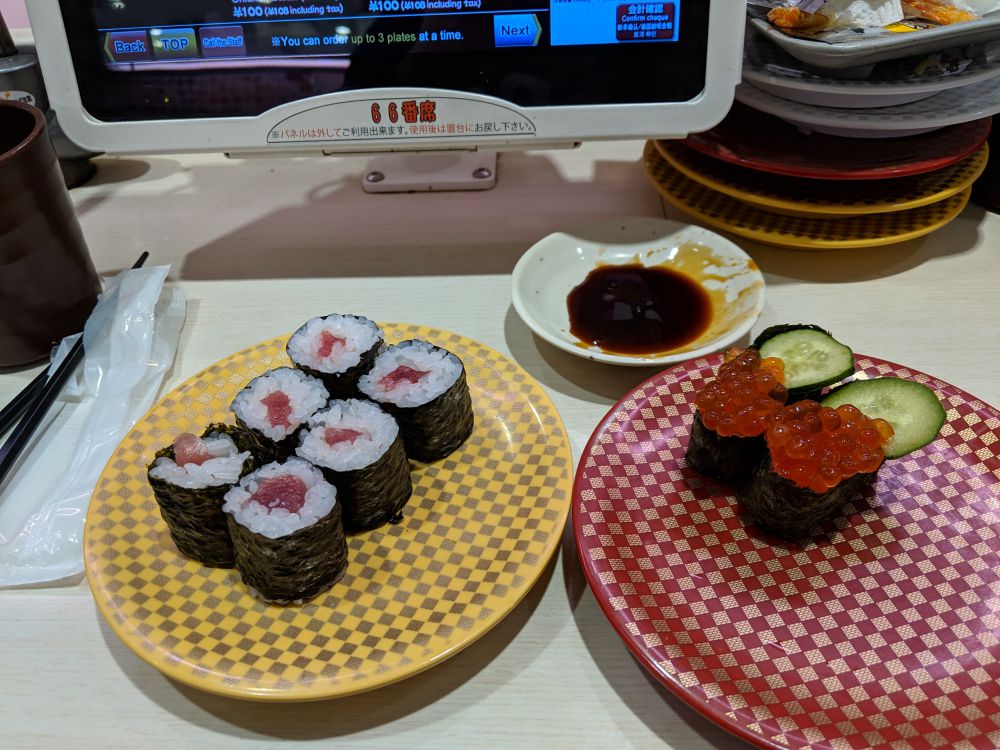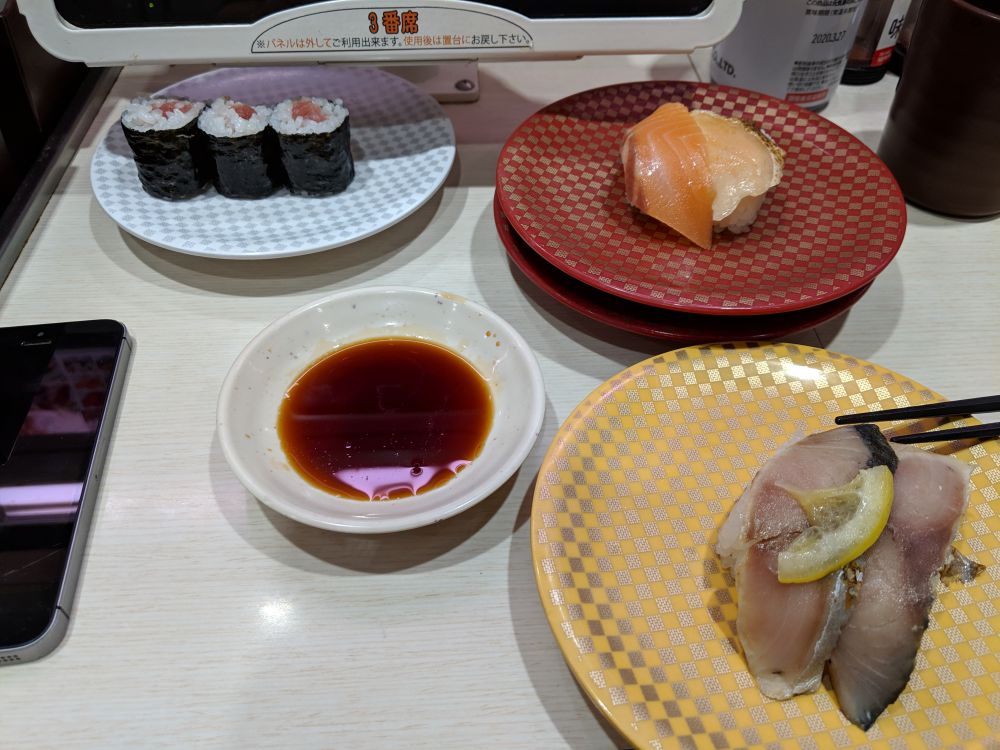 Price: 2 nigiri 108yen / 1$ , 6 maki 108yen / 1$
Sushi zanmai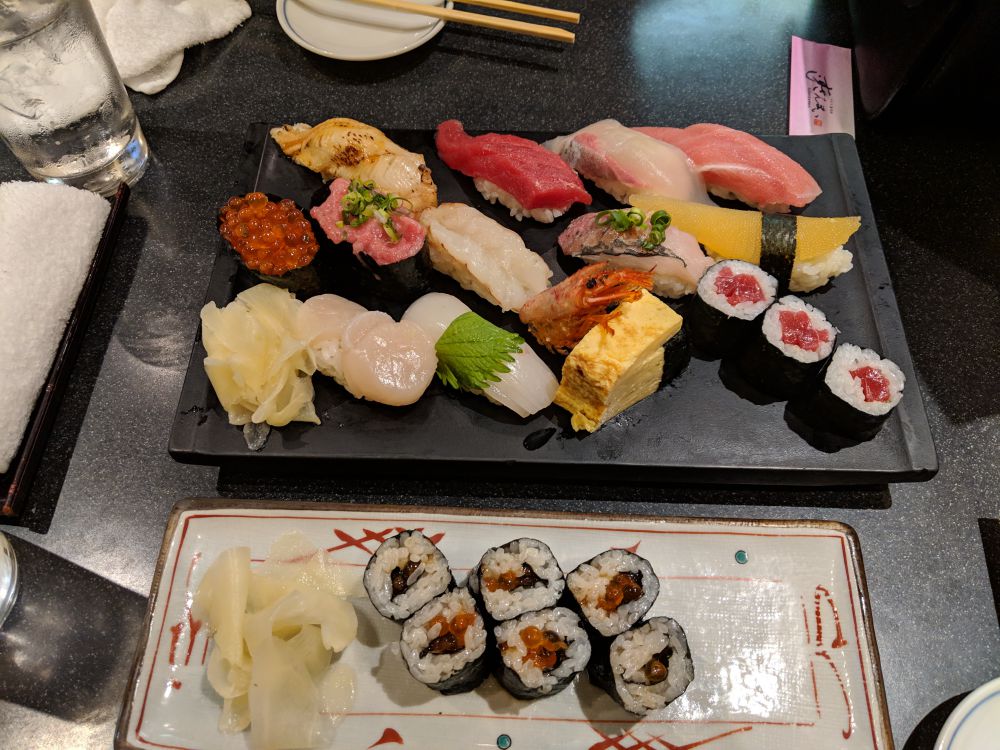 A popular sushi chain that serves higher quality sushi is called "sushi zanmai". The sushi is made in front of you, and there is an excellent selection of different types of fish. Many different kinds of tuna, especially fatty tuna which is one of the tastiest kinds of sushi. If not explicitly specified, all the sushi contains wasabi on the inside which seems to be the traditional way to eat sushi.
Price: the pictured plate was around 2500yen. Prices here are about the same as a typical sushi restaurant in Switzerland, but the quality is way higher.
Sushi course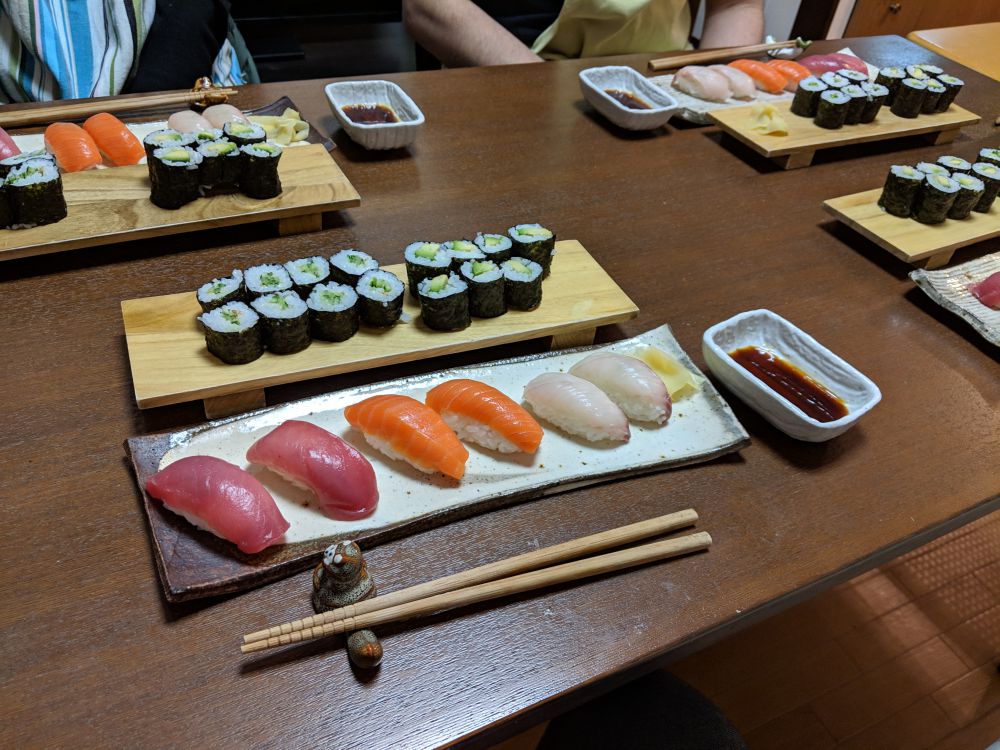 I even took a sushi lesson from a sushi chef. He taught me how to make sushi rice, maki rolls, and nigiri sushi. The pictured sushi is the end result of the lesson, which took about 3 hours to complete.
Price: booked via Airbnb for about 50$ including the food itself.
Sashimi Bowls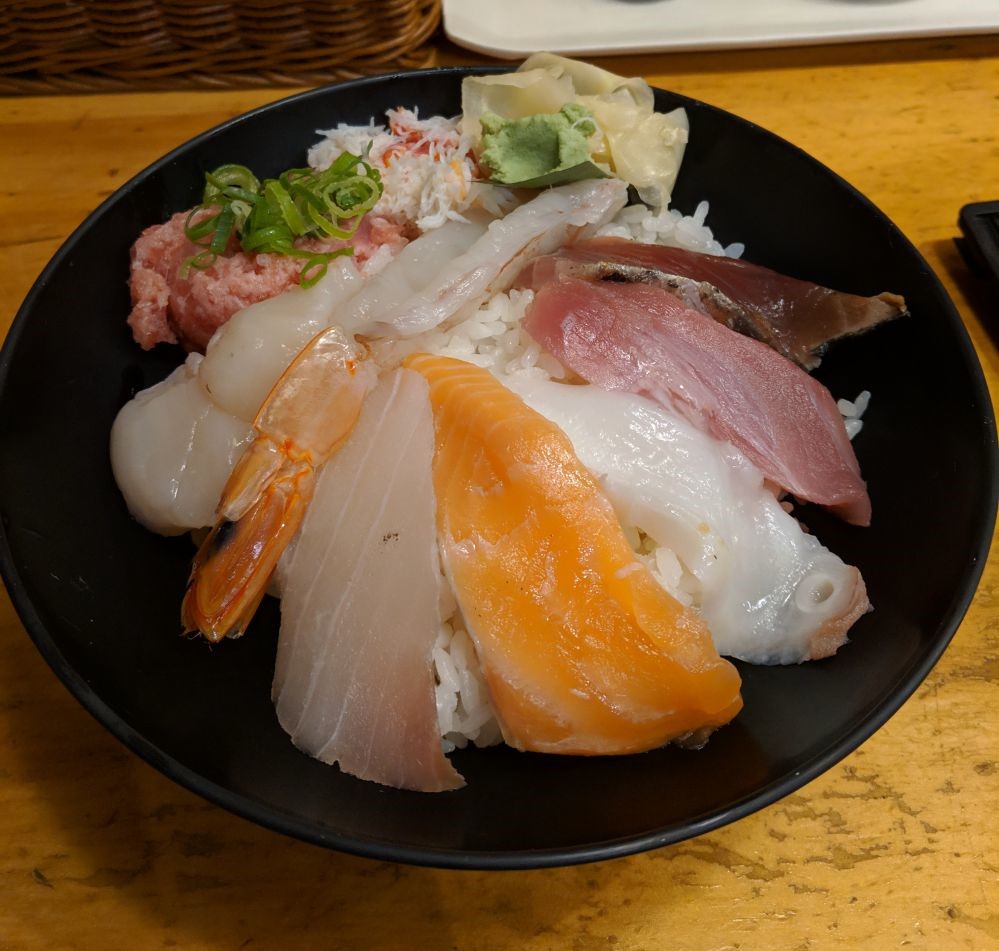 There are many restaurants which serve bowls with rice on the bottom and Sashimi on top. I saw multiple of those type of restaurants on the outer Tsukiji fish market.
Price: 1500yen / 15$
Japanese Pancakes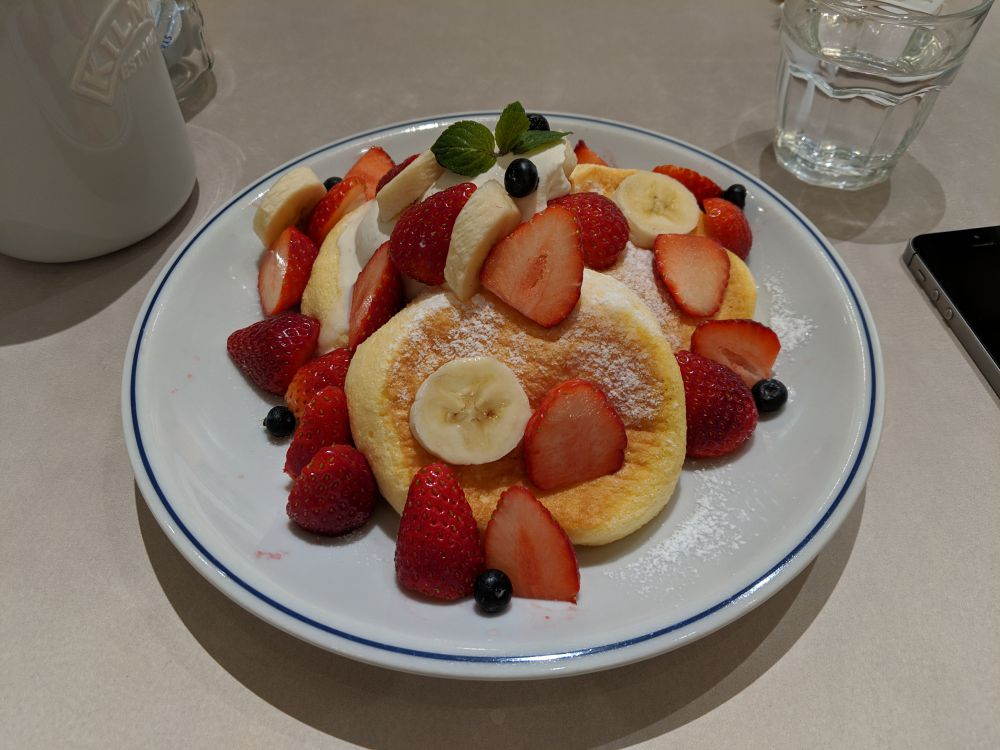 Japanese pancakes are really fluffy. The picture cannot describe the unique texture of the pancakes. They are at least 4cm thick and extremely light. They even advise you to eat them with two forks to just pull them apart. Very tasty.
Price: 1400yen / 14$
Snacks
Japan is famous for having a huge variety of snacks. The convenience stores contain so many small items, I made it a habit to check out the food sections every time I walked back to my hotel. There are so many convenience stores in Tokyo, there is almost one every 100m. There are three big chains; Family Mart, Seven Eleven, Lawson spread out all over Japan.
Onigiri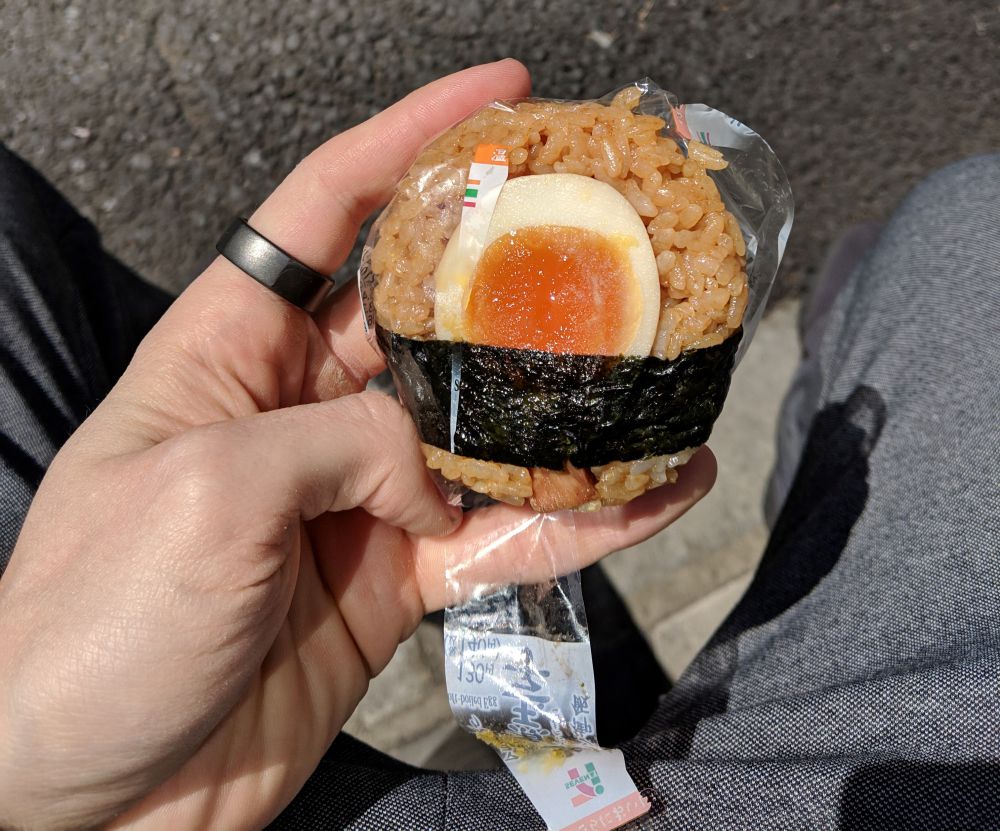 Onigiri is probably my favorite food item from the convenience stores. They are triangle shaped sushi with many different variations. My favorite one is the one pictured with a cooked egg inside. Really great for a quick snack.
Coffee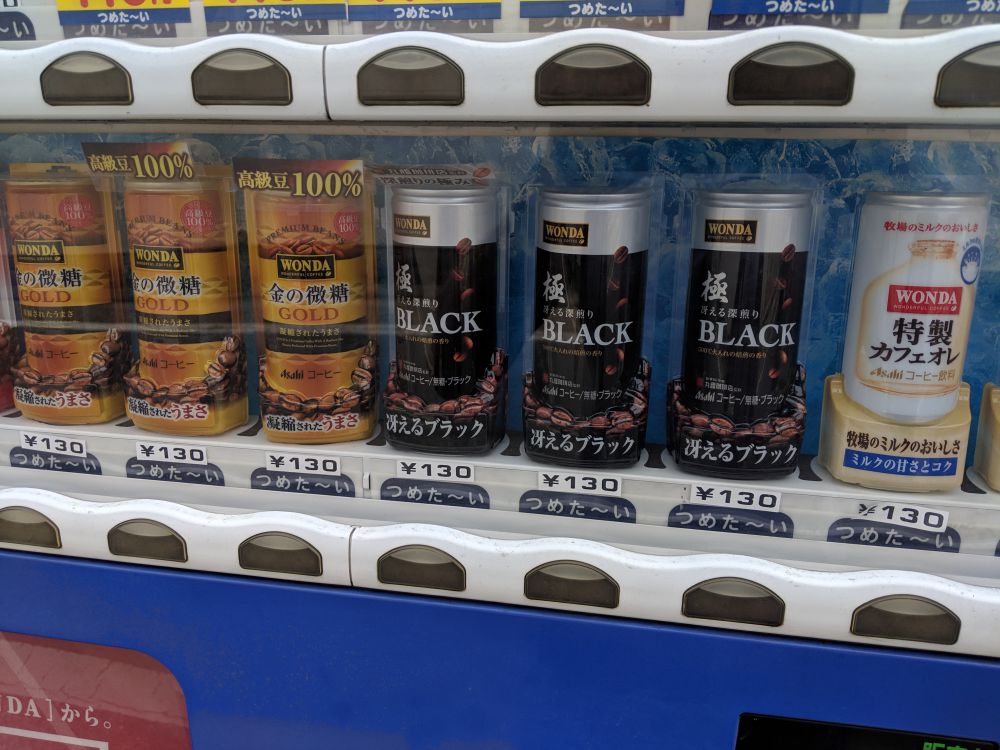 The coffee sections of the stores have at least 30 different types of coffee. But I like to keep it basic, and I always buy basic black coffee in the mornings. All the store have cold and hot sections. So you can decide if you want the coffee cold or hot. Japan also has vending machines for drinks including coffee at almost every street corner.
Chocolate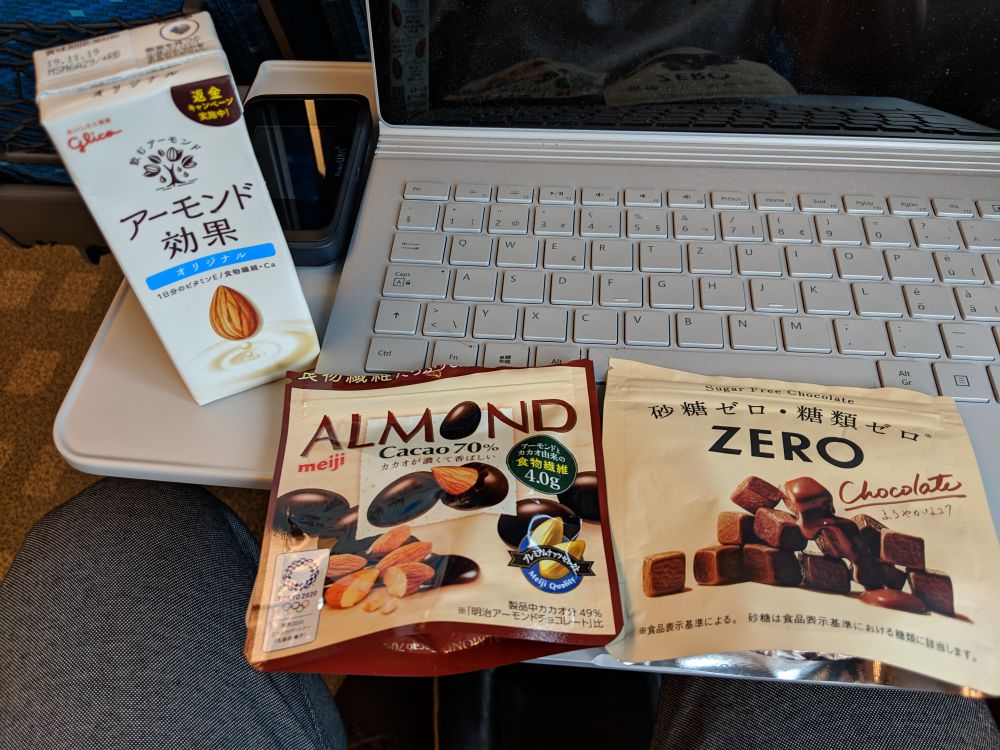 I love dark chocolate, and the stores contain many different types of dark chocolate covered snacks. I really like the brand "Zero" which stands for zero sugar. The pictured chocolate combined with the almond milk is extraordinary!
Matcha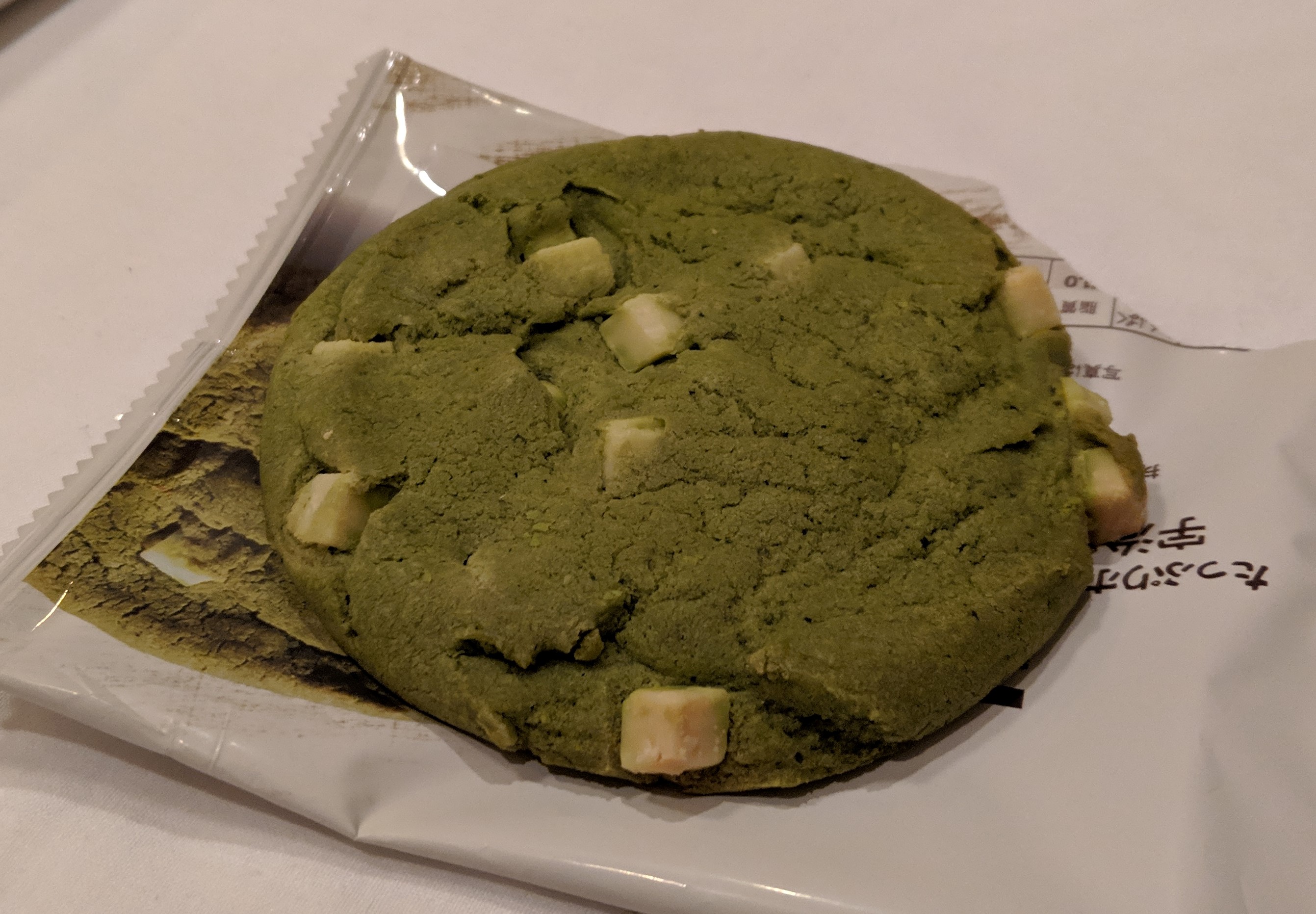 In Japan, there is almost anything with added matcha flavor. Matcha is known for the distinct green color. I had to try at least one type of matcha-flavored food, I went for the cookie which was really good. You could really taste the matcha flavor.
Sightseeing
Tokyo has so many exciting places for sightseeing. For me, the best way to see the city was to walk between different sights to see many unique alleys and buildings. I always walked to a location if it was possible to walk there under 30 minutes (which equates to a predicted time of 50 minutes on google maps - I walk a lot faster). With this method of getting around, I could walk a little, check out someplace, eat some food and then walk again. For the way back I mostly used the train system.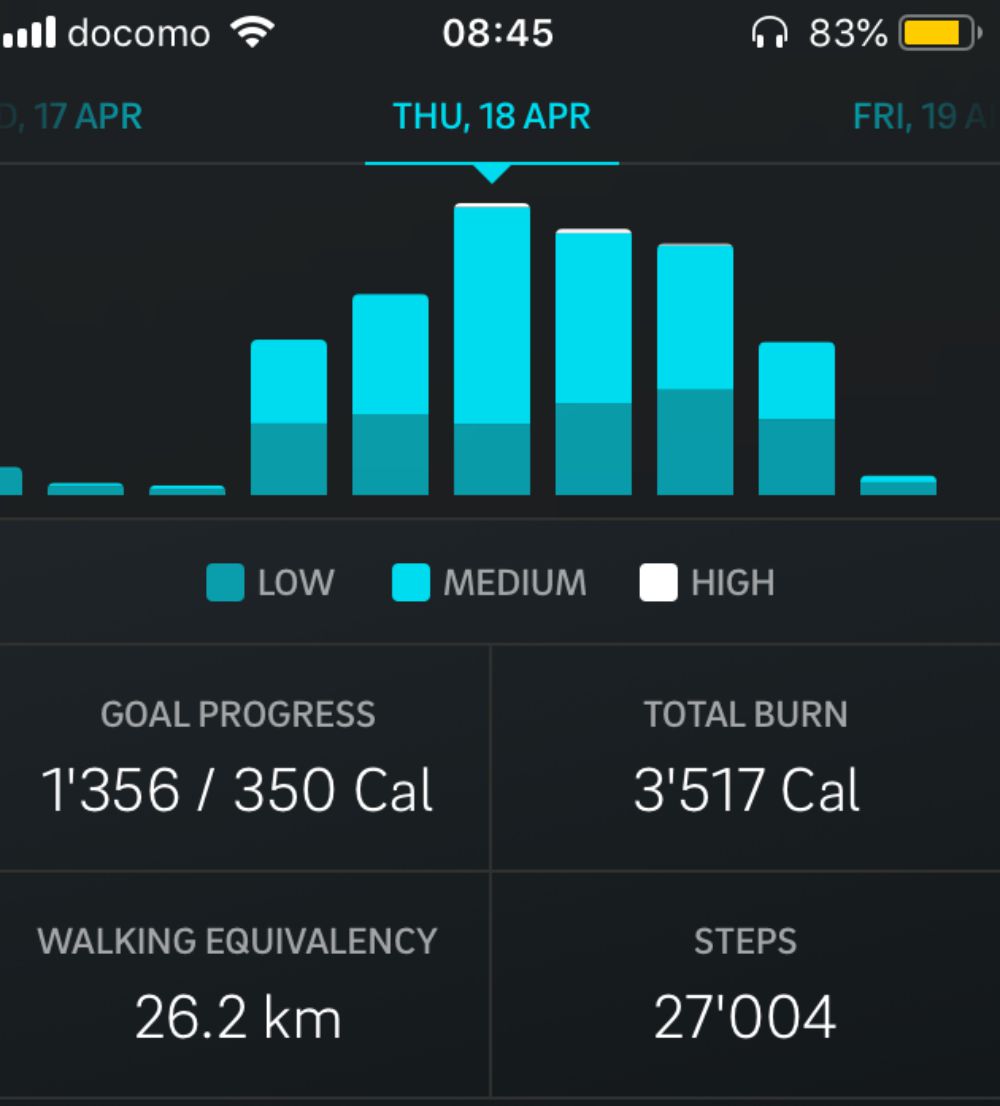 As seen on my step tracker, on one day I walked about 26km to visit the Tokyo Tower and then the Fishmarket. Over the seven days in Tokyo, I walked over 100km. Walking a lot has the biggest upside of being able to eat more food in return.
Shibuya Crossing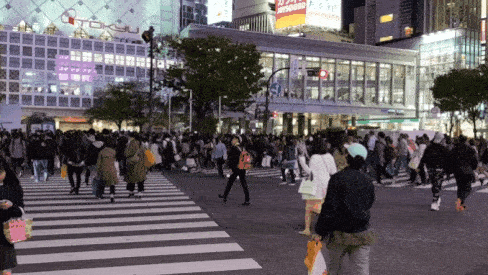 Very close to my hotel, outside of the Shibuya Station is the Shibuya Crossing. Shibuya crossing is the busiest intersection in the World. The traffic lights stay red/green for a while which builds up a crowd of people that want to cross the street.
Cherry blossom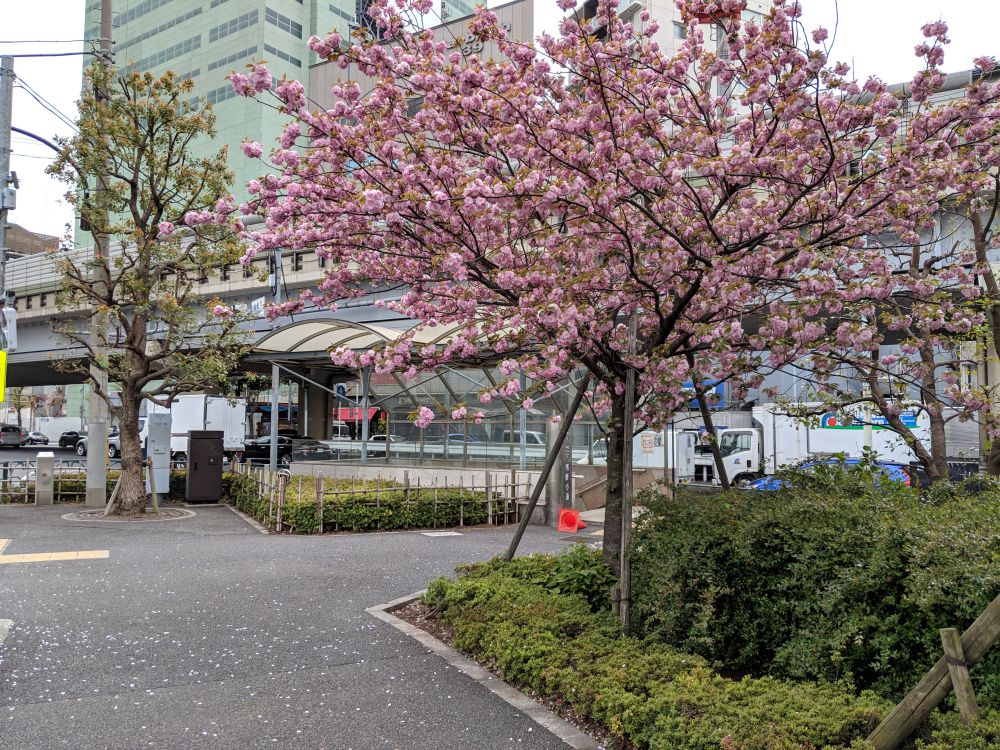 I missed the period for the full Cherry blossom, which in Japanese is called "Sakura". But while walking around, I still saw some trees that still had some cherry blossom left over.
Yoyogi Park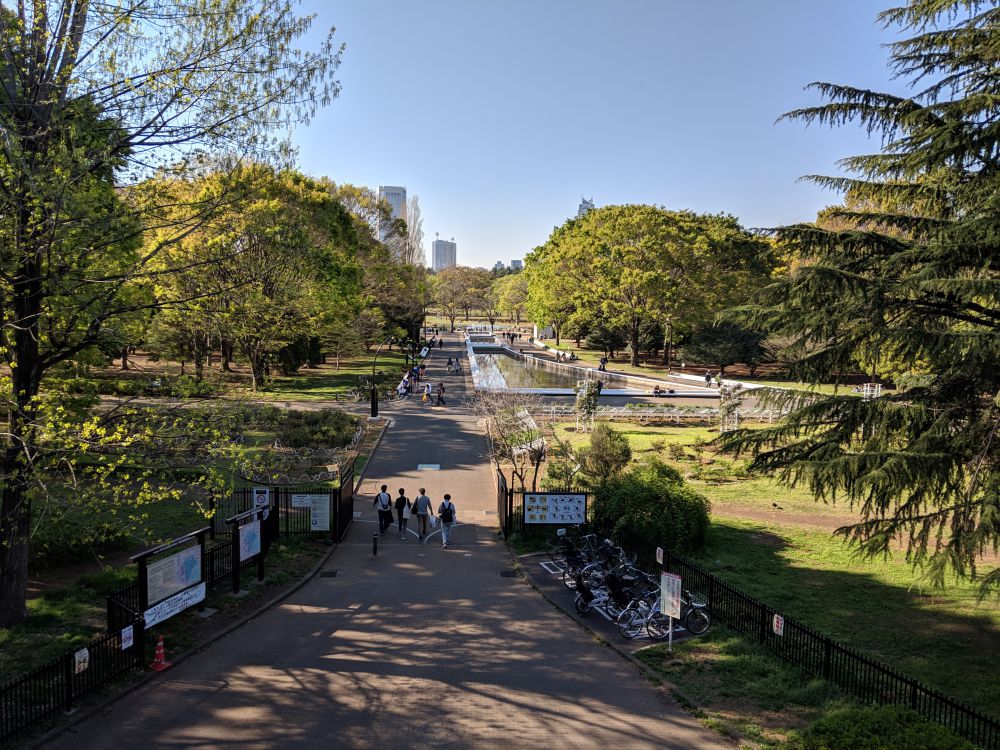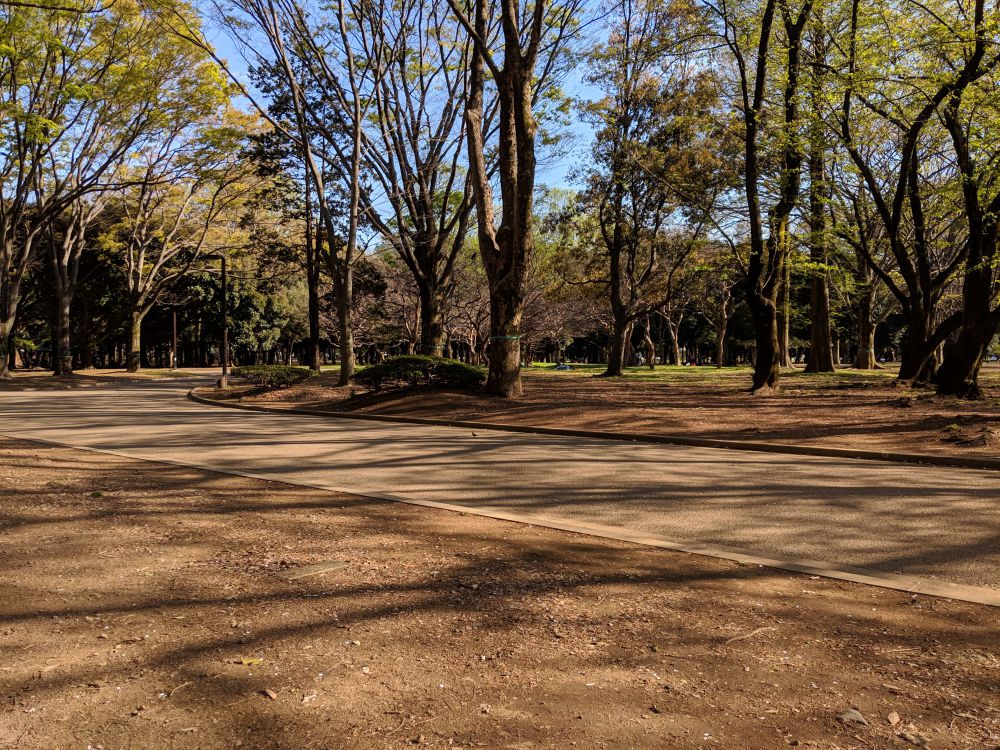 Yoyogi Park is one of Tokyo's most prominent parks which adds some really nice forests areas to the city. The park is huge. To walk around it, you need at least 30 minutes. I always walked through this park if my route went nearby.
Meiji Shrine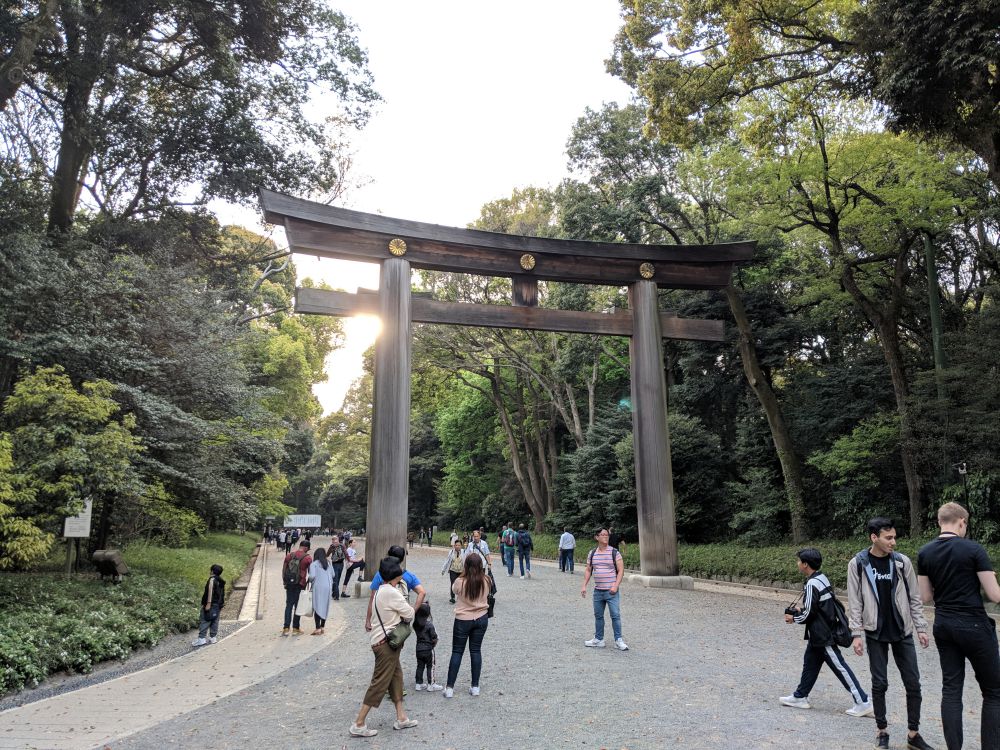 Meiji Shrine is located next to Yoyogi Park in its own section. After the entry gates, there is a path with a high forest to the shrine itself. The path is so clean, and the air is amazingly fresh. Smoking is strictly prohibited on this path.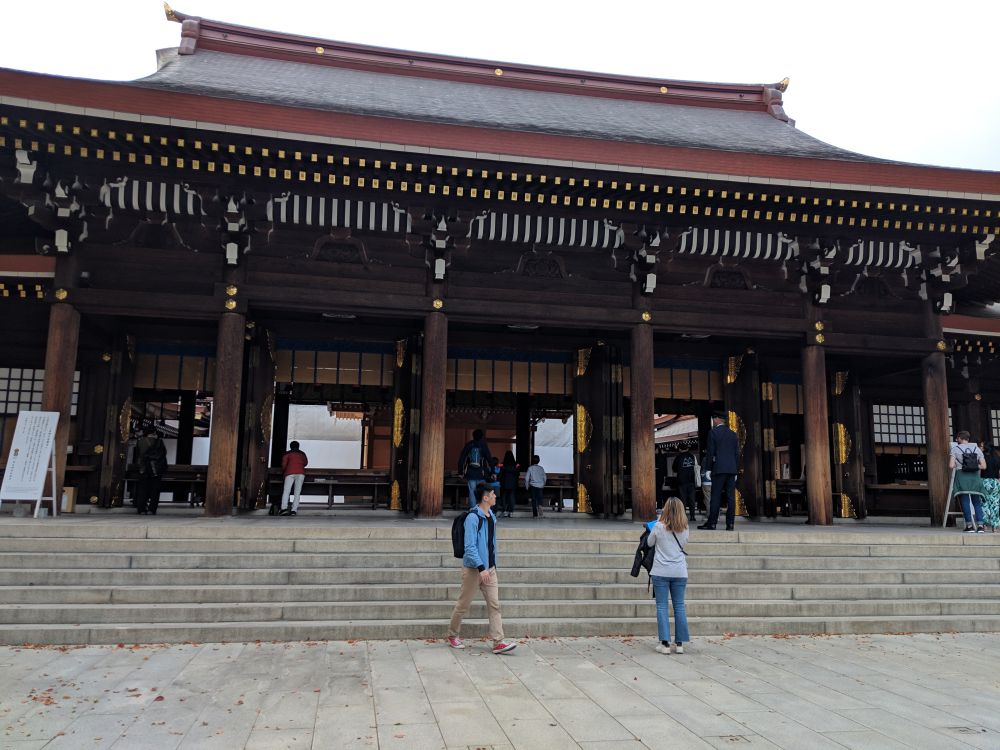 The temple also looked great, but I didn't spend much time learning about the history of the template.
Tokyo Tower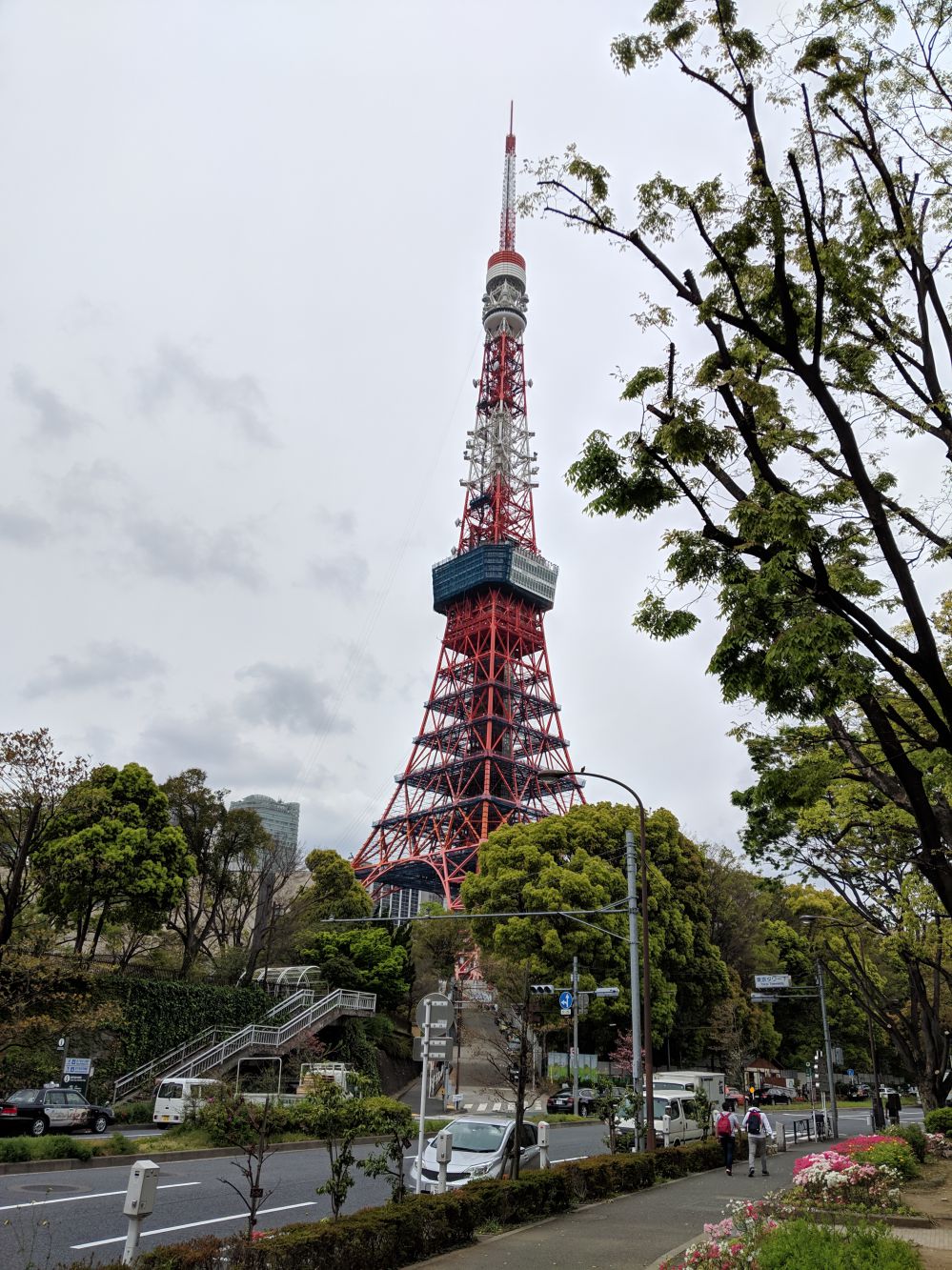 Tokyo Tower looks a lot like the Eiffel Tower. The Tokyo Tower was built in 1957 which is way after the Eiffel Tower which was built in 1887. I guess there was some inspiration from the Eiffel Tower at play. Tokyo Tower is just a little bit taller with 333 meters compared to 324 meters.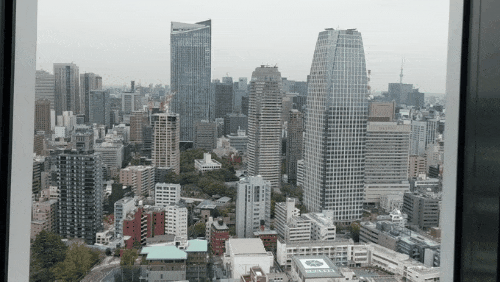 I went to the main observatory which is at 150m height. As shown in the gif above there is a glass floor window.
Zōjōji Temple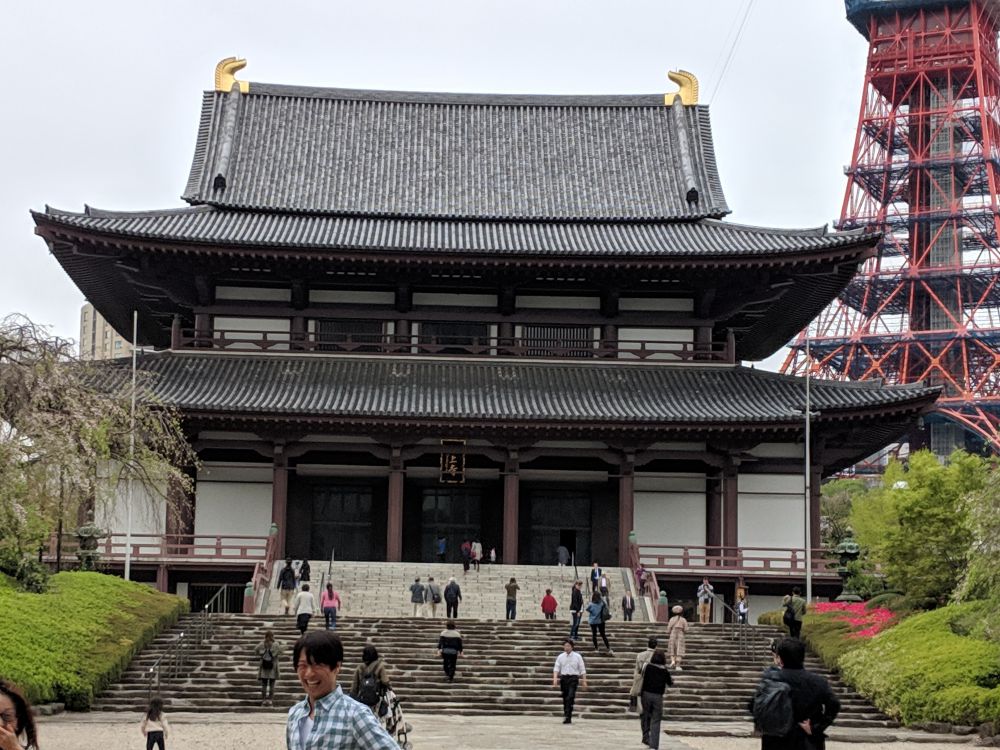 This temple is right next to the Tokyo Tower. What really made an impression on me is the height of the temple. As seen on the picture the temple is massive.
Tsukiji outer fish market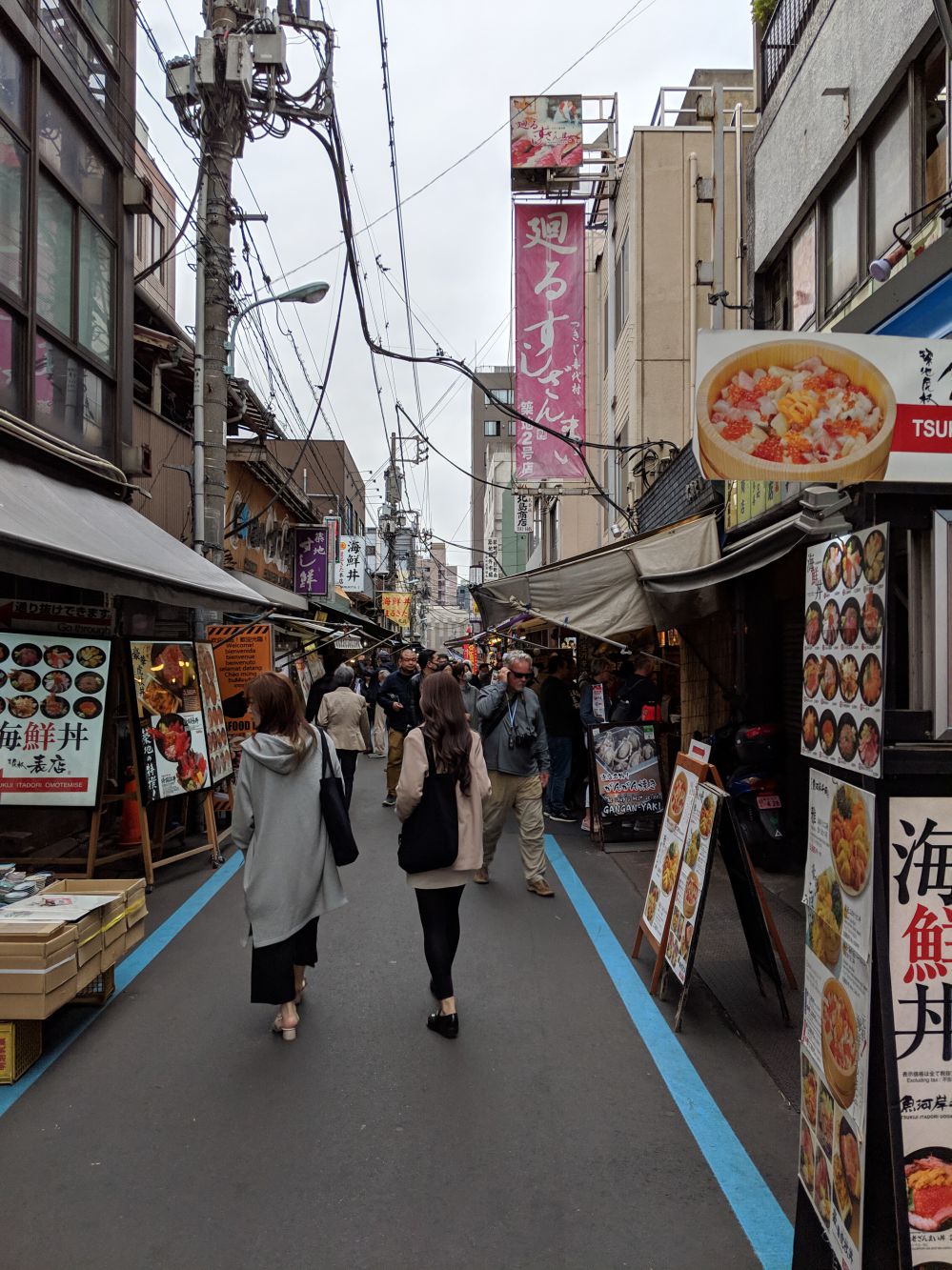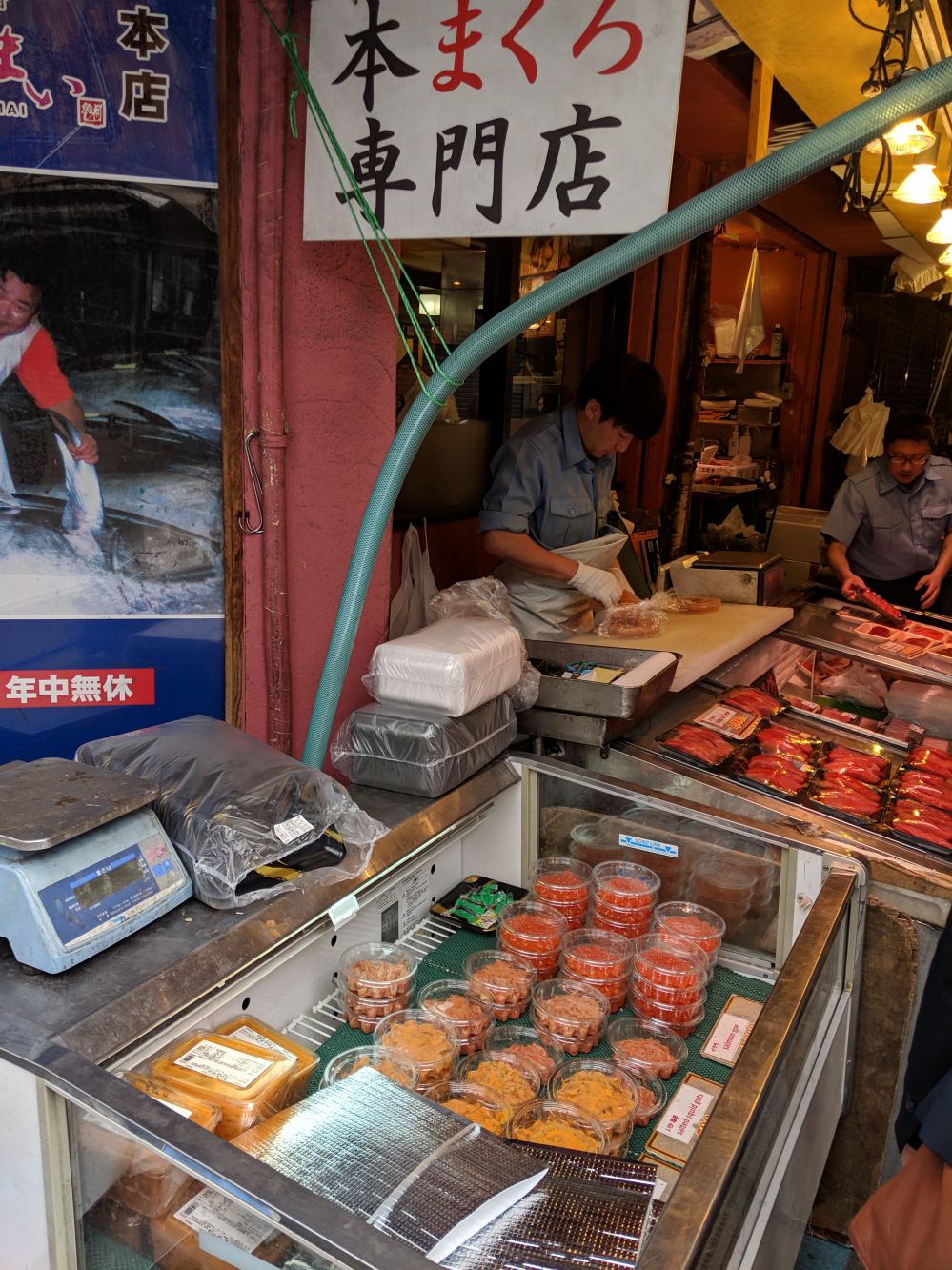 The Tsukiji outer fish market is located where the biggest fish market used to be. The main fish market, where the big tuna auctions happen has moved to another place. But the outer market is still at the same home. There are many small stands that sell all kinds of very fresh fish here. I tried some fantastic sashimi in this market. I will definitely revisit this market before I leave Japan.
Takeshita Street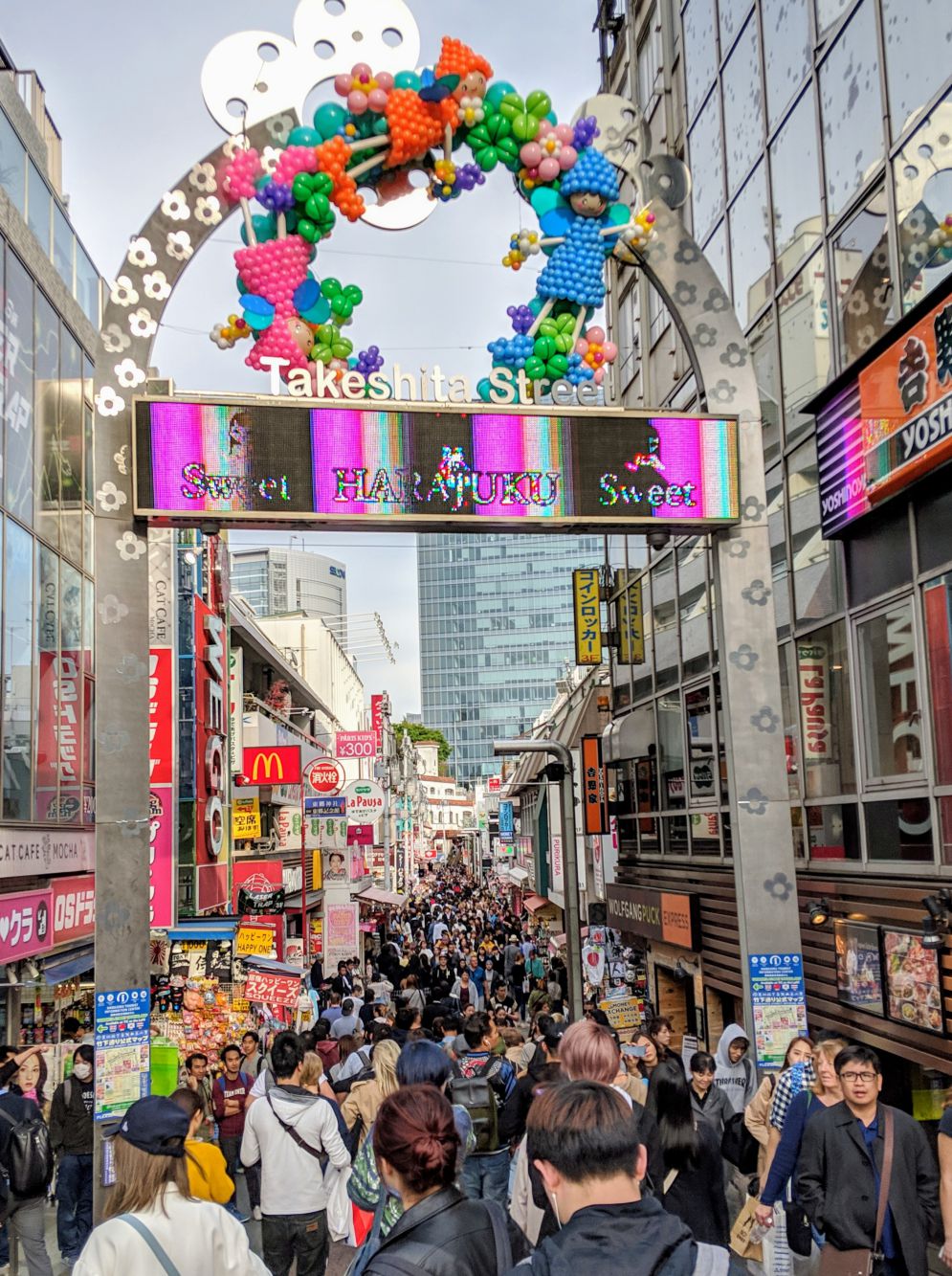 The famous Takeshita street is located in the Harajuku district in Tokyo. The street is filled with food stands and some small souvenirs shops. I took this picture on a weekday, I also walked by there on the weekend, and the street was completely packed with people.
Gyms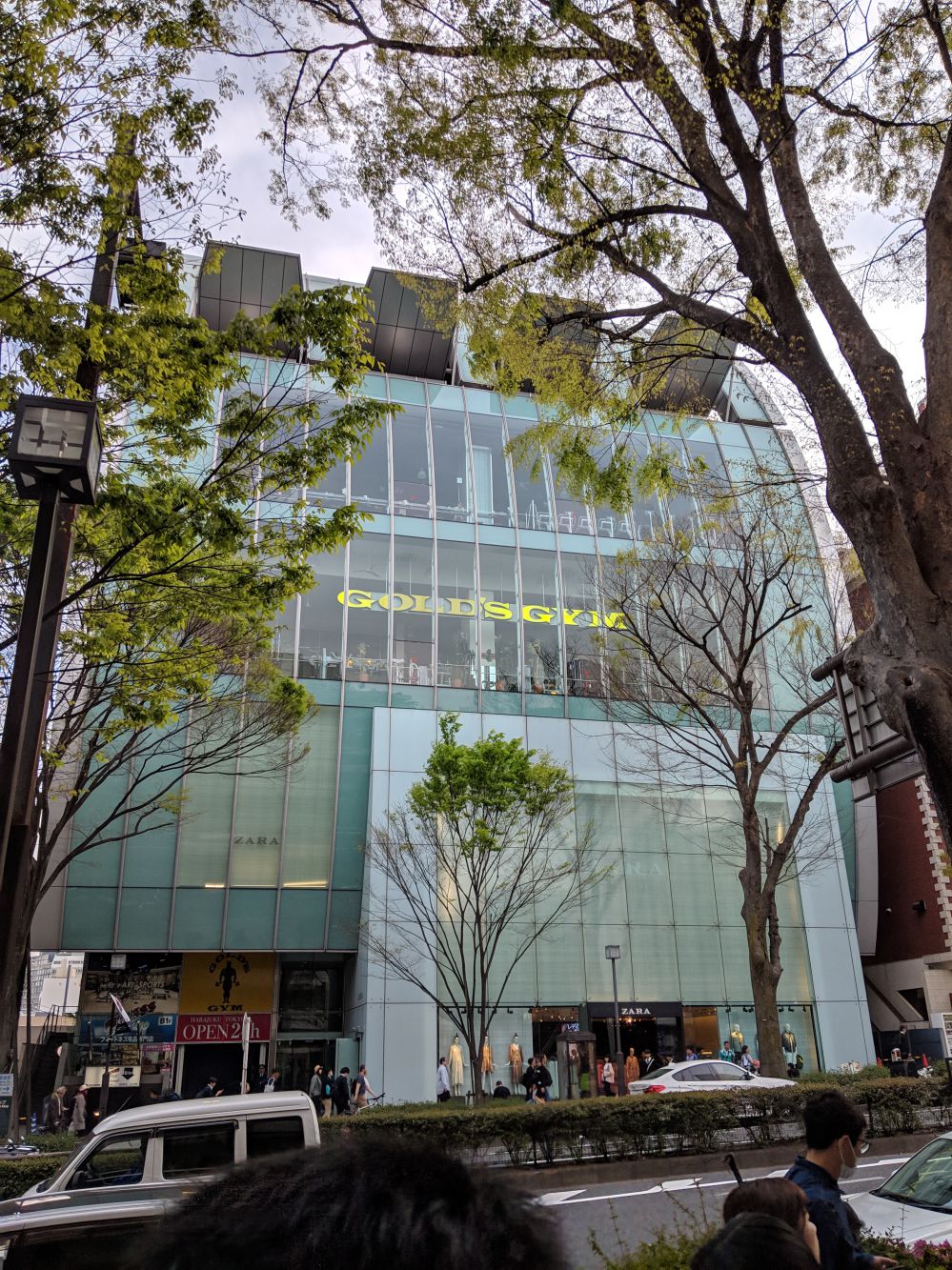 While being on vacation, I still like to workout at least once or twice a week. I've searched for a good gym in Tokyo and found the famous Gold's Gym franchise. The guest passes are quite expensive here, like 30$ for one day, I bought a two-week guest pass which was 70$ which is more reasonable. There are multiple Gold's Gym located in Tokyo. The one I went to was in Harajuku district, and it has a great selection of equipment and also e great view. The staff was also really nice. In the last seven days, I've trained there three times.
People
About the people of Tokyo, first of, there so many people living in Tokyo. The population of the main part of Tokyo is around 10 million, with all the outer districts the city has over 30 million habitats.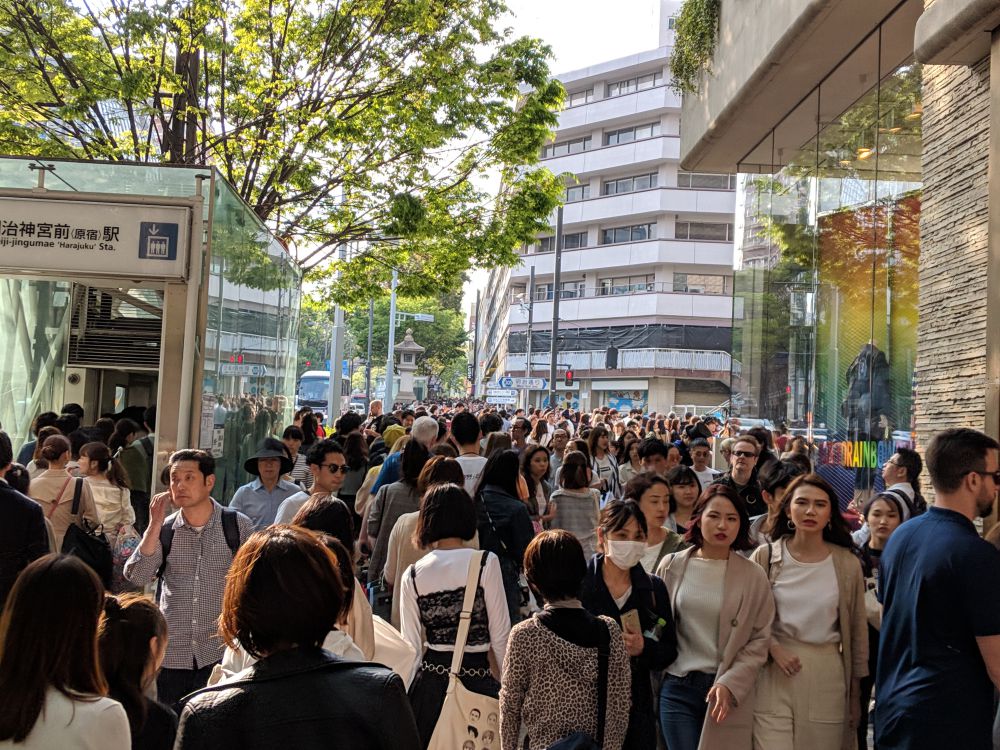 As pictured above, on weekends the main shopping streets are extremely crowded. I also once went on the train system during the rush hour which was also just packed with people.
All the experiences I've had with other Japanese people in Tokyo have been very positive. Japanese people are the most polite people I've ever met. The way you get greeted on entry to every store, restaurant or even bar just makes you feel welcomed. The Japanese also bow for many types of situations, like welcoming, saying goodbye, thanking or apologizing. A bow can range from a small nod of the head to a deep bend at the waist depending on the situation.
The hotel staff takes the friendliness to another level. After just one day they remembered my name and room number, and every time I came back, they handed me the room key in such a polite way with bowing and thanking me for coming back.
For communicating with the Japanese people I only used essential words like good morning Ohayō gozaimasu, good evening Konbanwa, hello Kon'nichiwa, thank you arigatō gozaimasu and excuse me Sumimasen. From my experiences so far, not many people can speak English well. In most restaurants, the staff can speak some English, but if you really want to communicate more than basic ordering on the menu, then it's difficult if you do not understand or speak Japanese.
I've met some people that spoke better English which allowed me to have real conversions with them. The people are so polite, sometimes when I've asked if they can speak English, they are even apologizing for not knowing how to speak English.
The people in Tokyo, and presumably in all of Japan are really hard working. They work very long hours. Some people that are working in the convenience stores, which are open 24/7, act a lot like robots when greeting or collecting the money for the items you just bought. Many workers go out to eat and drink at an izakaya(Japanese bar) together after work, that's also why you see and meet many people in suits at night.
Nightlife
Tokyo has literally endless opportunities to spend the night out. In the last seven days, I've tried out some of the different kinds of nightlife attractions. One interesting thing about Tokyo is that the train system completely stops at 1am. The first train in the morning is around 5am. So if you meet anyone after 1am, it's almost certain that the person will stay out till 5am.
Bars
There are numerous bars in Tokyo. There are also bars where you can eat and drink as much as you want for a fixed time at a fixed price. In Shibuya, where I stayed, there is a bar called "Scramble" where almost all the Japanese people could speak English.
Then there are the traditional Japanese style bars, which are very small, mostly fitting around five people. Near Shibuya station, pictured above, there is an alley called "Nonbei Yokocho" which is filled with these traditional small bars.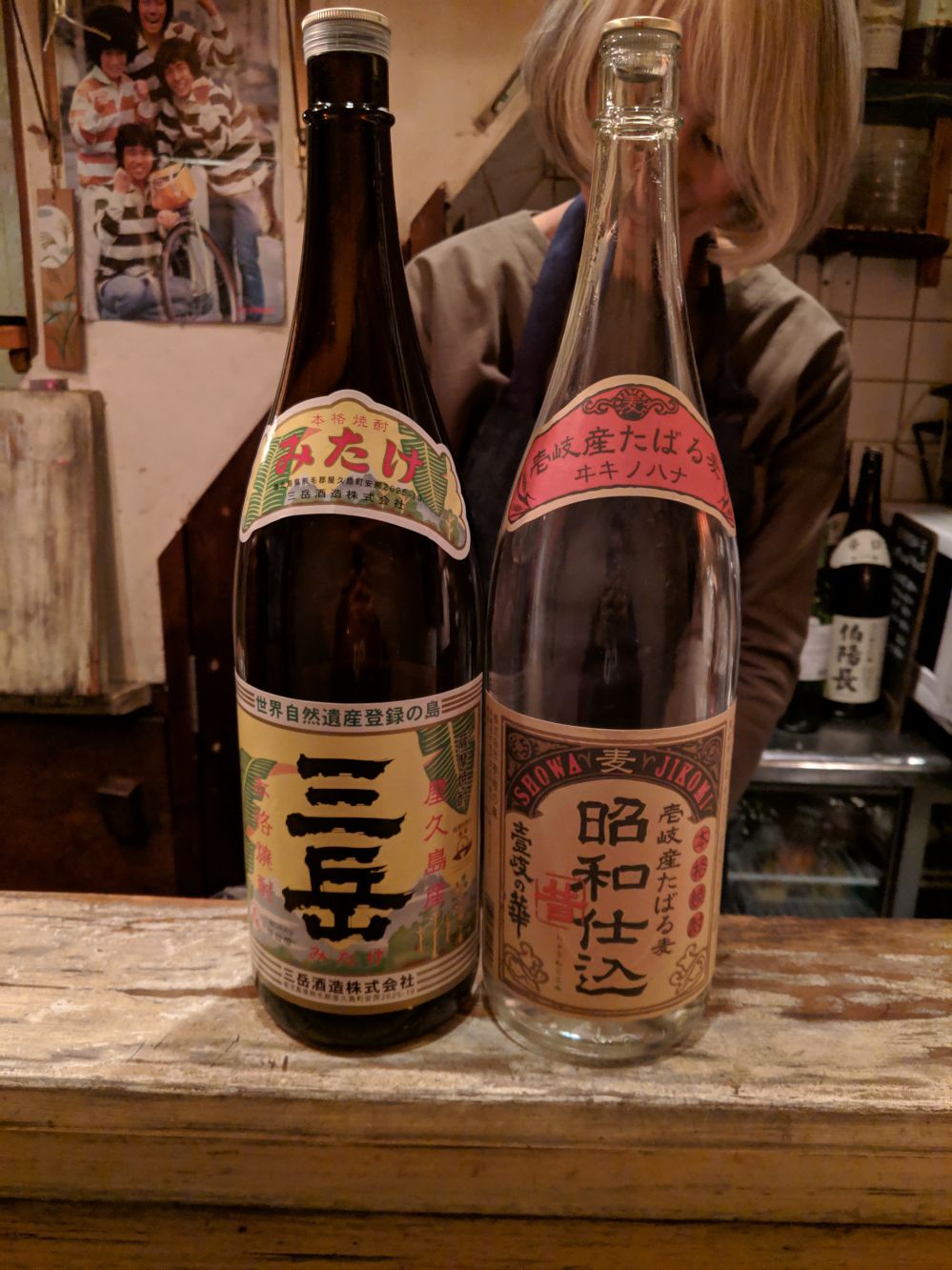 The special thing about these bars is that all the people inside are following a collective conversation. To enjoy these traditional bars without speaking Japanese, you will need a tour guide or a translator. Luckily I've met a nice Japanese friend who kindly acted as a translator. As pictured above, we had some drink called "shochu" which is distilled alcohol based on sweet potatoes. The drink was served on the rocks and was quite strong. The hangover the next day was real.
Clubs
Tokyo also has various night clubs. There are clubs for any kind of music taste. I mostly prefer electronic type of music, there are those more mainstream clubs where the popular main Electronic dance music hits are being played, and then there also some more underground clubs with more techno music. On a Friday night, I went to a mainstream club called "TK" in Shibuya and met a lot of hilarious Japanese people there, most of them who came straight from work. The club got very full and stayed like that till about 4am.
Side note: there are no pictures from inside the clubs, because taking pictures is not allowed.
I also went to two underground Techno clubs, one called "Womb" and another one called "Contact". Both of those clubs are literally underground :) The crowd there was really good, completely different from the mainstream club. I made friends with some other foreigners and also Japanese people who have a lot in common with myself. I had some fun nights which have ended at some really comfortable places.
This concludes my first seven days in Tokyo Japan. Now at the time of writing this, I'm staying in Kyoto rejuvenating, and I'm looking forward to returning to Toyko for another week.
Have you ever been to Tokyo? If so, let me know your favorite thing/place about the city in the comments!
Thanks for reading.